Croatia money transfers: Costs drop after euro switch
On 1 January 2023, Croatia switched from the kuna to the euro. But what has the impact been on the cost of remittances and money transfers to Croatia?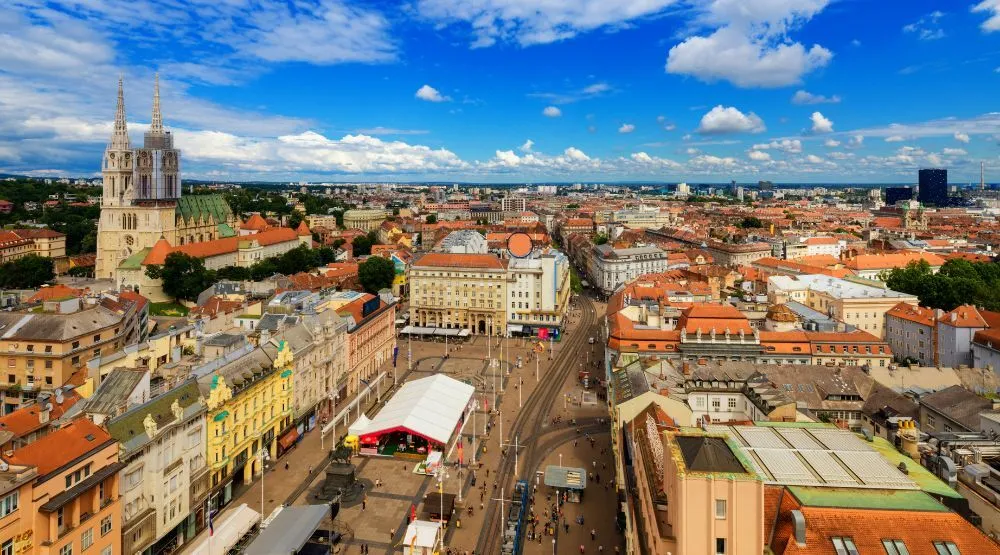 At the start of 2023, Croatia became the twentieth country to make the switch to the euro, a move that saw it shift from its previous currency the kuna (HRK). The official move followed a significant period of preparation, with most Croatians already having held savings and engaged in informal transactions in euros for some time.
However, one area where we are seeing near immediate financial changes is in remittances and money transfers. While many companies are still in the process of switching send pricing to Croatia to euros, our initial data for the first few weeks post-switch indicates that those sending money transfers to Croatia now see lower costs than they did when sending in HRK.
Who sends money transfers to Croatia?
Even prior to the currency switch, euros have dominated money transfers sent to Croatia. FXC Intelligence market sizing data shows that for 2022, 55% of Croatia's inbound remittances were from countries where the euro is the official currency.
Of these, Germany is the biggest source of inbound remittances to the country and one of five of the top ten countries by inbound remittances volume that uses euros. Serbia, which has the second largest remittances send volume to Croatia, is the largest that doesn't, followed by Australia, Canada and the US.
With such a significant share of remittances being sent to Croatia from euro-based countries, the cost of remittances to Croatia will have become significantly cheaper with the switch. This is aided by the fact that euro-to-euro remittances are very cheap due to the lack of currency conversion and EU regulations that require charges to be the same domestically or cross-border within the Eurozone or, in some cases, virtually free as a result of connected infrastructure.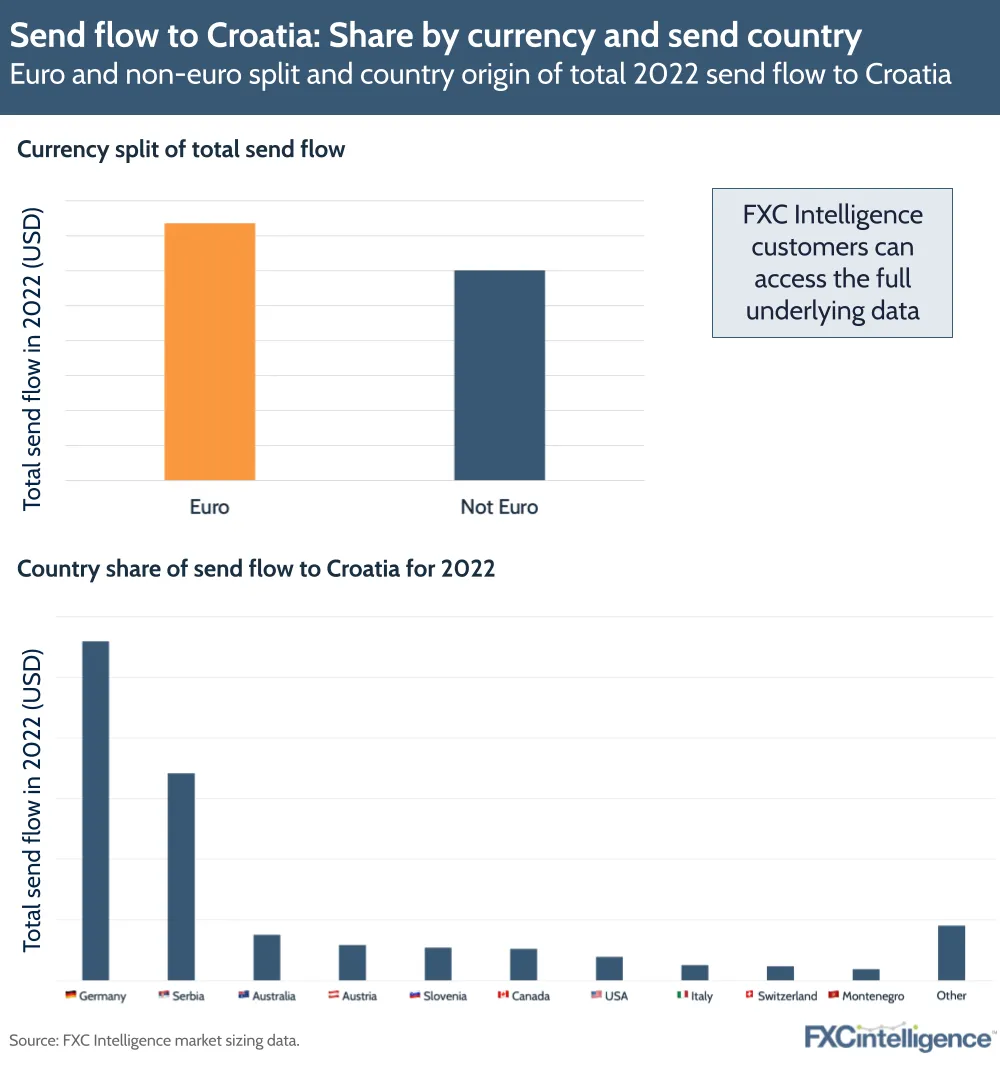 Euro money transfers have traditionally been cheaper than sending to Croatia
Prior to the currency switch, the cost of sending money transfers to Croatia was, on average, higher than to send to countries in euro. When comparing average send prices for EUR versus HRK for 2022 for ten sample providers with a send value of $500, the cost of sending to EUR was consistently lower than for HRK for the year.
On average, sending EUR was 24% cheaper than HRK in 2022, with some providers offering money transfers that were more than 50% cheaper.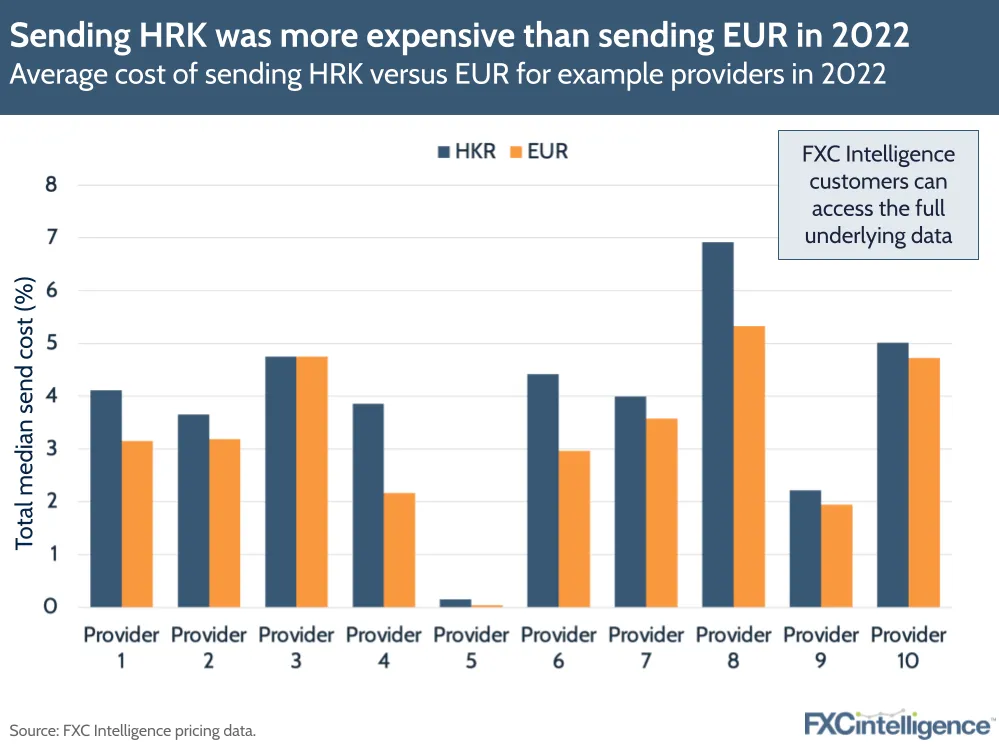 How can FXC Intelligence's pricing and market sizing data help my business?
We are already seeing remittance costs drop for Croatia
For the 45% of money transfers to Croatia not sent from euro-denominated currencies, costs have also reduced as a result of of the switch to the currency
While not everyone has switched over to HRK yet, early data we are seeing from some providers already shows that sending remittances to Croatia is getting cheaper. Three example organisations reviewed for this research that have updated their offering so far are now offering a cheaper overall send cost than they were providing in HRK, with the difference being quite significant for one provider. The FX margin is responsible for much of this drop, with the higher volume euro offering more favourable rates, although one provider is also charging a lower fee than they were for HRK.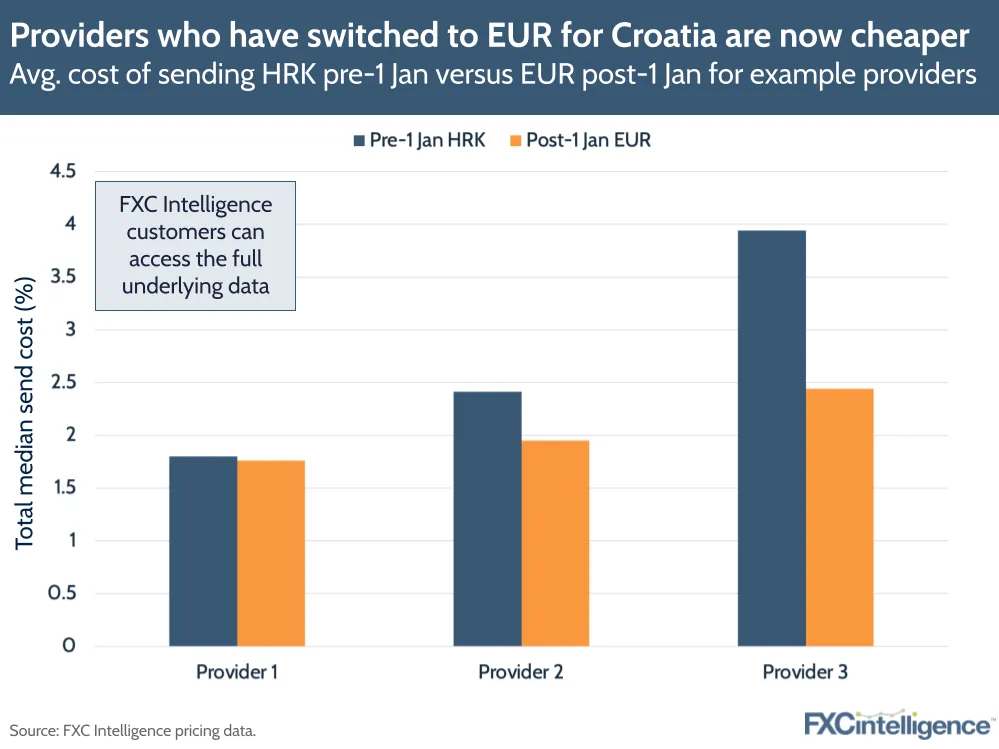 Industry support for the switch
In the aftermath of Croatia's move from HRK to EUR, not every money transfers or remittances player updated their information immediately, with some only beginning to offer sends to Croatia in euro a week or so after the switch.
One major provider is still offering to send HRK in cash, although it also enables EUR to be sent via cash or bank account.
Meanwhile, many banks and other providers who offer sending services designated as 'EUR to Eurozone' are now including Croatia in the service, which was not the case prior to 1 January.
Get in touch to find out more about the data used in this research