How banks and payments companies are using social media
Banks and other payment companies are using a variety of social media strategies to communicate with their audiences. In this report, we break down which social media platforms the biggest payment companies in the world are using, as well as how they are using them.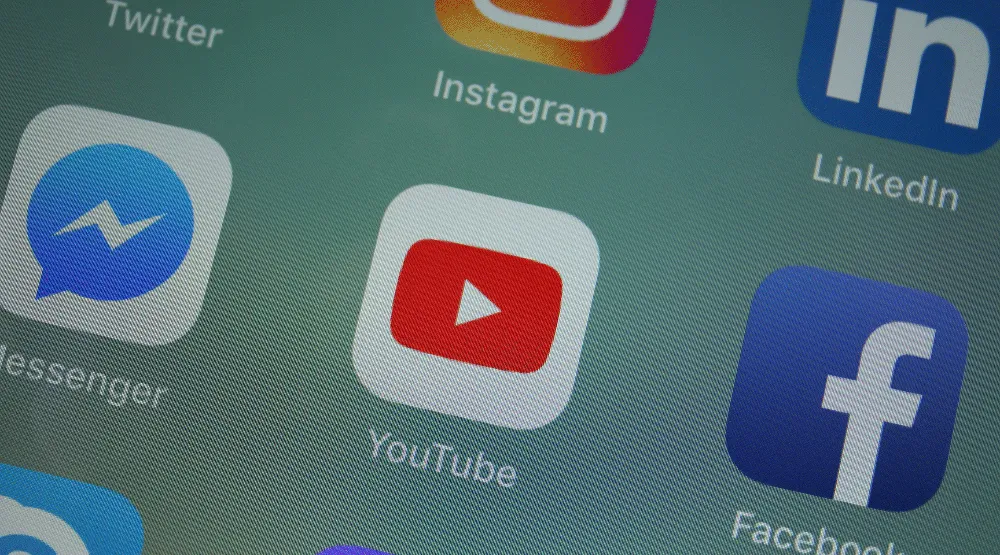 In an increasingly digital payments landscape, there is no longer a question about whether banks, fintechs and other payments companies should have a social media presence – rather, the question is how they are using these platforms to achieve their goals, whether that's attracting new customers, recruiting new employees or raising awareness of wider company initiatives.
This report examines the platforms being used by FXC's Cross-Border Payments 100 to find out how these companies approach social media. As these companies are the biggest names in cross-border payments, analysing their social media strategies provides useful insights to other companies looking to grow their reach online.
Firstly, a disclaimer: This report examines LinkedIn, Twitter, Instagram, Facebook, TikTok and YouTube across FXC's sample of the top 100 cross-border payments companies, which also includes ecommerce companies such as Amazon and Expedia. To reduce complexity, this report covers the primary, verified accounts for each company, rather than additional regional and customer support accounts.
With that said, here are some of the key findings from analysing social media strategies used by banks, fintechs and other payments companies.
Topics covered:
Which social media platforms are banks and payments companies using?
All 100 companies on the Cross-Border Payments 100 had an account on LinkedIn, with 95 on YouTube and Twitter, 92 on Facebook, 86 on Instagram and 46 on TikTok.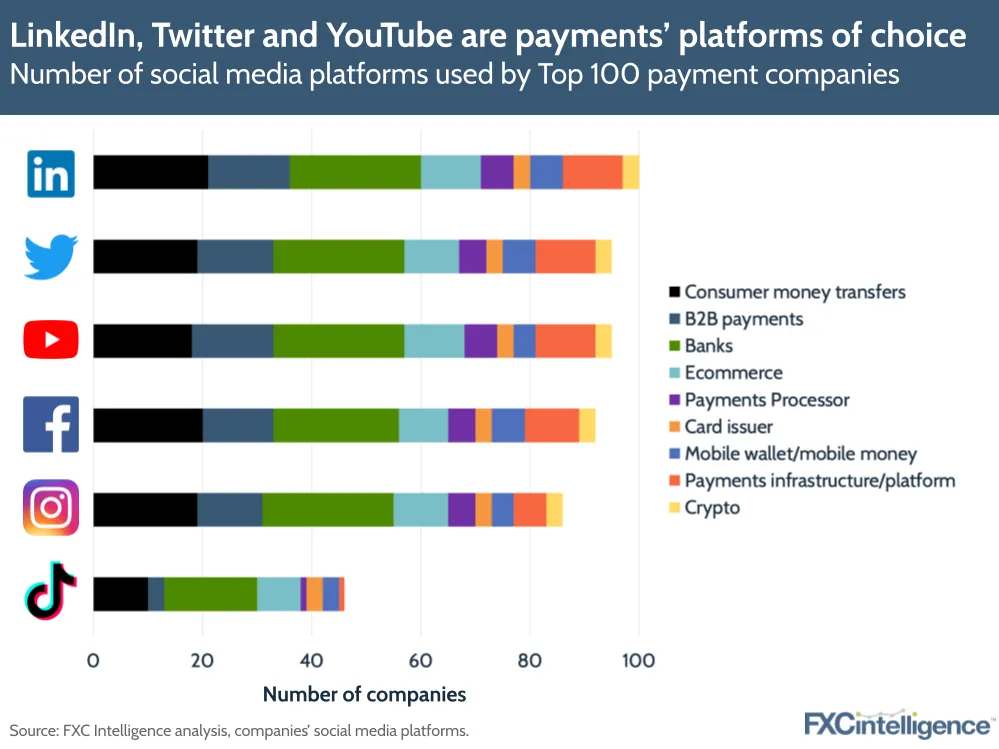 As we covered in our previous analysis of our top 100, the majority of companies on that list were founded after 1990, and a significantly lower proportion of these companies have a verified presence on TikTok. While the Chinese platform is being used more consistently by banks and ecommerce companies, less than half of money transfer companies on our list had a verified account on the platform, while B2B-focused companies and payment processors are barely present on it.
There are a number of reasons for the relatively low payments presence on TikTok, not least that the US is exploring a ban of the app due to privacy concerns. There is also the fact that TikTok is a significantly younger platform, enabling mobile-focused video content that might not gel with more corporate audiences.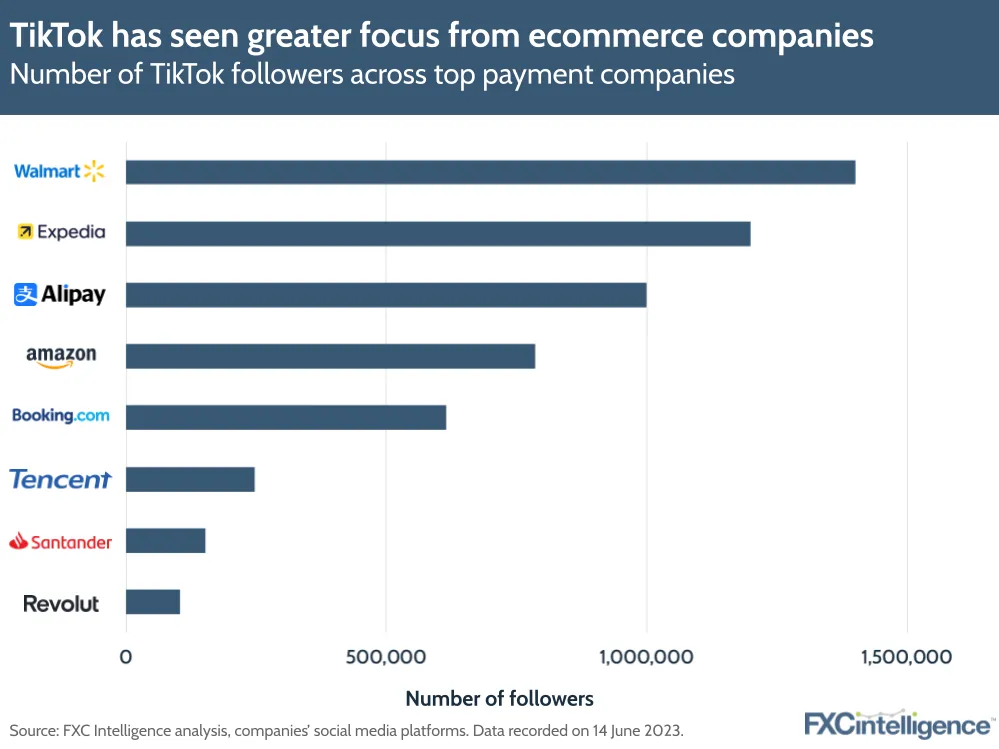 What are payments companies posting on social media?
While some payments companies tend to repost the same content across social media channels, others are using the distinct advantages of some platforms to create more platform-unique content, some of which is pointed to in the graphic above.
Generally, LinkedIn, Twitter and Facebook are used by banks, fintechs and other payments companies to report news, announcements and links to other forms of content marketing such as blogs, podcasts and videos.
These platforms are also used to give insights into company initiatives around social issues such as diversity and climate change, as well as insight into employees. For example, Amazon and Barclays have used the 'Life' section on their LinkedIn pages to explore what it's like to work at the respective companies, while Deutsche Bank has a regular quickfire interview series with its C-suite employees.
Meanwhile, Instagram's more visual aspect lends itself to event posts, infographics, celebrity partnerships and interactive content such as quizzes or competitions. Instagram is also a recruitment tool for some companies, with Revolut and Flywire, for example, having 'insider' accounts that showcase the company culture and voxpops or mini-interviews with staff members.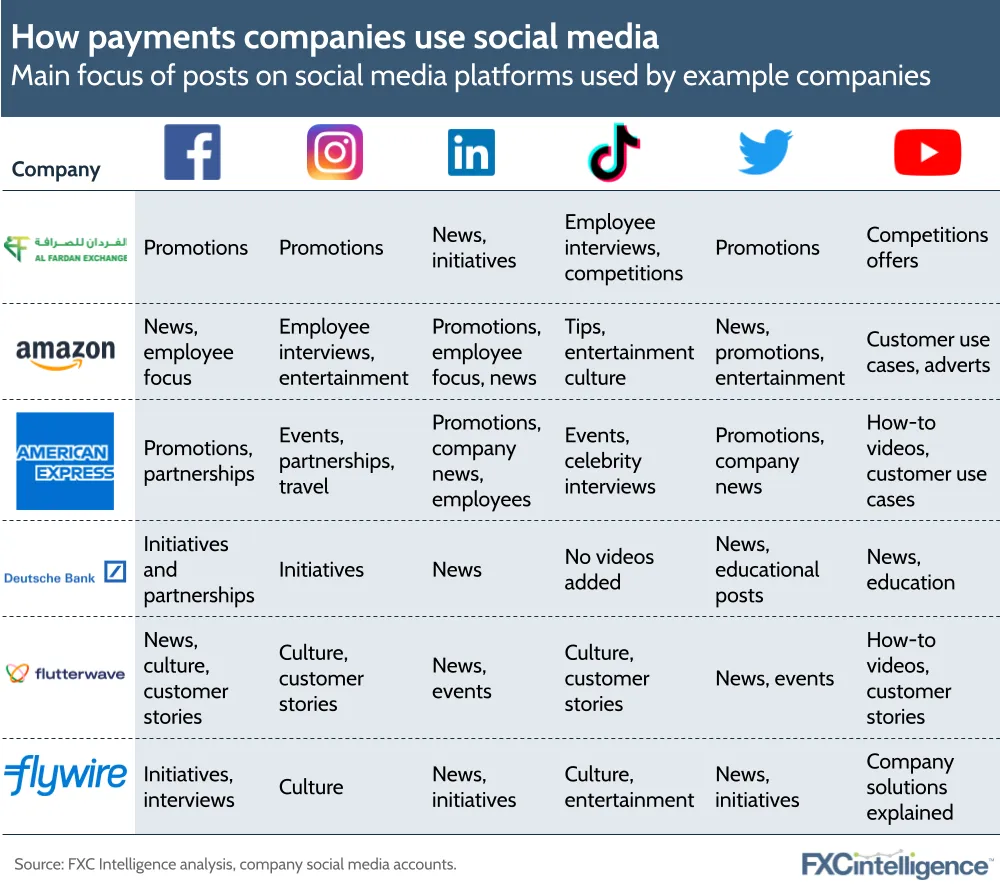 Facebook, which launched in 2004, remains a key hub for more established payments players, such as Visa and Mastercard, with Walmart having the highest number of followers on the platform from our top 100. Similar to Instagram, Facebook is used by many payments companies to show their more personal side through customer stories and workplace culture posts, as well as promotions and company news.
For payments companies that are regularly posting on TikTok and Instagram, these platforms featured a number of regional accounts, with the app performing better in some markets than others. Mercado Pago's primary TikTok account, for example, has just over 1,100 followers, while its account specifically for Brazil has nearly 70,000. Banks, money transfer companies and ecommerce companies use the platform for a mix of humorous or entertaining promos (Al Ansari Exchange), fun facts and tips (MoneyGram) and customer use cases (RBC).
While Instagram and TikTok focus on more short-form entertainment, YouTube is often used by payments companies for deeper dives on products and services, as well as use cases for businesses and customers.
Aside from just videos, the platform also allows companies to post 'shorts' and podcasts, meaning it can achieve different purposes with the same platform. Goldman Sachs, for example, uses its YouTube both to explore company culture through its 'Day in the Life series', while using the Podcast section for more corporate discussions on current market developments.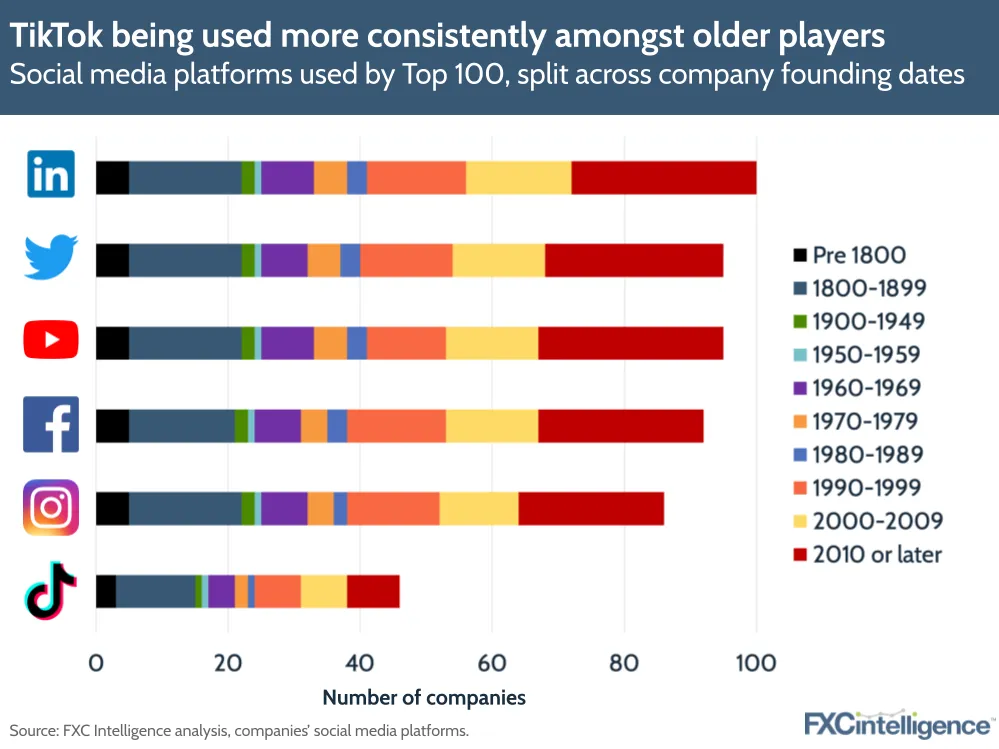 Which payments companies have the most followers?
As previously mentioned, payments companies and banks often have an array of different social media accounts to serve different customers and regions. For example, aside from its main account, HSBC also has separate accounts for commercial banking, global banking, wealth management and recruitment, as well as region-specific accounts for the UK and Hong Kong.
To simplify things, this report has mainly focused on the main/primary accounts on each platform for those companies, with some exceptions where the company only has one or several regional accounts on a platform – in this case, the largest account by number of followers has been included.
The graphics below show payments companies in our top 100 with the highest number of followers, split into categories depending on the companies' primary business.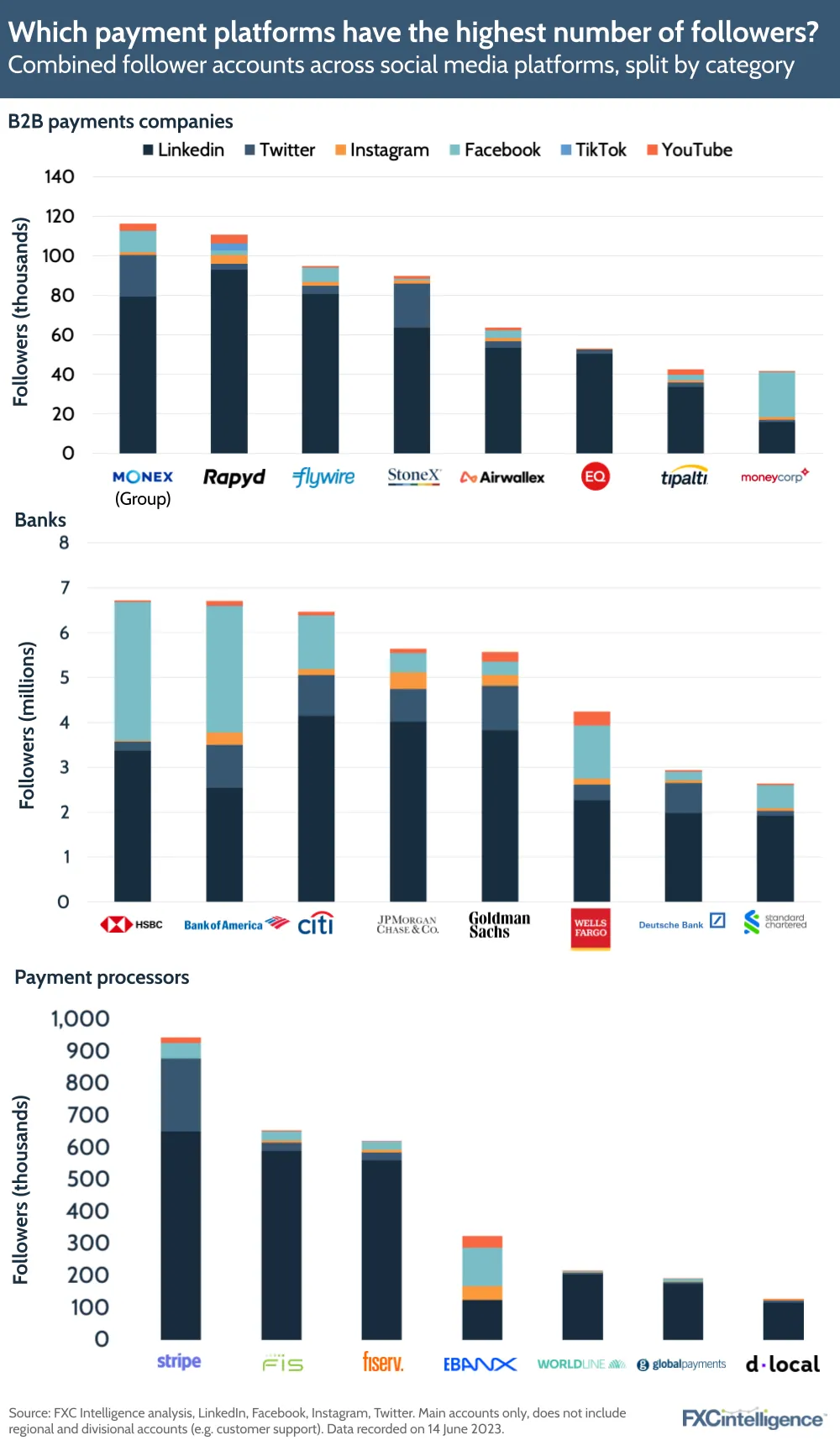 Looking at the split between companies, there is a clear distinction when it comes to platform use and target audience. In particular, B2B payment companies and payment processors have a much higher number of followers on Linkedin compared to other platforms.
Meanwhile, banks' main social media accounts – which have a mix of corporate and consumer focuses – have a much greater split between LinkedIn and Facebook, which contribute to a very high number of followers for HSBC and the Bank of America (both approaching seven million in total). The top performing banks also have a considerably higher number of followers across social media platforms than payment processors, which are led by Stripe with over 900,000 followers in total.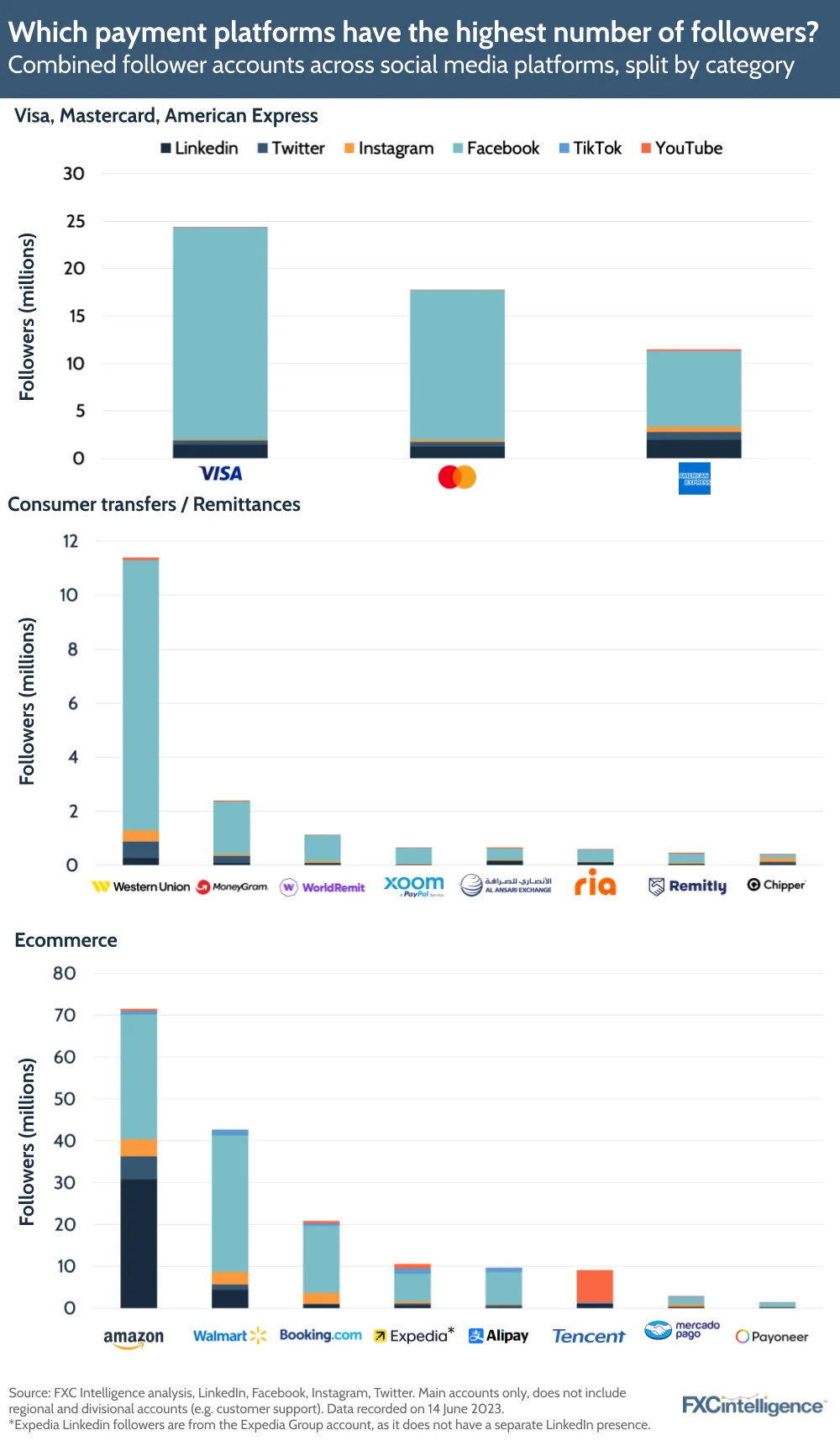 Generally, industry incumbents tend to have higher follower counts, which may be due to their established share in the market, high existing customer numbers and the fact that they are better known by users in that market. For example, Western Union has a particularly strong Instagram presence despite the fact that it has only 27 posts. This is a much smaller number of posts than MoneyGram, which has over 400 posts but has a considerably lower number of Instagram followers.
There is also a large gap between the number of social media followers held by ecommerce players on our top 100 list and other players in the payment space, with Amazon having more than 70 million followers across all of its accounts. Notably, ecommerce and money transfer companies from our top 100 tended to have less of a focus on LinkedIn and more on other platforms with a consumer focus, particularly Facebook and Instagram.
Expedia shows this divide, as the company itself has a significantly higher following on Twitter and Instagram than its parent company, Expedia Group. However, Expedia itself doesn't appear to have a presence on LinkedIn, while Expedia Group's account has more than 600,000 followers on the platform (however, we've decided to include Expedia Group's LinkedIn follower count alongside Expedia's accounts on other platforms to reflect that they do have a presence on LinkedIn).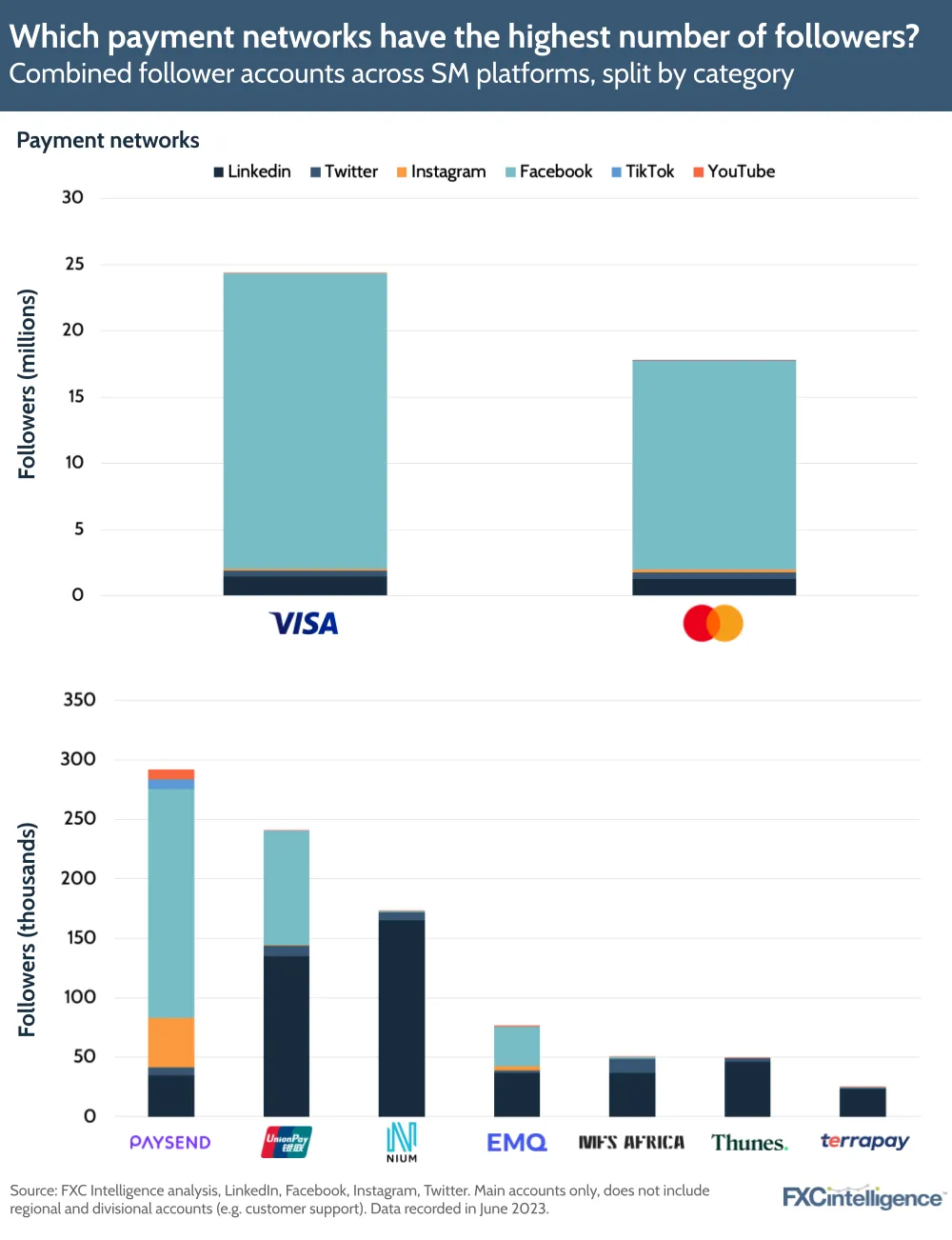 Larger companies with greater resources, such as Amazon, will always have much higher follower counts, but the breakdown across platforms highlights that even the industry behemoths have seen more success accruing followers on some platforms than others. This highlights the benefits of focusing on the social media channels that are best suited to a company's customer, rather than attempting to do well across all platforms.
How frequently are payments companies posting on social media?
Examining how often companies post over a month-long period gives a sense of which platforms they are prioritising in terms of customer reach. Companies tend to have much more consistency posting on LinkedIn and Twitter, while the number of posts on Facebook varied much more, suggesting that it isn't currently a core social media focus for some companies.
Notably, Amazon and Flywire are just two examples from our top 100 of companies that have cut down on their TikTok posts recently, while some companies (including PayPal) have a verified TikTok account but are yet to make any posts on the platform. This could be to avoid impersonators (similar to Twitter), growing skepticism of the platform, or because companies simply don't see TikTok as worth the marketing cost.
Twitter, Instagram and YouTube all give up-to-date numbers of total posts for accounts. Across these platforms, Twitter saw by far the highest number of posts across our sample size of 100 payment companies, but this is understandable as threads, retweets and mentions are included in this figure, with a great deal of payments companies using Twitter to communicate and provide support to customers.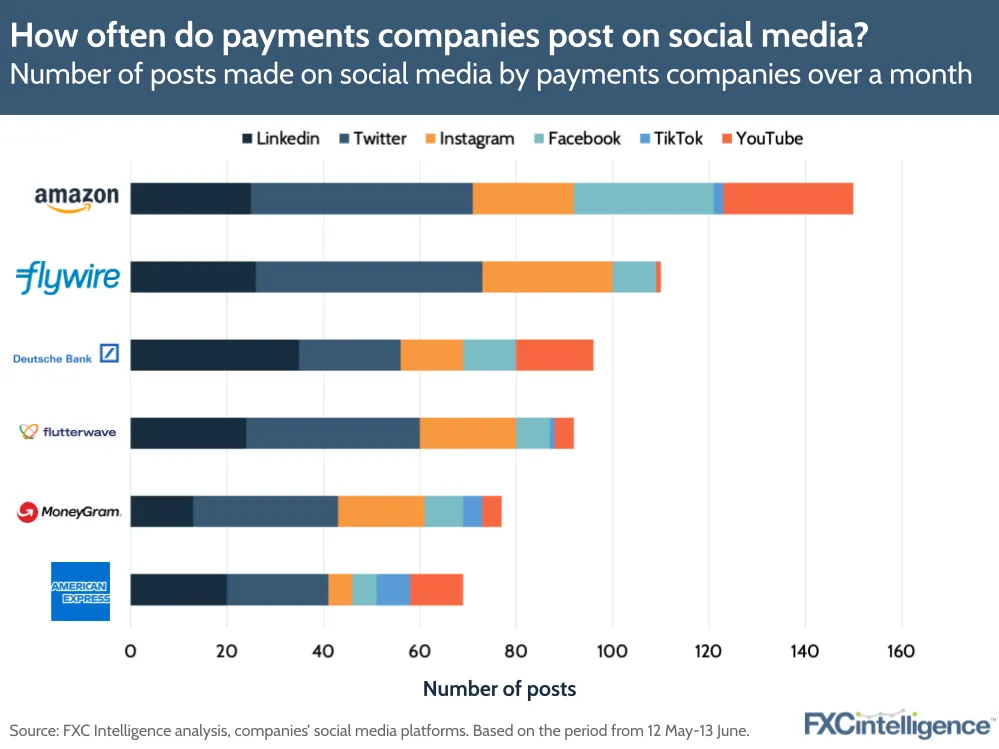 Conclusion
When looking at how top payments companies use social media, one of the most important findings is that not all businesses apply the same strategies to the platforms used.
Different companies often prioritise posting on different platforms and companies with the highest amount of followers overall have often achieved this through a high follower count on one particular platform, rather than an even split across LinkedIn, Facebook and so on. This lends credence to the idea that rather than trying to build traction across lots of platforms, it may be a more effective strategy for businesses to focus on one platform where they know their customers have a strong presence.
While companies have a strong presence across LinkedIn, Twitter and YouTube, lower account usage across platforms such as TikTok and Instagram suggest that there are still opportunities for companies, particularly in the consumer space, to dominate in these fields. However, these platforms may not be suitable for businesses, depending on their region, primary business and target audience.
As social media evolves and new platforms emerge, companies should bear in mind how others in their space are using platforms to help acquire new customers and boost their brand reputation. For more information on the biggest companies in cross-border payments, read our full rundown here, or take a look at our meta-analysis piece that breaks down how these companies have changed over the last five years.