Block losses grow in Q2 2022 on bitcoin slump
Square and Cash app parent Block has reported its Q2 2022 results, and while it posted earnings slightly above industry estimates, net losses and dropping bitcoin revenues have disappointed investors.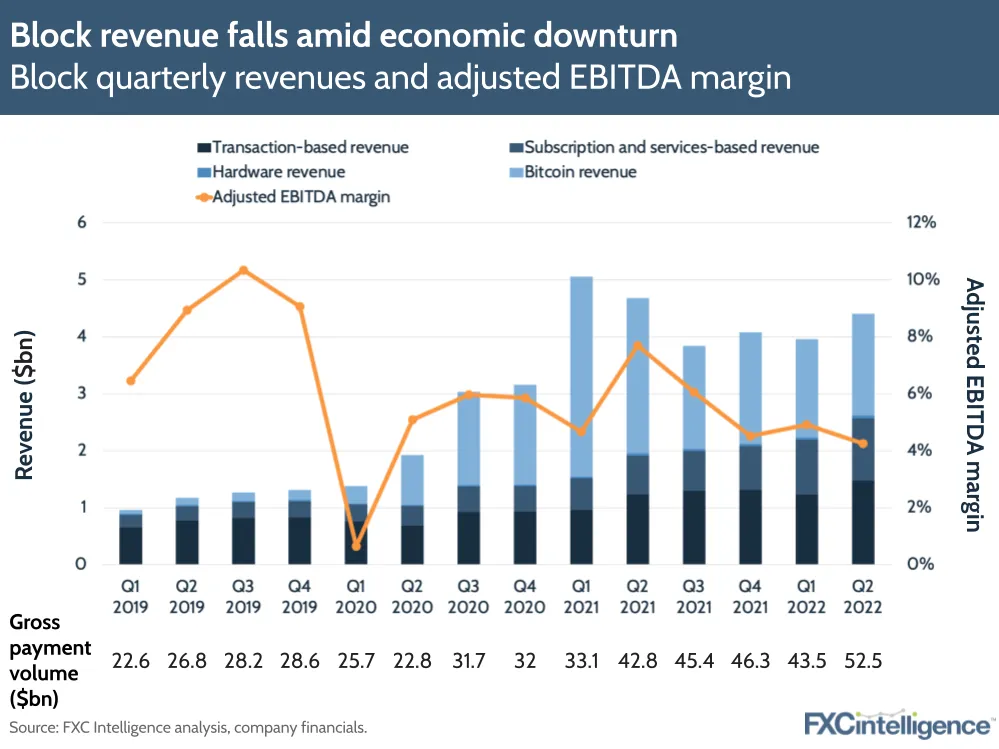 While gross profit was up 29% year-on-year (YoY), this represented slowing growth compared to previous quarters, while revenue saw a 6% YoY decline to $4.4bn.
The company's adjusted EBITDA margin also dropped from 7.7% in Q2 21 to 4.3% in Q2 22, while Block reported an operating loss of $214m, compared to profits of $125m a year ago. This is also the third quarter in a row Block has reported an operating loss, following a five-quarter run of profitability.
Block Q2 2022 earnings: Square results
Despite the overall losses, Block's more established company, Square, has produced a strong set of results, with revenue growing 32% to $1.7bn.
The company attributes this in part to growth from mid-market sellers, which grew to 39% of the company's customer base and who generated a 24% YoY increase in gross profit.
It also saw benefits from its acquisition of BNPL player Afterpay, adding in-person BNPL in the US and Australia as well as announcing a key omnichannel partnership with beauty retailer Sephora.
Square is also seeing benefits from its expansion globally, with 13% of gross profit now from outside the US, compared to 8% a year ago. The company added a number of international capabilities in Q2 22, including launching Square Register in Ireland and France and Square for Retail in France and Spain.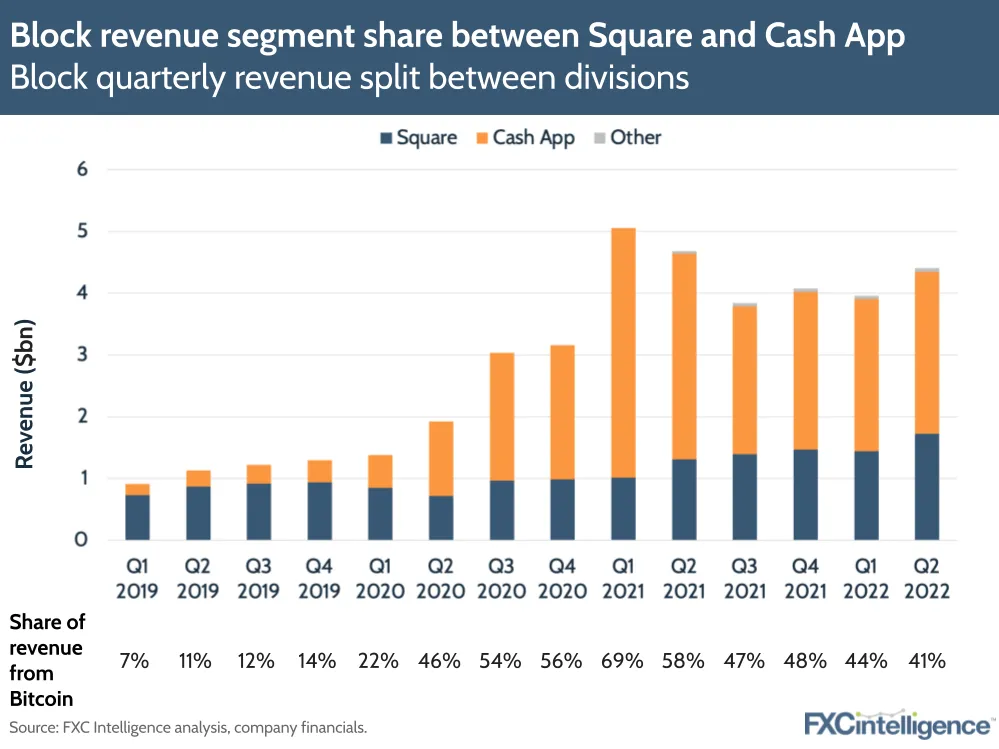 Block Q2 2022 earnings: Cash App results
Meanwhile, Cash App has been the biggest driver of Block's losses in Q2 22, with revenue seeing a YoY reduction of 21% to $2.6bn. The biggest drop was in bitcoin revenue, which shrank 34% YoY – particularly significant given it accounted for 68% of Cash App revenue and 41% of all Block revenue in the quarter.
However, gross profit for Cash App did increase by 29% YoY, and revenue excluding bitcoin and the company's BNPL platform did see a 21% YoY increase. The company also saw gains in its loan service Cash App Borrow, and is developing a new operating system that will integrate Afterpay, Cash App Pay and other services.
There is also an increased focus on broadening merchant acceptance of Cash App Pay, including within the Afterpay and Square merchant bases.
Future projections
Looking forward, Block has announced that it is reducing planned investments for FY22 by $250m, including reducing go-to-market spend and slowing the pace of hiring. The company now expects operating expenses for the full year to be 10% less than it projected in Q1 22, at $1.85bn.
Despite revenue drops, the company expects adjusted EBITDA to be higher in H2 22 than in H1.
CFO Amrita Ahuja also said that the company intended to be "purposeful" with investments in H2 22 and FY23.