Major indicators of growth
Looking at patterns of employee growth (and decline) can reveal insights beyond revenue, profit or company valuations. For sectors that have a mix of incumbents (with solid revenues) and startups (less revenue but lots of funding), it can be an especially useful method of comparison. Recently, our research team peered into the hiring world of the international payments industry and studied data from LinkedIn. This follows from our previous
analysis of the c-suites
. Analysing employee hirings can help point to the different models operating in the sector, from
Revolut's rapid growth
to
Moneygram's lackluster performance
of late.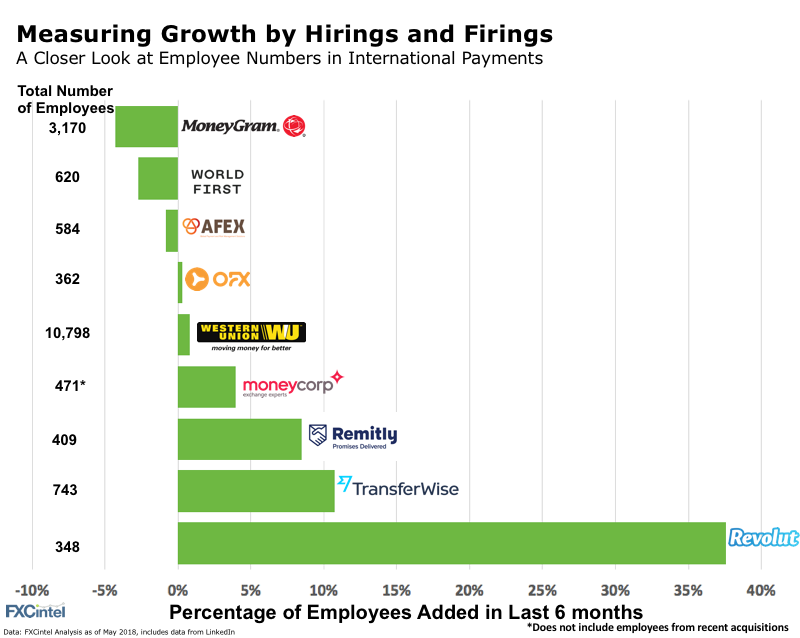 In most cases above, adding employees is required to drive top-line growth, though there are exceptions. For example, recently WorldFirst slightly reduced some of its headcount despite strong revenue growth over the last few years. This may be an example of a more established business focusing on its margins whilst at the same time rolling out a new product (its multi-currency World Account).
Sales out. Engineers in.
As we dig into employee mix data, we can see how different business models require different types of staffing. Revolut and TransferWise, two digital and mobile-focused companies, are heavily reliant on adding large numbers of engineers to their teams to build out their products. Their customer acquisition is done primarily through marketing spend rather than by individual salespeople. Because of this, their share of headcount growth in sales/BD is much lower. We can also see business models changing. Moneycorp, WorldFirst and AFEX have all reduced their Sales/BD team count over the last six months. With the exception of WorldFirst who just completed a big product build, these companies have also added engineers to re-build and launch new products. While everyone is aware of the talent that flows between companies in the sector, the overall growth indicates that staff are being brought in from the outside. This means that new employees likely lack the understanding of the nuances of cross-border payments. We don't see these extra costs, either in training or recruiting falling anytime soon
Starling Bank officially breaks up with TransferWise
Not every partnership works; and, sometimes they do not make it off the ground. Starling Bank, the UK challenger bank, which is in the process of raising a further £80m, has confirmed it's going its own way on its payments business. The barrier for a company to set up its own cross-border product is now low, especially if that company is already regulated. RegTech is helping make the compliance part easier and liquidity in the core corridors is very much a commodity. That should mean some thinking caps are needed to come up with new ways to make a payments white-label stickier, especially when offered to other financial service companies. Another barrier that once existed has now come down.