Visa, Mastercard defy omicron impact
Visa and Mastercard have reported their latest earnings – Q4 2021 for Mastercard and Q1 2022 for Visa (also calendar Q4 2021). In both cases the companies have seen strong results in spite of the latest Covid-19 wave, buoyed in part by a growing return of travel.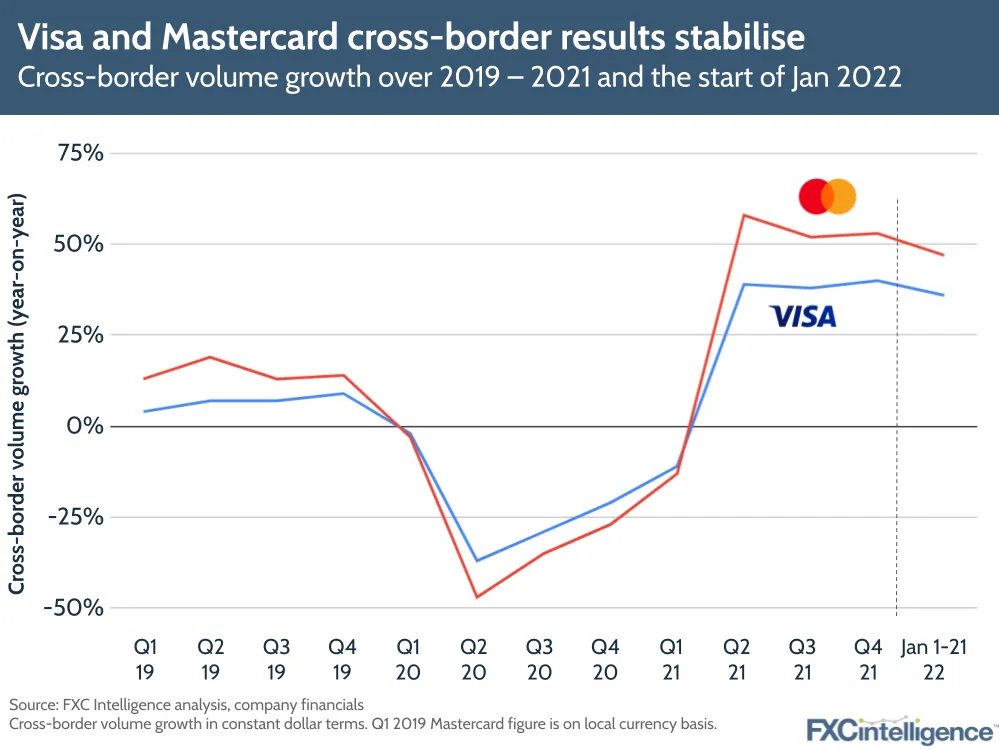 Visa Q1 2022 earnings highlights
Visa reported strong net revenue growth (24%), with the company passing $60bn in payment transactions within a single quarter for the first time and increasing card credentials by 10% to 3.8bn.
Cross-border improvements were a particular driver of growth, with cross-border volume increasing 40% (51% excluding intra-Europe). Reopenings meant that both card-present and card-not-present travel saw notable increases during the quarter – a promising sign for travel.
On ecommerce, Visa reported "especially strong" holiday retail spending overall, rising 40% compared to 2019, with ecommerce's share increasing five points.
Visa sees an "enormous" opportunity to displace cash, with its debit cash volumes growing 6% in Q1, while its debit payment volumes climbed by 19%. However, based on current global growth rates, it doesn't see consumer digital penetration passing 90% for several decades. Nevertheless, it sees LatAm as a key growth market and highlights easy-to-access on ramps as key to speeding up the process.
The company reported significant growth on crypto, with Q1 22 having over 2.5bn in Visa credentials and crypto wallets payments volume – already 70% of FY 21. The company plans to continue growth in this area by focusing on partnerships.
Looking forward, the company highlighted Visa Direct as a key area for future growth, particularly for P2P where the company anticipates significant future revenue increases, particularly as it scales cross-border applications and adds new markets. Visa Direct transactions grew 35% in the quarter. In B2B, the company is seeing new growth in virtual card issuance by expanding to new verticals, as well as in account-based cross-border payments through Visa B2B Connect.
The company also confirmed it had closed its acquisition of Currencycloud, which it sees enabling new use cases and payment flows for cross-border, with the company's real-time FX capabilities bringing particular benefits.
Looking to FY 22, Visa expects a recovery in cross-border to drive growth to levels "well above" pre-pandemic rates, aided by ongoing displacement of cash, checks and wire transfers.
Mastercard Q4 2021 earnings highlights
Mastercard saw a 28% year-on-year increase in net revenues, with operating income growing by 37% despite a 19% rise in operating expenses, in part due to acquisitions spending.
Cross-border volume was particularly strong, with a 53% year-on-year increase – 63% excluding Europe. It is also now above pre-pandemic levels, at 109% of Q4 2019.
Mastercard attributes this primarily to improvements in travel, although Omicron did impact this in December, with holiday season cross-border card-not-present growth offsetting this loss. Nevertheless, signs for Q1 22 look positive, with cross-border volume for the first three weeks of January up 116% on 2019 levels
Beyond travel, Mastercard has been expanding its presence in new payment flows, including B2B accounts payable and cross-border remittances, with key partnerships in a number of regions including Latin America expanding the number of customers using its Mastercard Send services.
The company has also expanded its efforts in contactless acceptance, particularly through making smartphones into acceptance devices. Contactless payments now account for half of in-person transactions, compared to a third prior to the pandemic.
On crypto, Mastercard has been continuing to collaborate with key cryptocurrency companies, including Coinbase, to enable users to purchase NFTs, and ConsenSys, to improve the scale, speed and efficiency of projects built on the Ethereum blockchain. The company has also expanded the use of its CBDC sandbox test platform to support ongoing trials by central banks.
The company is positive about prospects for the coming year, with travel expected to reach 2019 levels by Q4 22. Mastercard has won a number of travel-related deals recently, and so expects to capitalise well on travel's return. Looking for widely, the company anticipates 20%-plus revenue growth and 10-11% volume growth in the coming year.