Ukraine sees a reshaping of remittances
We have been closely following how the Russia-Ukraine conflict is impacting remittances to and from Ukraine.
The biggest remittance corridors to Ukraine are from Russia, the US and Germany. Spain, Canada and Latvia also have a substantial volume. There has been severe disruption in services from Russia to Ukraine. International providers such as Western Union and Paysend withdrew from the country at the onset of the conflict. According to our own data, there are no providers offering services in the corridor at the moment.
There has also been a lesser but substantial suspension of some services from providers in Germany. Services from other major sending countries are still largely available, with some exceptions from Eastern European countries, where Russian companies such as Unistream were operating but were forced to suspend operations after the imposition of the sanctions. Sending money out of Ukraine, however, has become almost impossible.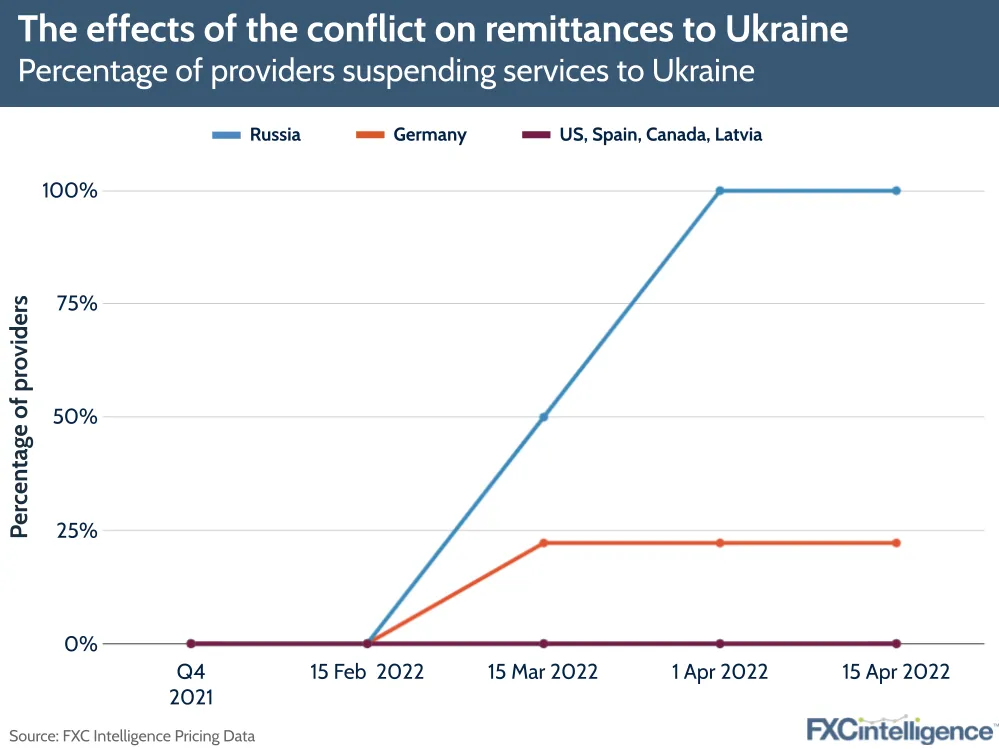 Although it is still largely possible to send money to Ukraine from countries other than Russia, senders need to be aware of the risks associated in receiving transfers. The National Bank of Ukraine stated that banks and other financial services providers continue to operate normally – unless doing so puts the life of their staff and customers at risk. However, some remittance providers such as Western Union are warning that recipients may not be able to pick up cash in Ukraine as agents might be closed. Transfer speeds may also be slower.
When it comes to services from Ukraine, the situation is dramatically different. The National Bank of Ukraine published a regulation on 24 February 2022 suspending all operations in Ukraine's FX market, including the ability for Ukrainian citizens to send money abroad.
We have evidence that, currently, the only available method to send money abroad is by using card-to-card payments at just one bank in the country. The transfer can be sent in UAH, USD and EUR. The sender can use their online banking to start a transfer and use their credit/debit card as the payment method with payout to the recipient's credit/debit card.
As the conflict continues, we continue to monitor the service availability to and from Ukraine closely, and will keep you updated with any further developments.
Read our report on the ongoing payment situation in Russia and Ukraine