The rise of multi-currency accounts
We recently covered digital wallets in cross-border payments. Wallets such as those offered by Skrill and WorldRemit allow consumers to hold multiple currencies without having bank details linked to them.
This week, we focus on a different segment of the market – multi-currency accounts, which we define as accounts that have unique associated bank details.
Geographically, the product has the largest market share in Asia. Virtually all major banks in Hong Kong and Singapore offer multi-currency accounts and the core FX products are multi-currency account based.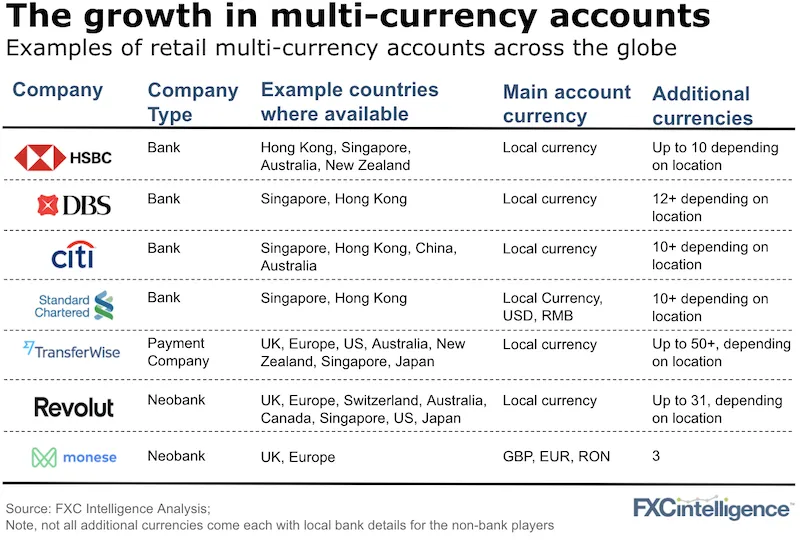 Our thoughts on this expanding product area:
An efficient tool for expats and frequent travellers
Expats and frequent travellers are the key target customers for retail multi-currency accounts, a segment hard hit by the pandemic. While incumbent banks often require a longer time to open an account and a higher amount of deposits for the account to be free, neobanks and payment companies' accounts can be set up quickly and at no costs.

Multi-currency accounts as a service
Platform plays are driving the uptake. Last week, ClearBank announced the launch of a new service giving banks the possibility to offer multi-currency accounts via an API-based connection to J.P. Morgan. Currencycloud has been providing a similar service for a number of months.

Saving and investment products can drive usage
Without the possibility to earn interest from savings in multiple currencies or use the money for investments, it's hard to see average balances held per customer being used for more than general payments. More and more players outside of the big banks are looking at offering products that can provide a return for customers.
As the world and commerce become more globalised and travel and expats movement returns, we would expect multi-currency products to grow in prevalence, either as full banking products or wallets.