Railsbank's embedded finance play
Earlier this month, Railsbank announced that it had raised $70m in funding, bringing the total raised by the company to $121.3m. I caught up with CEO Nigel Verdon to find out how the company plans to continue its growth and how he sees its role in embedded finance.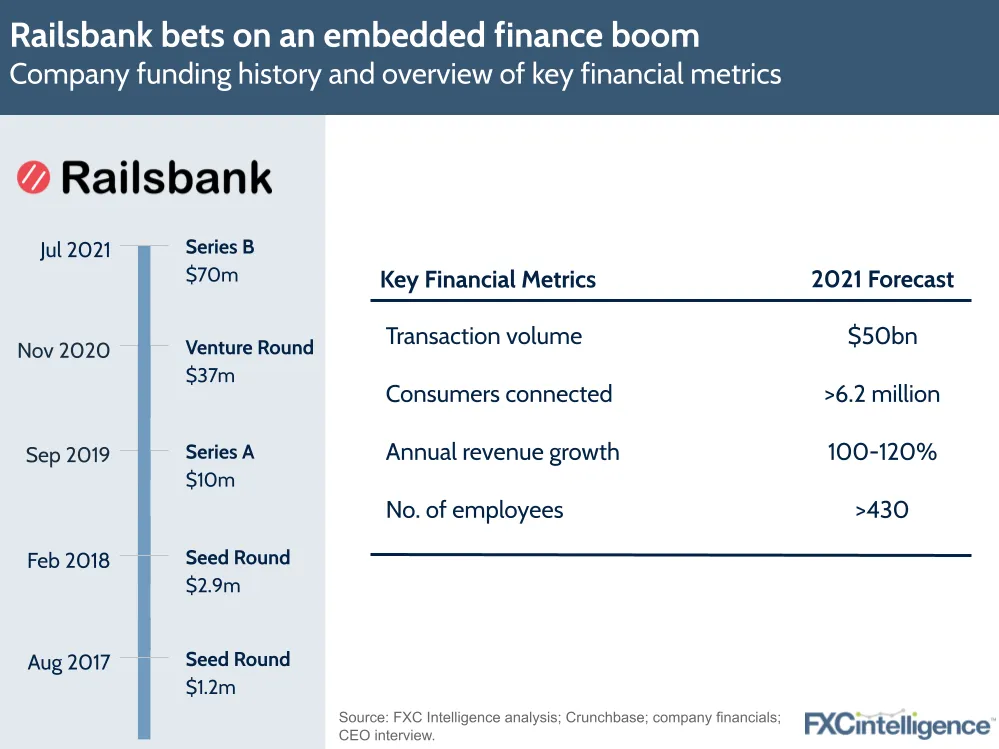 Railsbank's core focus is embedded finance, and it offers a host of as-a-service products as a combined turnkey solution for customers. This includes banking as a service, cards as a service, credit as a service and operations as a service. The company primarily provides these to retail and B2B customers, for applications including buy now, pay later; wage advancing and reward schemes.
Nigel's aspirations are for the company to become "the financial layer of the internet". He sees Railsbank having an edge here because it has built its tech stack from the ground up. It has connected directly to central banks, including the Bank of England and those in Europe, as well as Visa and Mastercard, meaning it clears payments directly. By contrast, Nigel says many competitors sit on top of legacy banking systems.
The company's revenue is currently an equal four-way split between banking as a service, cards as a service, operations as a service and the company's core platform, however it has recently launched its credit card service, which is growing rapidly. This is a turnkey product that is designed to get to market in under 60 days, which Nigel argues differentiates it from the incumbent banks whose launch process is slower. Credit cards also offer a broader product opportunity (compared to the saturated debit card market) due to the breath of personalised lending opportunity and credit card reward programs.
Turning to its growth, Railsbank expects to process $50bn this year, up from $10bn a couple of years ago. It now has 6.2 million consumers connected to it, which Nigel says makes it the biggest embedded finance provider in Europe. 80% of its revenue is in the UK and Europe, a business segment that is "two to four months" from being profitable, with the remaining 20% split equally between the US and Southeast Asia, both of which are "growing fast".
Looking forward, the focus is therefore helping growth in these two markets, as well as continuing expansion to others, including Australia where it recently launched. Africa and South America are outside the remit for now.
Railsbank recently acquired the UK Card Solutions arm of Wirecard and further M&A and senior hires (from some leading industry names) are set to be announced in the near future. Stay tuned.