PayPal shifts focus away from pure growth
PayPal's Q4 2021 results showed a slower-than-expected finish to the year, coming in short on targets while also most significantly announcing a pivot in its customer strategy. Neither was well received by investors who have perhaps overvalued growth above all else in recent years and valued the company against targets that now even PayPal sees as both unattainable and not commercially sensible in the medium term.
Nevertheless, 2021 was one of the strongest years for PayPal as it overpassed $1tn total payments volume (TPV) for the first time and launched a record number of products and experiences.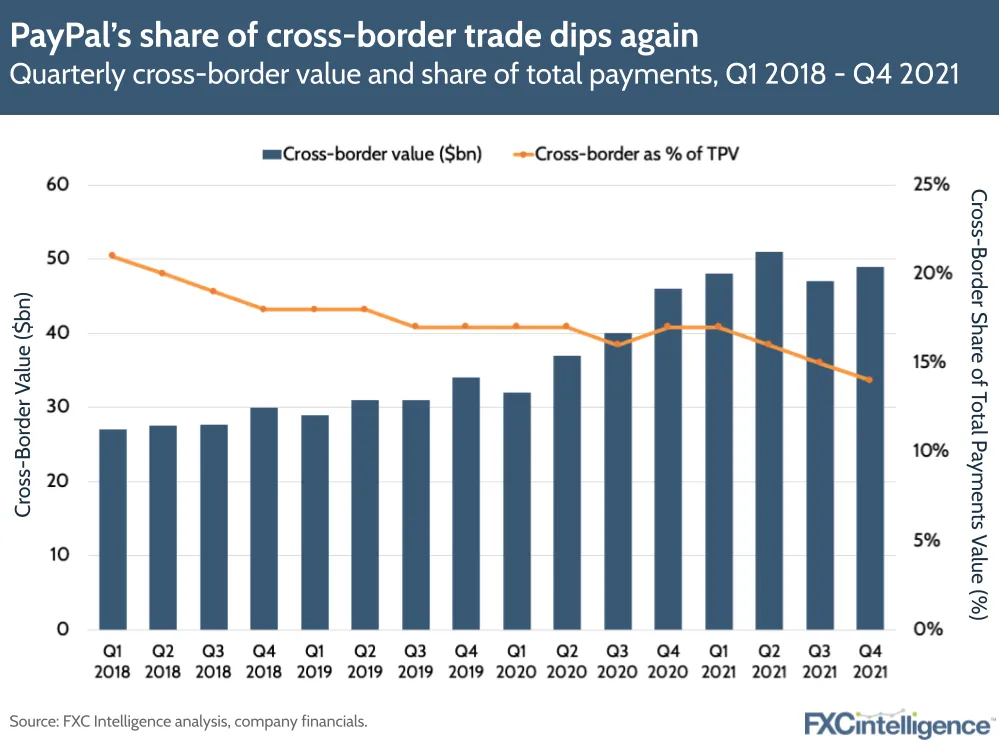 Key takeaways from PayPal's Q4 2021 results
In the last quarter of the year, net revenues reached $6.9bn (up 13% YoY) and total payment volume (TPV) grew to $339.5 bn (up 22.5% YoY). Q4 saw the lowest growth for both net revenues and TPV since Q1 2020.
PayPal came short of its 12.9m net new active accounts (NNAs) target, with 9.8m NNAs in Q4, but still has 426m users. Amongst challenges affecting the results, the company cited supply chain issues, a decrease in spending by lower-income consumers, changes to its customer acquisition strategies and the removal of 4.5 million disqualified accounts.
The core strategic change came from a shift away from just growing its user base to focusing on delivering more revenue from its core customers. Familiar to many digital marketers, PayPal's analysis showed its customer base growth – an amazing 120 million adds since 2019 – included many one (transaction) and done customers. Nice for headline growth numbers, bad for the bottom line given the incentives used to acquire these customers. Since PayPal shared that the majority of its revenue comes from one third of its customer base, it is going to focus on that group and bringing more customers into that group.
The share of cross-border volume of total TPV has been gradually decreasing, falling to 14% in the last quarter. In Q4 cross-border volumes totalled $49bn, only a 6.5% growth year-on-year, though marginally higher than the Q1 ($48bn) and Q3 ($47bn) volumes. Some of the contributing factors include supply chain issues and their disproportional impact on cross-border volumes, rising threats from Covid variants, the elimination of the US government stimulus and eBay's transition away from PayPal.
PayPal's BNPL is gaining momentum. The services are now available in eight markets, including Italy, Spain and Japan through the Paidy acquisition, and are also offered to Wix eCommerce merchants. Q4 BNPL TPV reached $3.2bn (with $13bn run rate) and 50m transactions over 2021. Going forward, the company will focus on international markets including China, Japan, Mexico and Brazil.
2022 is expected to be one of transformation and investment as the company transitions from its pandemic-fuelled growth. The first quarter is expected to be the hardest as the company grew revenue 31% in Q1 last year thanks to the government stimulus, stronger consumer confidence and a greater contribution from eBay. In line with the new strategy, PayPal scrapped its 750 million medium-term user account aspiration target set last year and shifts focus on driving engagement of existing customers.
PayPal's share price dropped 25% on Wednesday, the day after the earnings were published. Even at its current share price and market cap of $150bn, it's still one of fintech's dominant players. What probably hurt PayPal most here is simply the starkness and delivery of the message, especially characterising it as a pivot – a word used multiple times in the earnings call.
But as the growth-hungry investors exit PayPal, others will replace them with aspirations more in line with what is essentially the company's return to pre-pandemic growth goals and a sensible strategy of increasing revenue per user.
How are ecommerce companies competing on cross-border pricing?