PayPal tops estimates in Q3 23 despite ongoing user decline
PayPal has announced its Q3 2023 earnings, reporting top-line results that were at the top of analyst estimates. Net revenues increased 8% YoY to $7.4bn, while total payment volume increased 15% to $388bn.
This, combined with a slight increase in projected FY earnings per share, prompted a rise in the company's share price. Nevertheless, there remain challenges within PayPal's numbers, not least the fact that the company has reported a quarter-on-quarter decline in active customers for the third quarter in a row – a first for the payments giant. The company also saw legacy-related pressure, as well as lower-than-expected growth in branded checkout.
However, new CEO Alex Chriss, who took over from long-time head Dan Schulman, has only been in the role for around a month. He took a frank but optimistic view of the company's "challenges to tackle", saying that the "company's focus has not been clear" in recent quarters. While he indicated that he would be outlining his plans in more detail following the company's full-year results, he did suggest that the emphasis would be on streamlining the company's focus and ensuring it was executing effectively, by transitioning to a single platform-based experience for consumers, while increasing value for SMB and enterprise customers.
To this end, PayPal is divesting logistics player Happy Returns to UPS for $465m, which it says is "meaningfully higher" than its purchase price. Chriss has also named his new CFO, former EY CFO Jamie Miller.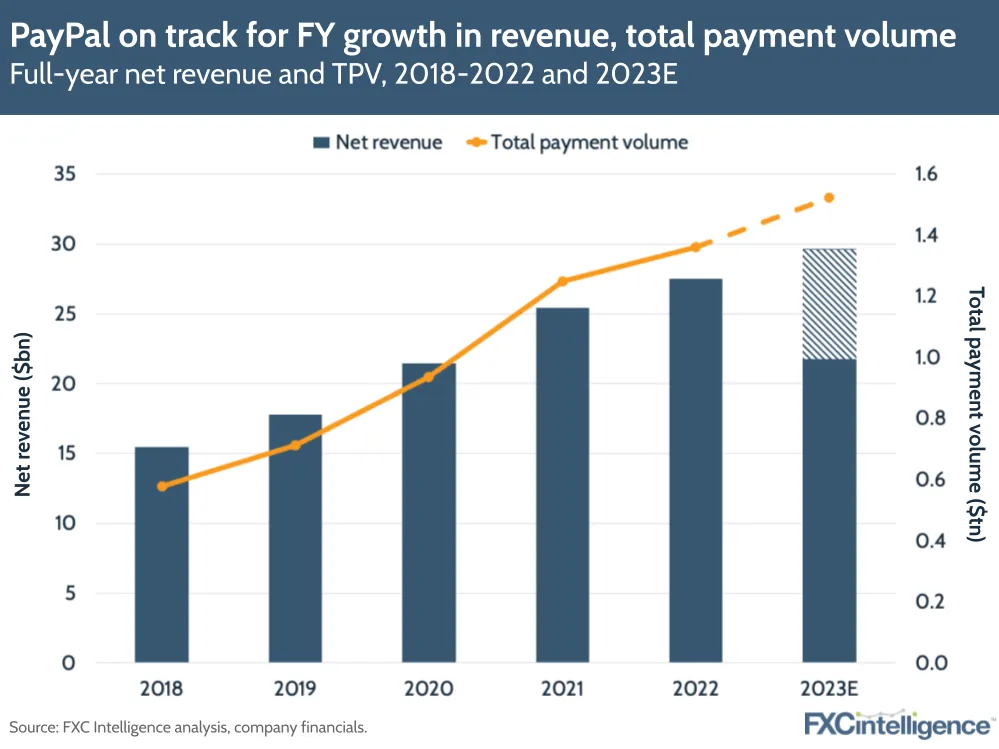 PayPal margins sluggish as revenues increase in Q3 2023
PayPal reported top-line revenue growth of 9% on a currency-neutral basis, while transaction revenue increased by 7% to $6.7bn. This was aided by a 6% increase in global branded checkout volumes, while the company's enterprise-focused brand Braintree was also a key contributor.
In the US, revenue increased 7% for the quarter, while increased interest income on customer stored value helped grow other value-added services revenue by 25%. However, ongoing consolidation of legacy payment services hit transaction revenue.
On total payment volume, this grew at 13% on a currency-neutral basis, with much of the growth driven by Braintree. However, there was a notable geographic divide. While TPV increased by 10% in the US, international TPV increased by 19% on a currency-neutral basis, buoyed largely by Europe and Asia.
Meanwhile, PayPal's operating margin dropped by 18 bps YoY to 22.2% on a non-GAAP basis, although it was up on the previous quarter. This was the result of a decline in transaction margin, which reduced 558 bps to 45.4% as a result of lapping key gains in previous quarters.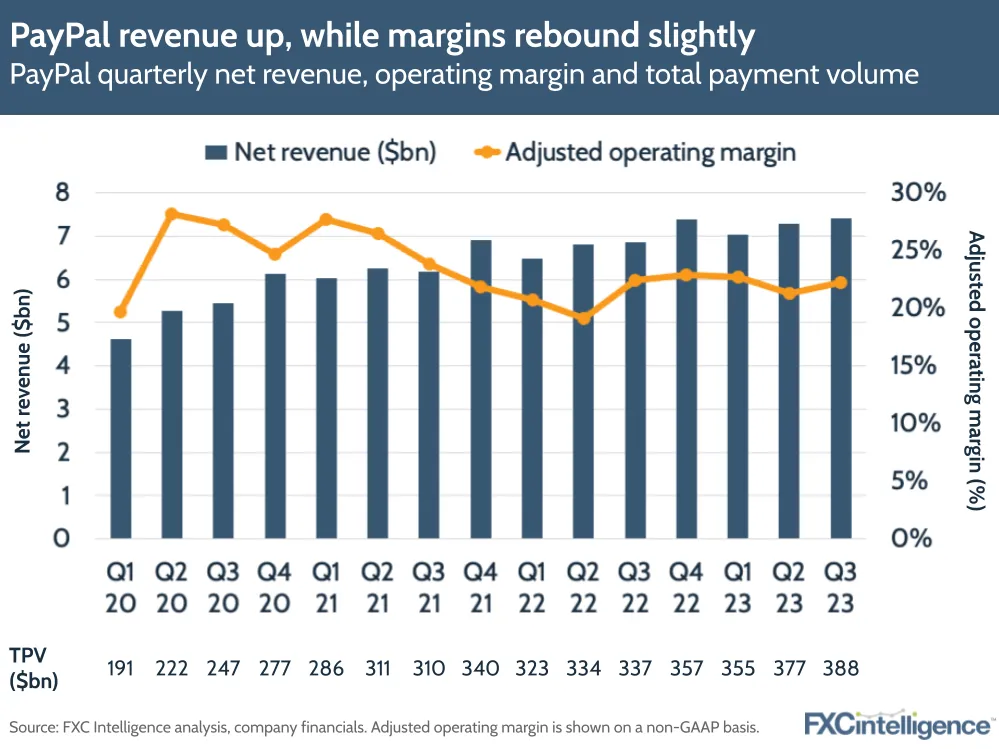 Transactions continue to climb as PayPal sheds "low-quality" customers
On customer numbers, PayPal has once again seen a drop in active accounts, with the company seeing a decline for the third quarter in a row. This is the only period in the company's history where this has happened and puts it at active account numbers comparable to Q4 2021.
However, the company said this was due to efforts to "flush out low-quality customers", which it says are largely in Latin America and Southeast Asia. Here, the company highlighted that it had expected to churn such customers, but that the churn rate has been lower than expected.
Meanwhile, the number of transactions per active account has continued to climb consistently, and the company says it is positioning to return to customer growth as it begins to deliver on its new plans.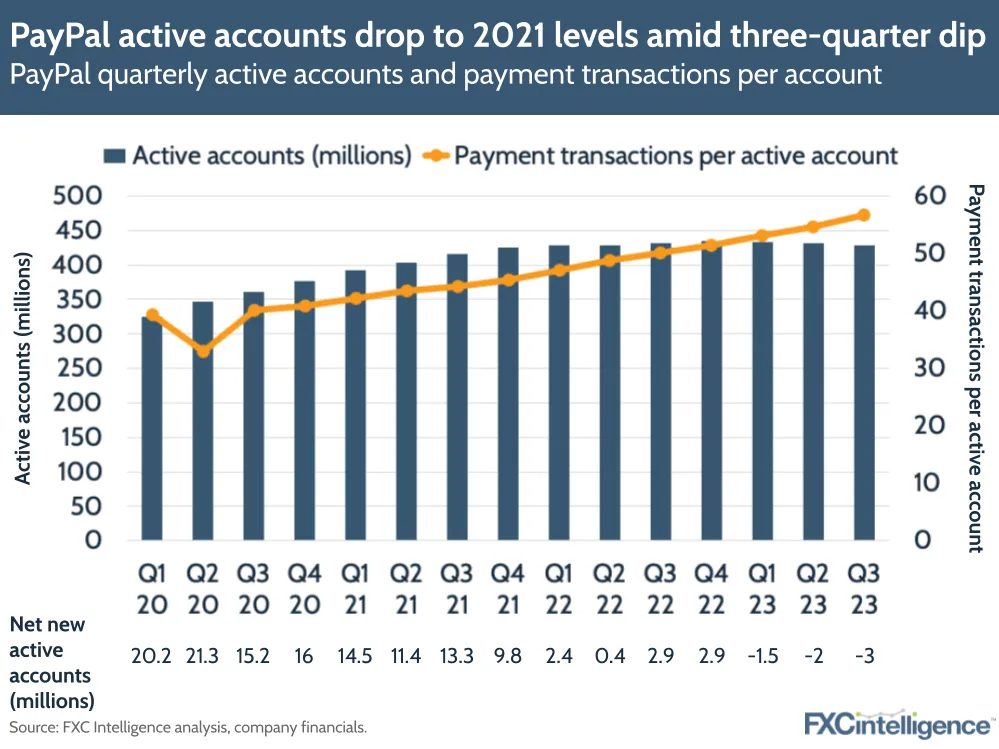 Cross-border growth muted
On cross-border transactions, both cross-border trade TPV and cross-border share of TPV were the same as for Q2 2023, at $47bn and 12% respectively. This puts cross-border trade TPV up 9% YoY on a spot basis, and 4% on an FX-neutral basis. Meanwhile, cross-border share of TPV is a percentage point lower than Q3 2022.
The company cited intra-European trade as key to growth here, but highlighted that ongoing softness in EU-UK activity post-Brexit continued to be a headwind.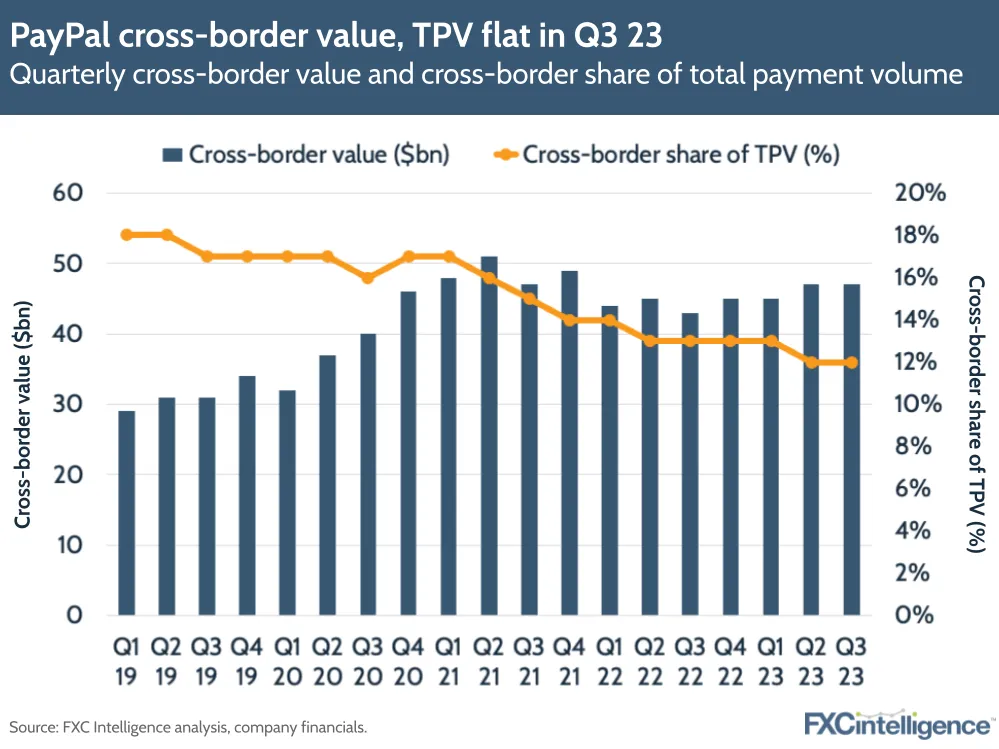 PayPal eyes platform, data focus
While Chriss has not yet outlined his full plan for his strategy at PayPal, he did indicate that the company would be increasingly moving towards a single platform strategy for consumers.
He pointed in particular to the individual successes of PayPal, Rewards, Buy Now Pay Later and Venmo, the latter of which he said had "opportunities beyond" the US. However, he said that the company is working to "put them together into a core value proposition".
Beyond this, he said on enterprise that the company plans to build up its SME and enterprise offering from the "beachhead of Braintree", including through margin expansion.
However, he also pointed to the data opportunities that PayPal has yet to address, particularly given the company's two-sided network. This, he said, would allow the company to recognise customers with its data and "create an experience that is frictionless, that is personalised, that drives conversion for our merchants".