Payoneer's evolving customer strategy: Investor Day highlights
Payoneer has had its first-ever Investor Day, providing unprecedented insights into how the company is approaching its future growth, and in particular the role of its customer base.
Ideal customer profiles (ICPs) have been a key watchword since Payoneer CEO John Caplan took solo control earlier this year, but here the company provided detailed updates on this approach, as well as how it feeds into regional and multi-market growth and the broader revenue strategy.
Here we look into some of the details to come out of Payoneer's Investor Day that shed light on its approach and progress in evolving this customer strategy.
Ideal customer profiles: The shift towards high-value customers
Payoneer's shift towards growth not just of all customers, but of specific customer types, has been central to much of its recent conversations with the market. This has seen the company focus on ICPs: the types of customers that it is focused on growing more of.
Here, Payoneer presented three examples of ICPs: a 3D printer manufacturer and retailer based in China that uses Payoneer for B2B and B2C transactions; a business process outsourcing company based in the Philippines that uses Payoneer for global accounts receivable and payments; and a self-employed Brazilian software developer that uses Payoneer for global business management.
Within these, the company has two types of active ICPs that it is pursuing: those that handle at least $10,000 in their account each month, and those that handle between $500 and $10,000 per month. Customers handling less than $500 per month are considered non-ICPs.
While the former ICP group accounts for just 10% of all ICPs, these $10,000+ ICPs currently account for around 50% of Payoneer's revenue, and are growing at the fastest rate of all customer groups – at 18% YoY. Lower-value ICPs, by contrast, make up 90% of ICP customers but account for 25% of revenue, and are growing at about 5% YoY.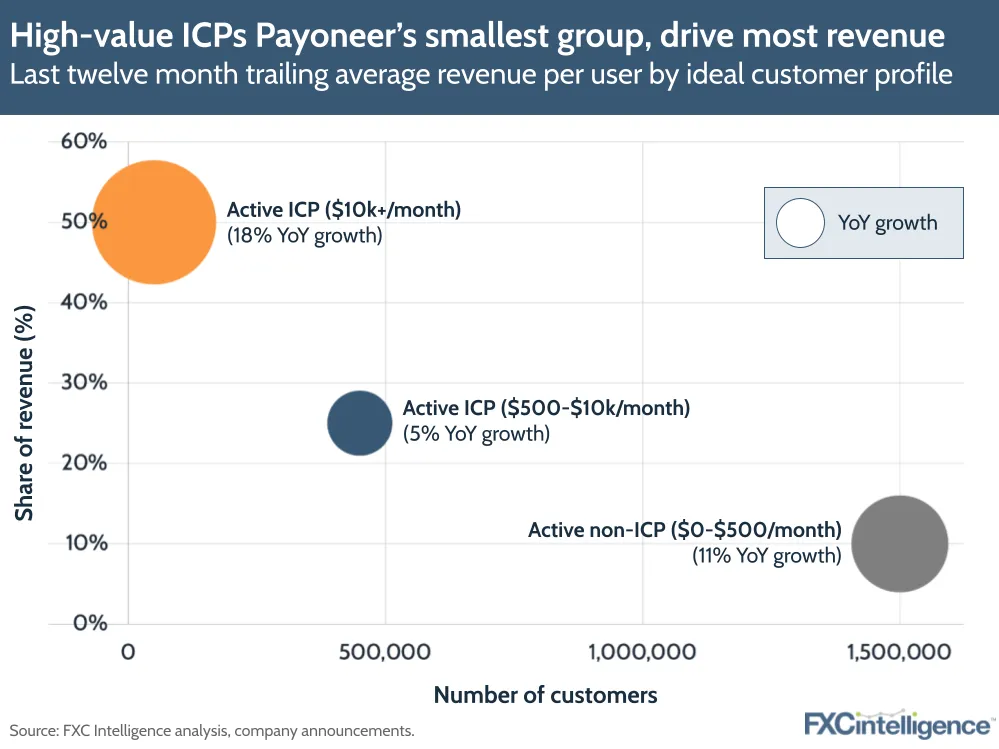 Higher-value ICPs, unsurprisingly, contribute significantly higher average revenue per user. This has also been growing at a much faster rate than for $500-$10,000 per-month ICPs.
The company also reports significant global distribution of ICPs, with Europe and APAC both home to 22% each, while Greater China and SAMEA both account for 19% and LatAm accounts for 13%. North America accounts for the smallest number, at 6%.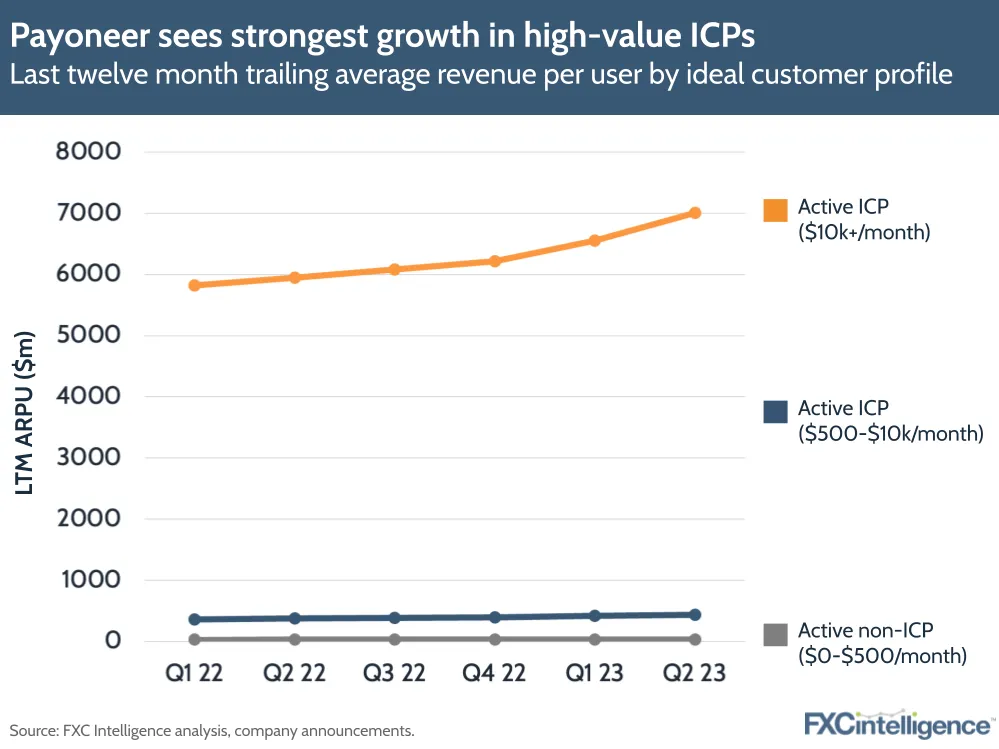 Payoneer looks beyond marketplaces to diversify customer base
Payoneer also highlighted how it is increasingly focused on growth beyond its core marketplace business in order to broaden the product areas it is catering to and so more effectively reach greater numbers of ideal customers.
At present, the company reports having around a 20% share of the SMB-focused marketplace opportunity, which it identifies as having a total volume of around $300bn. However, it increasingly is looking to grow its presence in Checkout, B2B goods and B2B services, where the opportunities are much greater. The company identifies these as having volume opportunities of $150bn, $3tn and $3tn respectively.
Here the company has already made initial inroads, with its strongest performance in Checkout, where it reports 900%+ YoY volume growth since its launch in 2022. Meanwhile, for the more goods-focused B2B markets in China, US and Europe, Payoneer B2B has seen a 50% CAGR for volume between 2020 and 2023, while for the more B2B services-focused APAC, LatAm and SAMEA, the company has seen a 72% CAGR over the same period.
CFO Bea Ordonez also provided projections as to each segment's growth in 2024. While in its mature marketplace segment it anticipates mid to high single-digit growth in volume, its fast-growing Checkout product is expected to see volume growth of at least 50%. Meanwhile, its B2B markets are expected to see acceleration, with around 25% volume growth in 2024.
This is expected to translate into a 2024 yield of 5x marketplace for Checkout and 1.5x marketplace for B2B.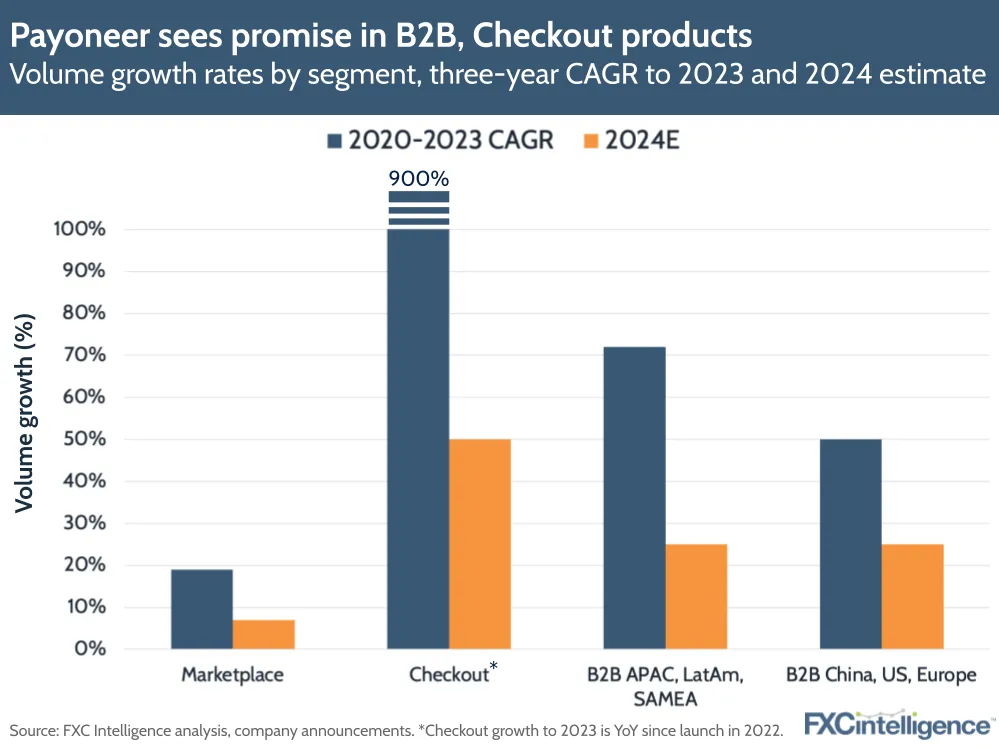 Improving cross-selling and upselling opportunities
This diversification of customer types is having a marked impact on the types of revenue that Payoneer is generating from its customers.
While card and send-to-bank-account revenue both grew at a rate of 60% between 2020 and 2023, other revenue types grew far more significantly to take a much greater share of the total.
B2B volume-in, for example, saw an increase of 110% over the three-year period, aided by the fact this segment is also monetised when funds leave the customer's account.
Notably, Payoneer has also markedly increased its monetisation of customer funds, which has driven interest income to increase by 1,100% over the three-year period, taking it from the second smallest segment in 2020 to the second largest in 2023.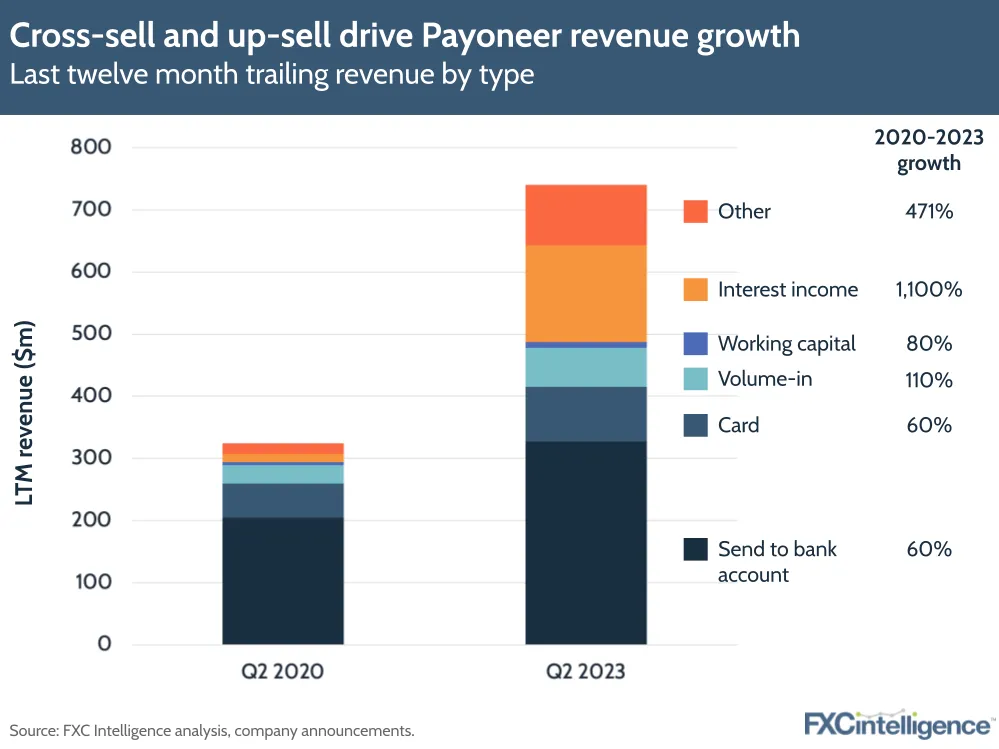 As Payoneer continues to drive focus to higher-value ICPs, it is increasingly promoting the adoption of multiple products by customers, alongside high-value services, including its commercial card, working capital and Checkout products.