Nigerian remittances face upheaval
Only days after we looked at the African remittance market, a Central Bank of Nigeria decision has created new barriers in the country. The pay-out of remittances in NGN cash are now banned, requiring pay-outs to be paid either in USD cash or directly to a local bank account. And it's clear that the decision has caught the industry off-guard, compounded by confusion surrounding whether the latter option of direct-to-bank-account NGN pay-outs is actually permitted.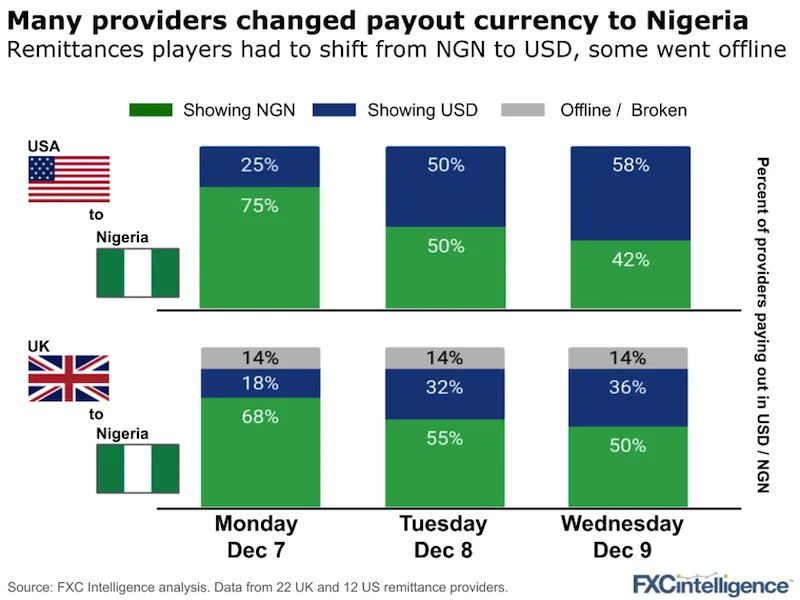 As of Monday 7 December, over half of providers were still continuing to show NGN FX rates for remittances sent from the UK and US. However, this percentage dropped in the following days, with many switching to show only pay-out options in USD.
Likewise, many providers have at least temporarily removed the ability the pay directly into bank accounts and now offer only cash pickup. This is likely due to the uncertainty surrounding how bank account payments work under the new guidance and whether there may be additional charges or FX conversions for recipients. Meanwhile, a significant minority of providers in the UK have suspended remittances to Nigeria.
The Central Bank of Nigeria argues that the decision was needed to increase the depth and transparency of the foreign exchange market, as well as provide more liquidity. However, local commentators counter that it is forcing customers into unofficial remittance channels with high margins or into converting USD locally at exchange rates not reflective of the market.
For the remittance industry, meanwhile, there is little option but to react to ongoing changes, and do as much as possible to keep customers informed. This was one topic no one wanted to talk publicly on either!
Discover how FX pricing varies to Nigeria and 100+ other countries