Intermex full-year guidance falls despite Q2 23 gains
Despite revenues rising 23.5% to $169.2m, LatAm remittances player Intermex has reduced its annual guidance for FY 2023 in the wake of a slowdown in YoY growth to its core markets in Latin America. This news was reflected by investors, with Intermex's share price declining by more than 19% in the immediate wake of results.
That said, Intermex's acquisitions of La Nacional and i-Transfer are helping to drive significant growth in money transfers and new customers in Europe.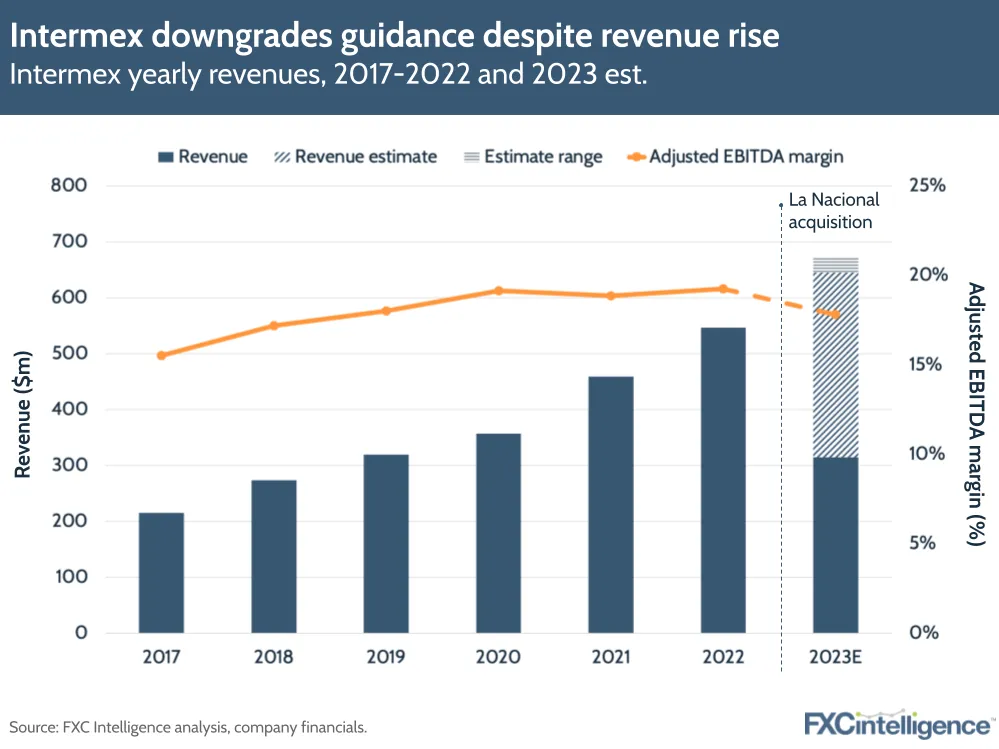 Intermex revenues driven by customer growth, offset by LatAm remittances slowing
According to Intermex, growth of its underlying business and the integration of La Nacional in the US were key revenue drivers for Q2 23. The company saw a 41.1% rise in unique active customers to 4.2 million, while the number of money transfers grew by 26.7% to 15.1 million. In total, customers transferred $6.4bn, a 19.5% increase.
However, the company's adjusted EBITDA margin declined from 20.2% in Q2 22 to 18.3%, while net income declined by 3.5% – the result of higher interest rates, depreciation expenses and acquisition-related costs.
While these numbers indicate that consumer remittances have remained resilient this year, CEO Bob Lisy did say that the company's core revenues were offset by a slowdown in YoY growth for remittance to the LatAm and Caribbean markets. This has led to increased discounting from providers to the region in the market, making the space more competitive and Lisy says that Intermex will need to change pricing to be more 'aggressive' in response.
On the back of the LatAm remittances slowdown, Intermex has changed its FY 2023 guidance and now expects revenue to grow between $644.9m and $673m, a rise of approximately 18-23% (down from 22-26%). This more conservative estimate is below the company's year-to-date revenue growth of 25% to $314.5m.
Having said this, through the La Nacional acquisition, Intermex continues to gradually grow its market share in the top five US to LatAm remittance markets – Mexico, Guatemala, El Salvador, Honduras and the Dominican Republic – with its share growing from 20.4% to 21.7%.
Intermex continues digital growth and market expansion
Despite being a cash-focused company in the US, Intermex has continued the growth of its digital business as it expands to more markets. The company saw 62.9% growth in digital transactions, while digital send or receive as a percentage of total transactions has grown 480 bps to 31%. Intermex attributed this growth to stronger customer acceptance of its mobile app.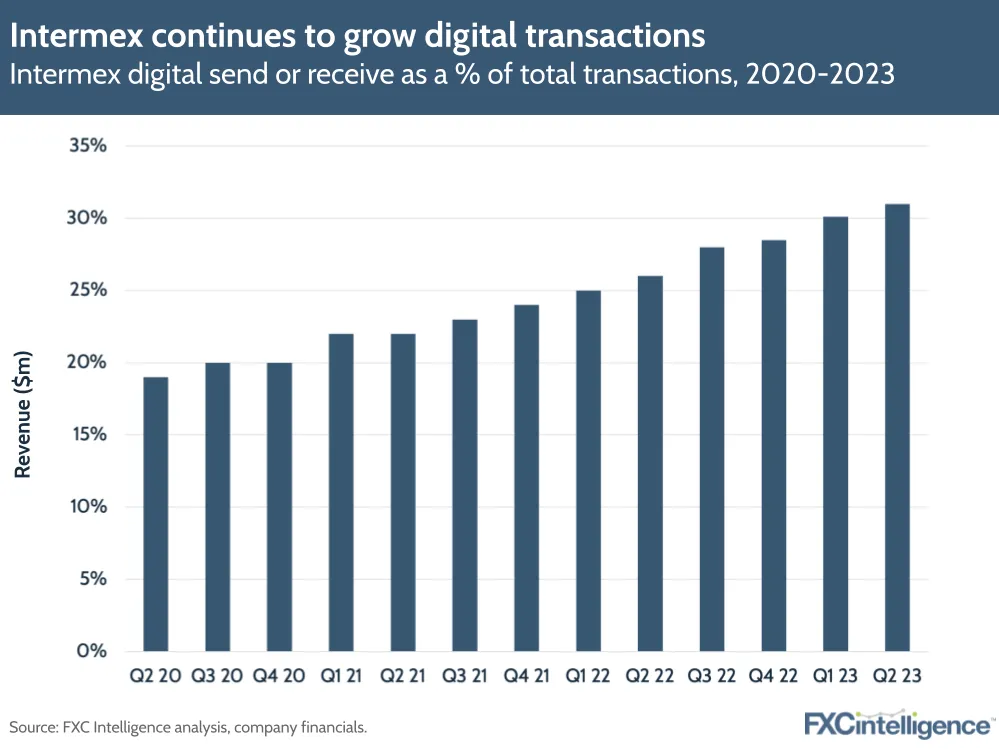 In Q1, Lisy argued that cash remains king for remittances sent to LatAm in the US, while consumers in Europe tend to be banked, providing a greater opportunity for digital remittances. However, he acknowledged this time that there is an opportunity for both retail and digital in Europe, and that while the company is currently primarily operating in Spain and Italy, it will look to expand to France, the UK and other countries in the future.
In the US, the company remains aggressive on retail, and mentioned the East Coast as being an 'unserved' opportunity for La Nacional. By restructuring the business in this region and adding new agents, the company expects it could serve an additional 1.5 million wires per month.
Despite the remittances slowdown, Intermex's movement in new markets and acquisitions could yield greater-than-expected results, and its growth is still up there compared to other key remittances players.
How much do companies charge for money transfers to Latin America?