Inside Mastercard Cross-Border Services
This past week I caught up with Mastercard's Executive Vice President of Cross-Border Services Stephen Grainger to discuss the company's cross-border strategy in my latest column in Forbes. Developing pay-out rails is one of the big areas of focus right now in sector, as we've covered in various letters over the past few months.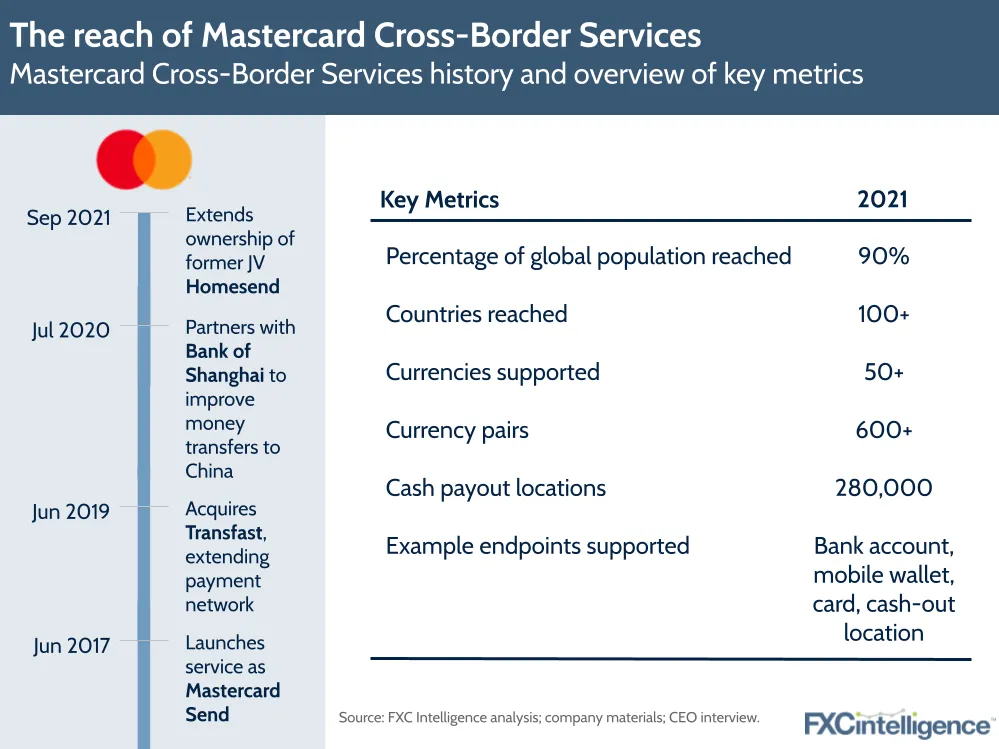 Designed for banks, fintechs and non-bank financial institutions to send money internationally, Mastercard Cross-Border Services provides money transfer services for any use and endpoint, covering 90% of the world's population. Some of the highlights from my conversation with Stephen:
Mastercard Cross-Border Services is in part aimed at organisations who have seen their ability to pay out to beneficiaries directly reduce over the last decade as a result of shrinking networks (such as corresponding banking) and tightening regulations.
Mastercard (similar to Visa) have a global network of banking relationships at the heart of the offering. The company is currently focused on increasing connectivity with underlying clearing platforms to increase the efficiency of payments.
Beyond reach (which Stephen says is just the baseline now), the company is also focused on ensuring trust, speed and flexibility, with issues such as risk management seeing particular focus. This is where direct connections really pay off.
Low-value payments (under $100,000) have long been a focus for Mastercard, but the company has seen demand for these increase "significantly" due to new payment flows such as those emerging through ecommerce and the gig economy.
On pricing, Stephen does see pressure as a result of factors such as the G20 remittance target, however he sees technology as key to tackling the issue, as it will help combat friction points.
Looking to the future, Stephen sees the focus being on the creation of standardised operating environments, with central bank digital currencies or stablecoins potentially playing a role. However, he argues that solving on-ramp and off-ramp remains an issue to tackle if digital currencies are to play a major role in cross-border payments.
Read my full conversation with Mastercard's Stephen Grainger in Forbes