The closing of the 2019/20 financial year this April marks the achievement of several important goals for Ebury, one of the leading cross-border companies serving the SME space.
In addition to closing their Santander deal, the most recent annual results show how three years of investment to open international offices and add headcount has paid off. Ebury provides us with a case study on how to grow an SME-focused payments business.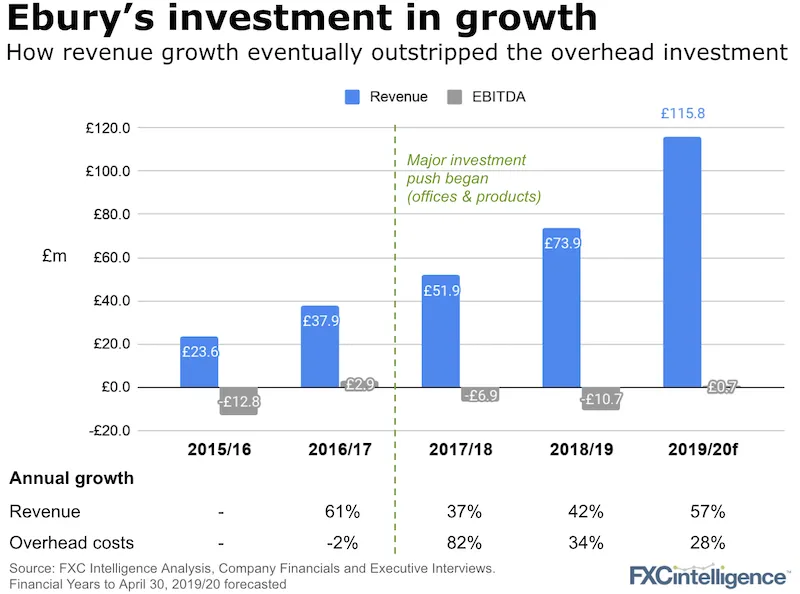 Ebury's business is focused on hedging SME clients. In a "normal year", typically 70% of revenue would come from forwards (usually window forwards), the balance from spot FX. 
In November 2015, Ebury raised $83m ($110m in total to that point) and really began to invest in growth. By the 2017/18 financial year, this had ramped up, shown most clearly by the relative growth in overhead costs (up 82%) versus revenue (up 37%). Ebury was building the platform for scale but, as would be expected, revenue was lagging behind investment. Overheads averaged 73% of total costs throughout the period.
What was investment being directed towards? From April 2016 to today, headcount rose from 250 to over 1,000 and the number of international offices increased from four countries to more than 20 countries. Even with Ebury headquartered in the UK, the company consistently derived a large portion of revenue from outside the country helping it weather the UK-focused macro storms better than others.
The results of the investment in the platform were not apparent until this latest financial year – 2019/20 – of which we have been given the first look. While £115m of revenue derived from SMEs is impressive, let's focus on the relative growth of revenue versus overhead costs: 57% against 28% respectively. This growth differential has helped the business achieve break-even EBITDA in 2019/20. That's scalability for you (see TransferWise as another example for the sector). With Santander now backing Ebury, one of the leading horses in the race is going to be even harder to catch.