How sustainable is Wise's growth?
On January 10, Citi downgraded its guidance on Wise to Sell, prompting the money transfers provider's share price to drop by slightly over 10%. In the following days, the price partially recovered before nearing the pre-guidance price the following week.
However, the research raised questions around how much room Wise still has to grow. Wise reported good quarterly growth numbers in its H3 22 results published on Wednesday, but Citi's analysis was based on the belief that "the shares now price in excessive long-term revenue growth expectations". With this in mind, where would ten years of above-market growth take Wise? We ran the numbers to find out.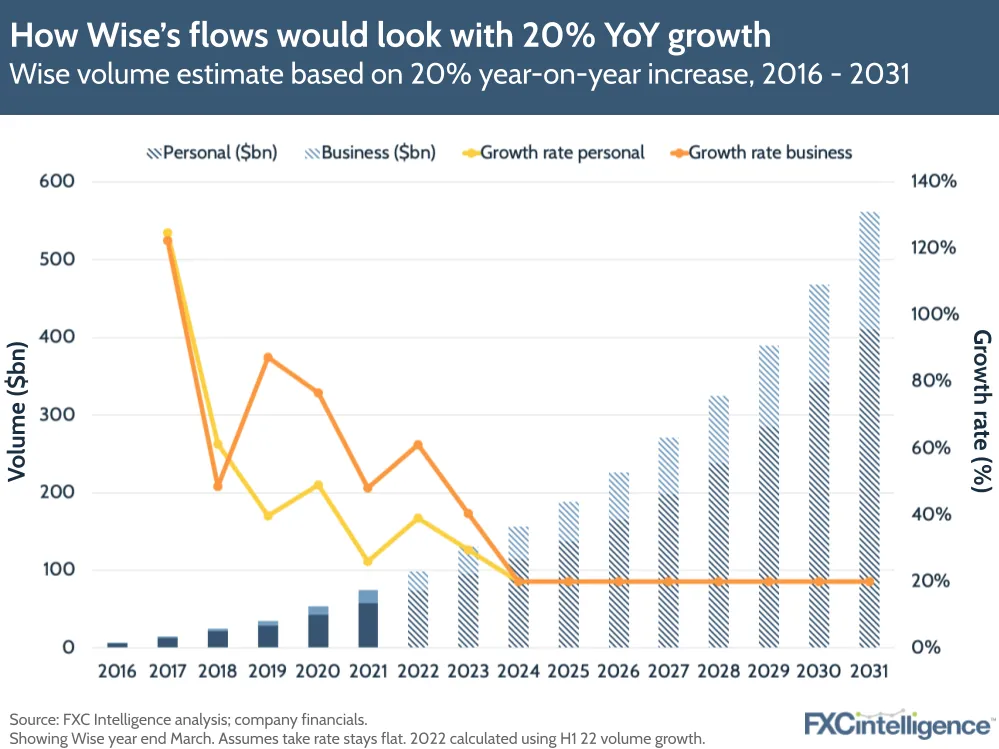 Our analysis is quite conservative, assuming there is an aggressive taper of the company's annual growth rate from the current levels of 39% for its personal segment and 61% for its business segment in financial year 2022 to a flat 20% for both from financial year 2024. For context, Wise's latest quarterly results released on Wednesday cited 32% year-on-year growth in personal volumes and 58% growth in business volumes.
Our analysis also assumes that the company's take rate remains unchanged, and does not account for any extra growth in Wise's platform Wise for Banks, which forms part of the business segment.
However, it does provide some insight into how much of the market this level of sustained growth would account for in a decade's time – and in the case of personal money transfers, it's more than realistic.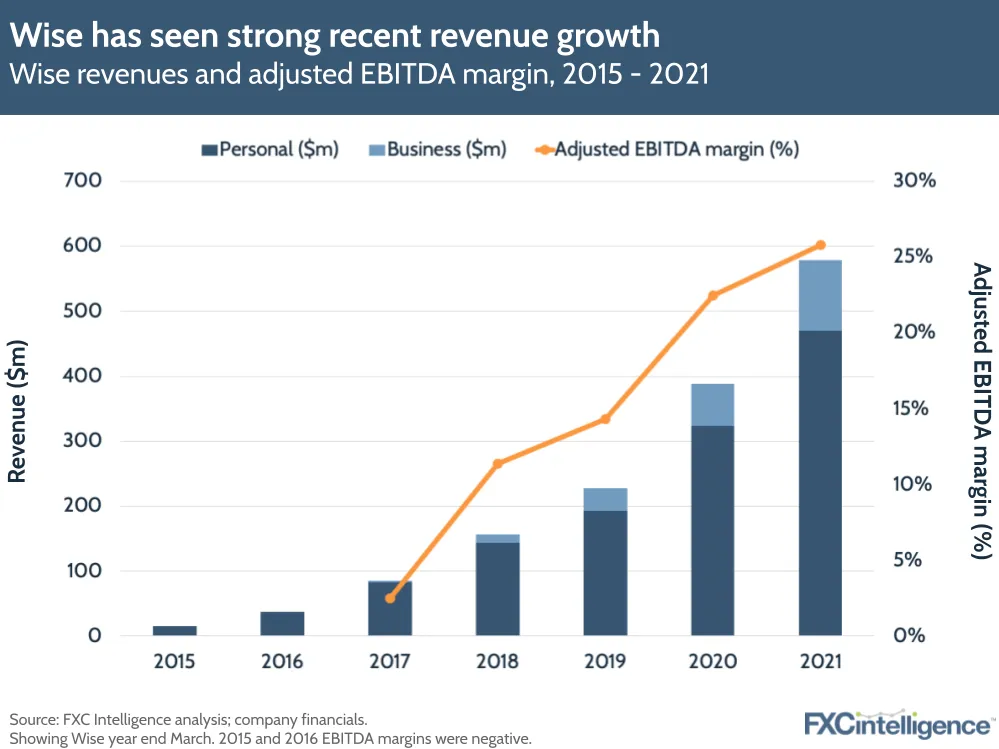 Growth in Wise's personal segment
Consistent 20% year-on-year growth would see Wise's personal business volume reach $380bn in 2031, compared to $58bn in 2021. These are large numbers for the segment to achieve.
Given that the wider consumer and remittance market typically grows at around 5% a year, this would see it claiming a share that was potentially more than half of the entire consumer market (based on World Bank remittance numbers) or closer to 25% of the $1.5trn broader consumer market. To achieve these levels, it would have to take significant share from many geographies around the world and would assume many other players, banks and payment companies, would give up share to allow Wise this type of growth.
In the modern payments era, there has never been a payment company with 25 to 50% share of consumer payments globally. In a single market, yes, but globally – that is the challenge.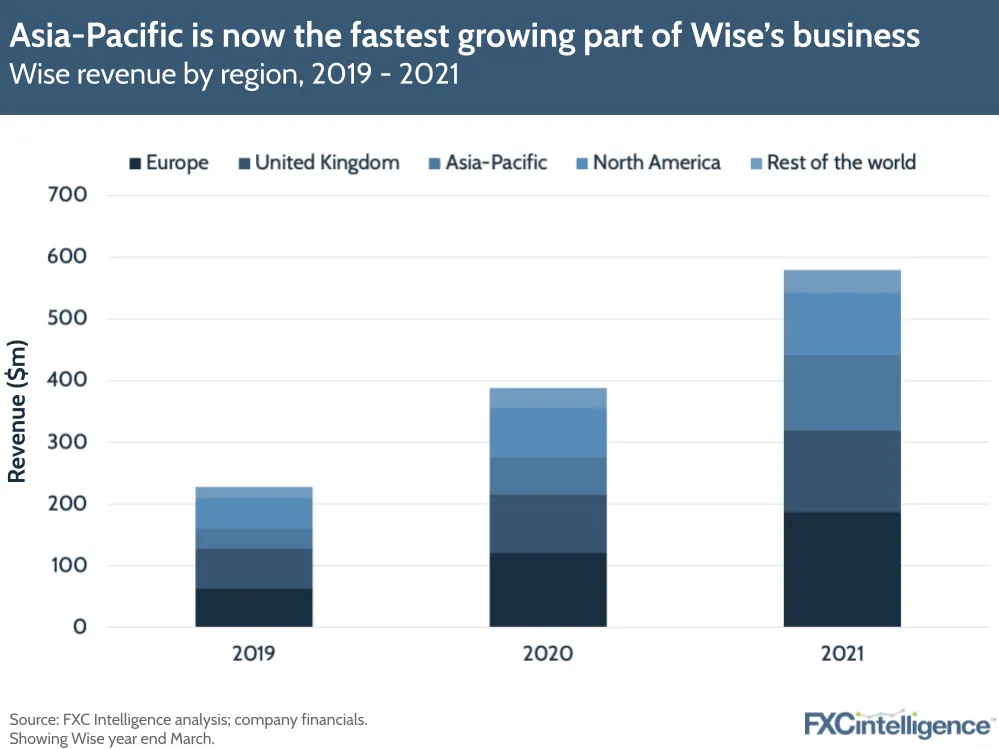 Growth in Wise's business segment
However, growth in Wise's business segment volume may be much easier to hit given the much larger size of the market and its overall fragmentation.
The company's business segment is a more recent addition, and is much smaller than its personal segment at present. As a result, consistent year-on-year growth would see it grow from $17bn in 2021 to $129bn in 2031. This is possible because business is a segment with a much greater total addressable market (some market estimates put the B2B market a c.$150tn), making this a far smaller percentage than it would be for the consumer segment.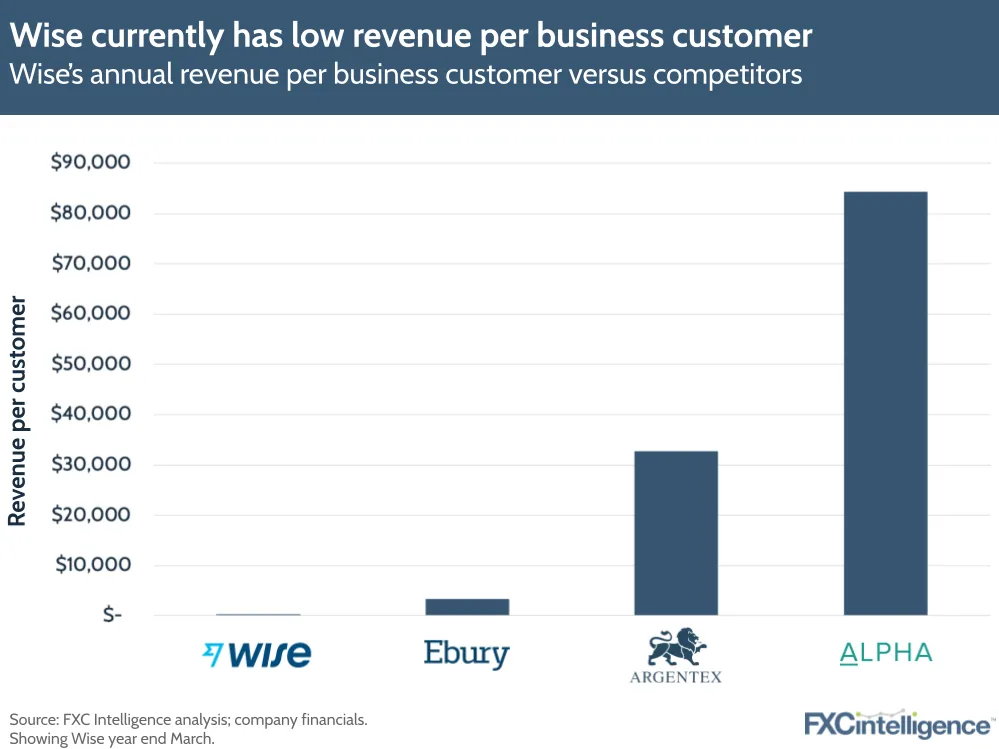 The B2B money transfers market is also far more fragmented than the consumer market at present, creating greater opportunities for shifts in market dominance over the next decade. Banks still dominate but at the smaller business end of the market which Wise focuses on, payment companies have been most successful.
There also is the additional factor of Wise's powered-by and white label-type solutions, where it powers other organisations. Whilst the flows here have been small to date and mostly support new digital banks that have small cross-border payment flows, these all should naturally grow.
For Wise, then, the biggest opportunities to maintain consistent growth are likely to be in its B2B business where it is only scratching the surface of the addressable market. In the personal money transfer business where it is a much more dominant player, moving the needle 20%+ every year will be much harder.