Global payments stocks: What's going on with the markets?
In the public markets, we're beginning to see some bottoming out and values growing again for the global payments world, following a difficult decline from the heady peaks of 2021 and then the lows of the Russia/Ukraine war.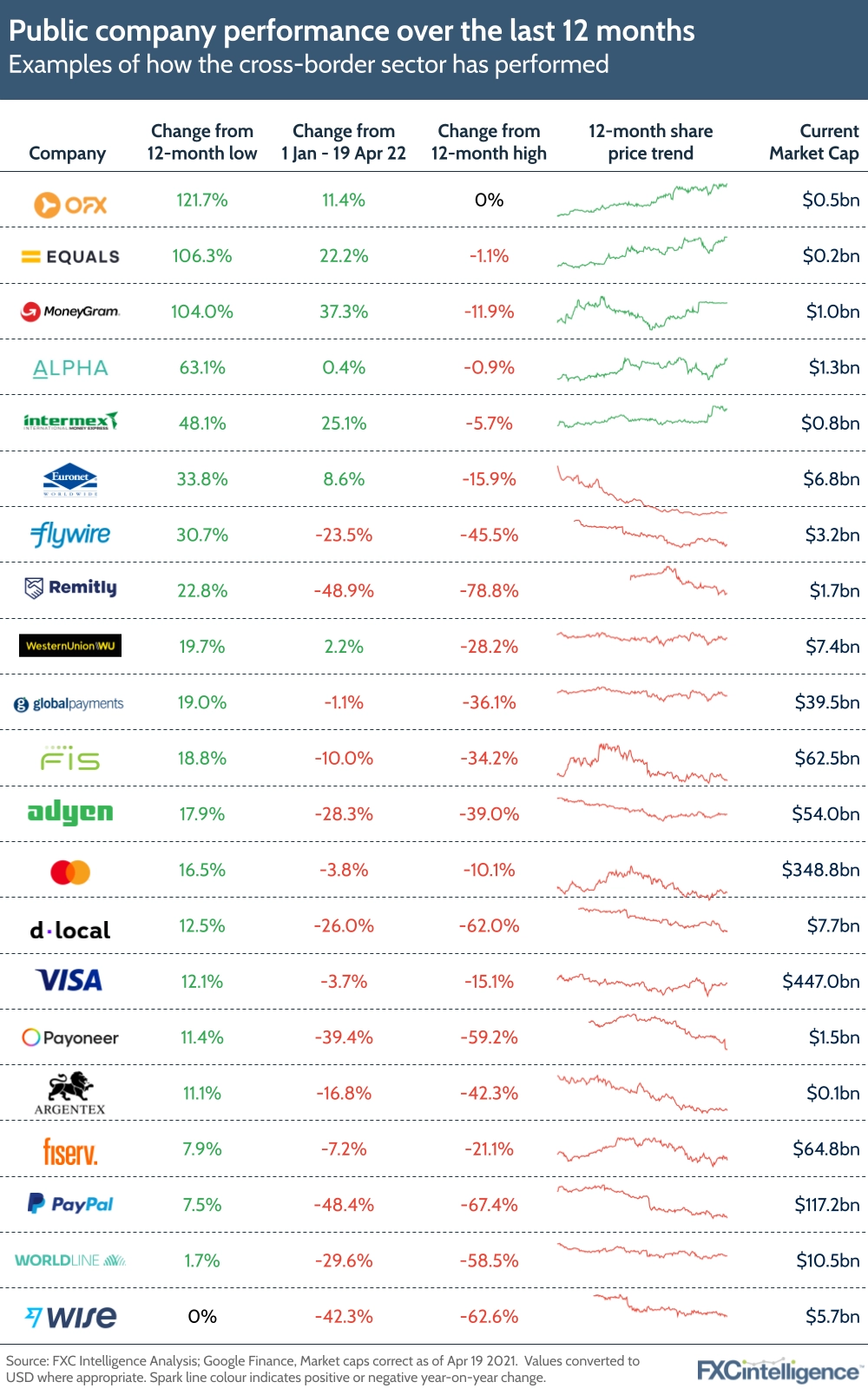 Among those that gained value since the start of the year, MoneyGram saw the biggest climb due to its private equity acquisition by Madison Dearborn Partners, which has more or less fixed the price since it was first announced. Of those that will remain public companies, however, cash remittance player Intermex leads with around a 25% climb after it announced its omnichannel growth plan at an investor day during the quarter, while Equals and OFX are the only other companies to see double-digit growth.
Why have the public markets been so muted for global payments stocks?
So why is the market so muted and what is sparking value growth? There's considerable debate, but much of the change seems to be due to the following:
Growth for growth's sake is no longer valued alone
Investors are looking for profitable growth, and want companies to produce numbers that deliver it. A number of the most recently listed companies are still targeting growth to build enough scale to drive what they hope will be c.20% EBITDA margins, but they are not there yet. Virtually every company though has begun to message a much clearer plan to profitability to help guide investors.
Financial investors who shifted into fintechs moved away again
In an uncertain inflationary environment with interest rates rising globally, financial sector investors heads are being better turned by more traditional financial service companies or a move outside the equity markets into bonds and other assets.
Retail investors are dropping out
A combination of rising cost of living, the end of Covid-19-related financial assistance and a dropping market has seen retail investors drop out of the markets, taking share value with them.
However, the market is beginning to recover, with almost all the companies we track showing a notable bounce back from their lowest point. The shape of Q2 will be crucial to the track of future growth – and we'll be covering the key developments as they happen.