Global Payments shifts focus to corporate clients with latest sale
Payment processor Global Payments saw muted growth in 2022 compared to previous years, with adjusted net revenues increasing 5% to $8.09bn over the year as a whole, and just 2% to $2.02bn in Q4. The company announced it was now selling its gaming business for $415m as part of a shift to corporate over consumer-centric customers.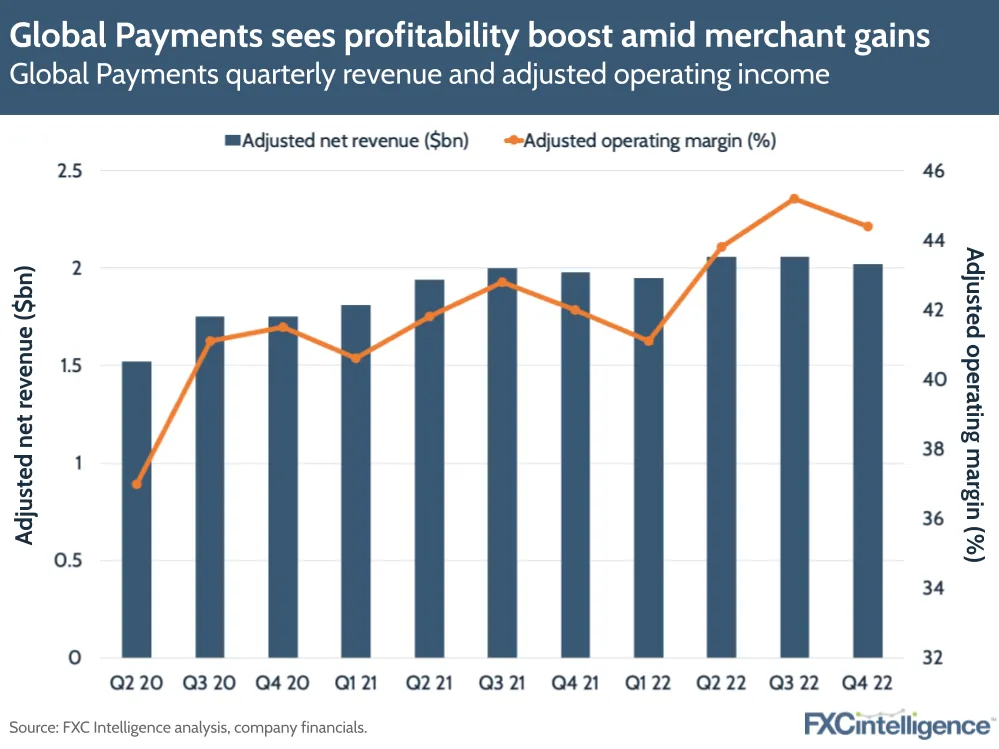 Excluding the impact of dispositions and FX changes, adjusted net revenue for FY 22 was 10%. Adjusted operating margin expanded 190 basis points to 43.7% over the year, and 240 basis points to 44.4% over the quarter.
Merchant solutions drove revenues during Q4, with 5.2% growth in the quarter, partly fuelled by 20% growth for Xenial, the company's payments brand focused on restaurants. However, as we've seen with other ecommerce players, growth in this segment was notably lower in Q4 2022 than the same period in Q4 2021.
In acquisition news, the company has now entered an agreement to sell its Gaming Solutions business to Parthenon Capital Partners. This is part of Global Payments' shift towards a more corporate customer, which also includes a strategic review of its Netspend consumer business (recently acquired by Rêv Worldwide) as the company wants to retain its B2B assets.
For its 2023 outlook, Global Payments projects adjusted net revenue to grow 6-7% this year. This guidance considers the closing of its EVO Payments acquisition, the divestiture of Netspend's consumer business and the sale of Gaming Solutions, in each case by the end of the first quarter.