FIS raises guidance after resilient consumer spending in Q1 23
US-based processor FIS has raised its guidance after revenues grew 1% YoY (on a GAAP basis) to $3.5bn in Q1 2023. The company saw higher consumer spending than expected, but still believes macroeconomic impacts will lead to a decline in revenues this year.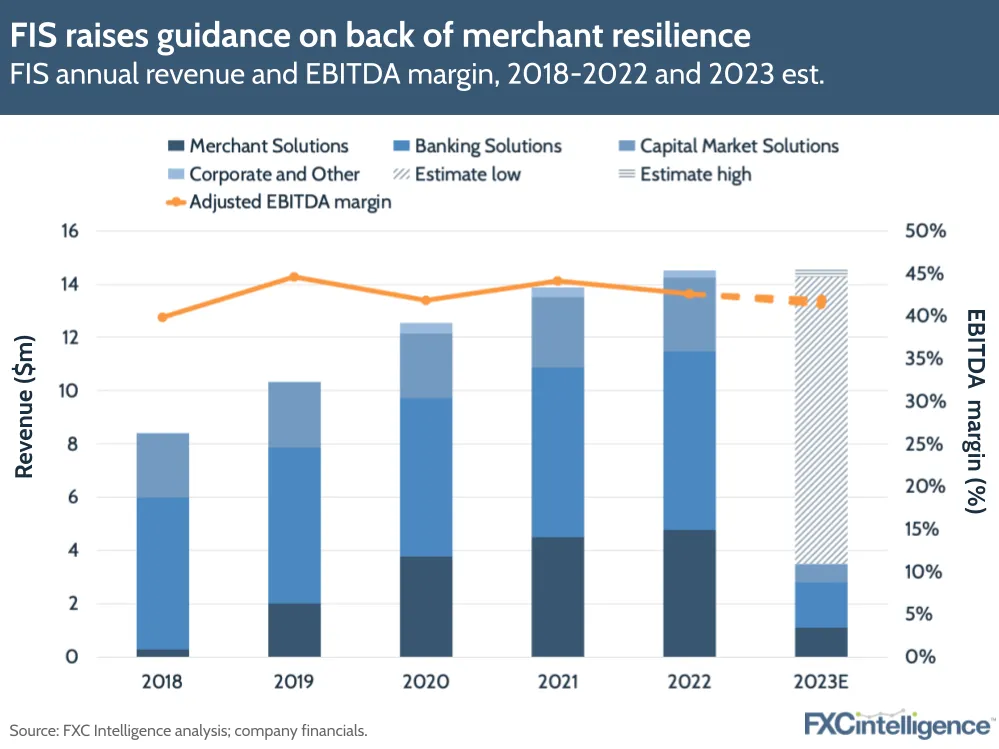 FIS is making progress towards spinning out Worldpay, its merchant solutions segment, into a separate company, with a new management office and business separation plan. The plan is to complete the separation by early 2024, and you can read more about it in our deep dive report here.
Some of the other key highlights from the earnings are below.
The company's quarterly EBITDA margin dipped below 40% for the first time since 2020, contracting 190 bps to 38.7%, which was reportedly due to its changing revenue mix. FIS is trying to reduce its spending by $1.25bn across the whole enterprise through its ongoing 'Future Forward' plan, which it hopes will have a positive impact on EBITDA.
Revenues from Merchant Solutions declined 1% in GAAP terms but rose 2% on a constant currency basis, driven by rises in transactions and 15% organic growth in its ecommerce business. Global volumes rose by 7% to $551bn, while US volumes rose 7% to $411bn.
The company's banking and capital markets segment saw revenues grow 6%, also higher than expected, due to a growing number of deposit accounts, some of which FIS linked to the collapse of Silicon Valley Bank in March. Around 60% of the company's revenue growth is driven by these accounts, while 40% is driven by transactions.
FIS has updated its FY 23 guidance. It now expects consolidated organic revenue growth of 0% to 1% and an adjusted EBITDA margin of 41.5-42.2%.