Euronet grows on travel surge in Q1 23
Euronet's Q1 2023 results see the company report solid revenue growth of 10% YoY (14% on a constant currency [CC] basis) to $787.2m, with the company's Money Transfer segment, which includes Ria and Xe, increasing 6% YoY (9% on a CC basis) to $359m – an improvement on its FY 22 growth rate. Euronet's adjusted EBITDA also increased 17% to $92.8m, while operating income grew 24% to $45.6m. The results topped analyst estimates, prompting a positive reaction from investors.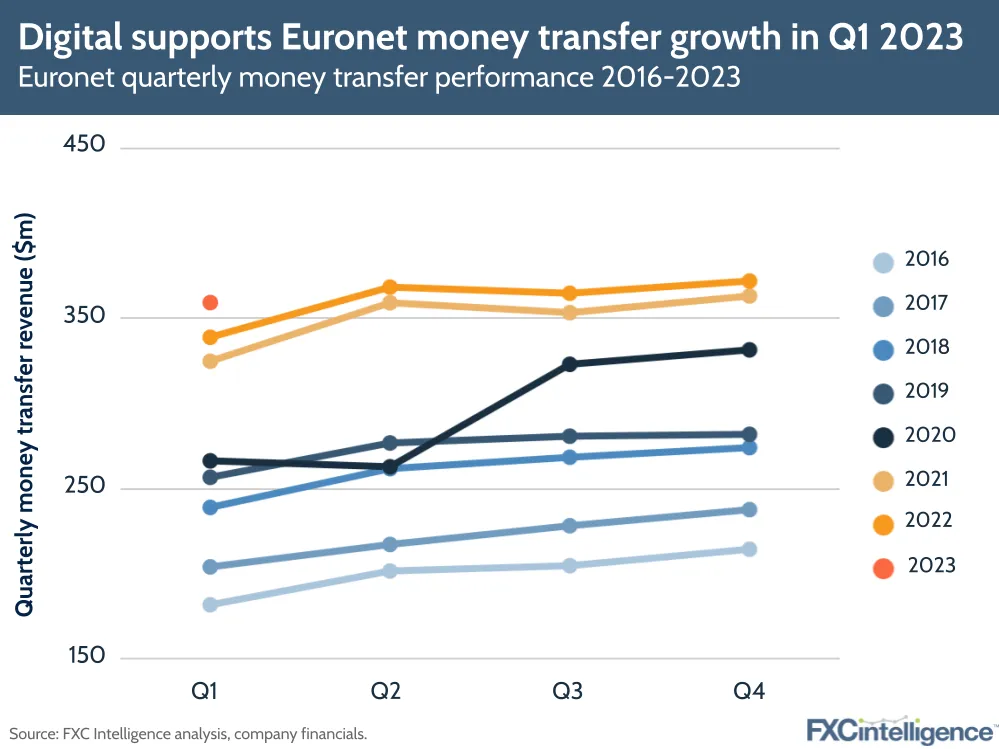 Much of Euronet's growth came from its ATM-focused EFT Processing segment, which was buoyed by increased travel globally, particularly in Asia where Covid-19 restrictions have fully lifted. This saw the segment's revenue grow 32%, compared to epay's 1% and Money Transfer's 6%. The Money Transfer segment was also the only part of the business with negative operating income growth (-2%), compared to EFT Processing's 210%, although it saw 2% growth on a CC basis.
However, the Money Transfer segment did show some positive signs, particularly in key regions and send types. US-outbound transactions increased 13%, while international-originated money transfers climbed 16%, in part due to a 14% increase in transactions sent from Europe and 18% from those sent in the Middle East and Asia.
Xe performed particularly well, with 28% growth in transactions on the platform, although with a lower send amount per transaction. However, the company's US domestic business proved to be a significant headwind, shrinking 17% YoY.
As with many traditional money transfers players, digital showed promise, with a 38% increase in direct-to-consumer digital transactions, although there remains a lag between increased transactions and resulting revenue increases.
Euronet also expanded its money transfer network, with a 6% YoY increase in retail locations to 528,000. It also expanded its correspondent network, most significantly with the launch of money transfers with Alipay in China. Its network now covers 3.6 billion bank accounts and 1.7 billion wallet accounts.
The company also provided an update on its platform product Dandelion, which now has partners in 21 countries and saw transactions within existing partners increase 57% YoY. It plans to continue adding features to the platform and has a "robust pipeline" of companies globally, promising new partnership announcements in Q2 2023.