Euronet FY 22 satisfies investors, but Ria, XE see muted results
Euronet has published its FY 22 results, reporting a 12% increase in revenue to $3.3bn while its operating income climbed 109% to $385.4m and EBITDA increased 43%. The company's Money Transfers segment, which includes Ria and XE, saw a less impressive 2022 compared to its growth of previous years.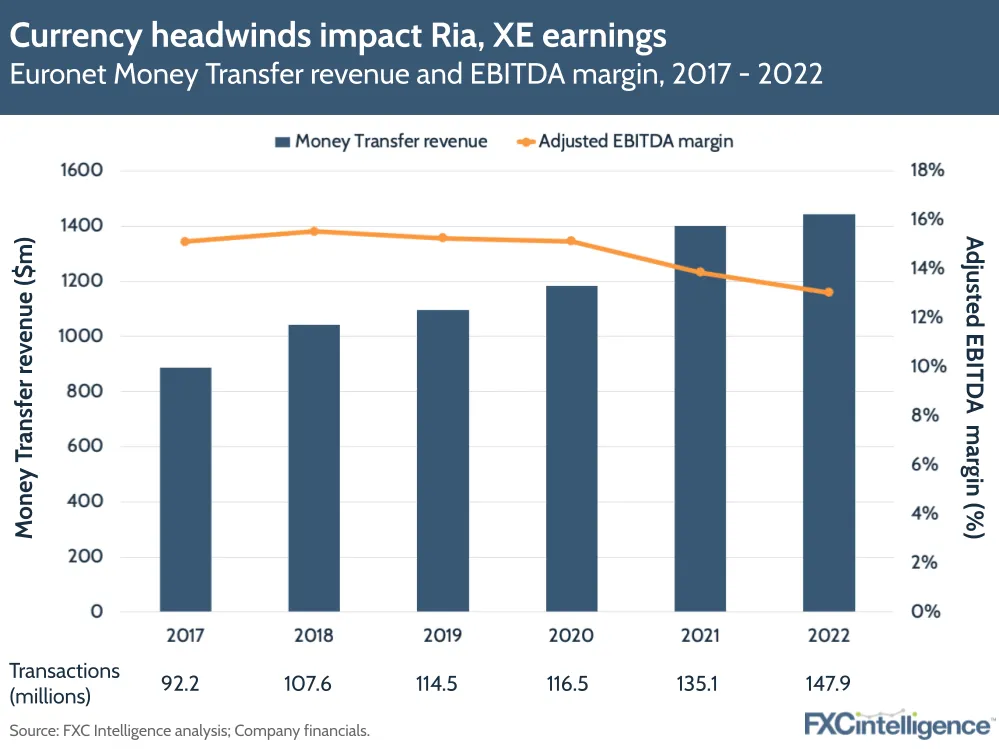 Money Transfers was one of Euronet's weaker segments in FY 22, seeing a 3% YoY increase in revenues to $1.4bn, while operating income climbed 29% to $154.5m and adjusted EBITDA decreased 3% to $188.4m. The number of transactions fared better, with growth of 9% to 147.9 million.
Some of this weakness is a result of the strength of the dollar. On a constant currency basis, Money Transfers saw revenues climb 9% for the year, while operating income grew 43% and adjusted EBITDA increased 7%. Another impact was a 15% drop in intra-US business for the year. However, XE saw transactions increase 21% YoY, while the segment's US-outbound, Europe-initiated and Middle East and Asia-initiated transactions grew 12%, 13% and 9% respectively.
Suspension of services to Russia in Q1 also had an impact, with the closure of 20,000 network locations across Russia, Belarus and Tajikistan meaning that although it added over 32,000 network locations, the net YoY increase was only 12,000.
Meanwhile, direct-to-consumer digital transactions saw the most impressive growth, with climbs of 38% YoY for both the full year and Q4.
Across the rest of Euronet's business, on a constant currency basis, epay saw revenues increase 8% YoY, while EFT Processing saw a 75% increase, with the latter's growth partly due to strong travel recovery. The company is also seeing success with its platform business Dandelion, which saw a number of key client wins, including global bank HSBC.
Looking forward, the company projects double-digit growth for 2023 and beyond for the entire company, with Money Transfers expected to see revenue growth in the low teens. However, with travel continuing to bounce back, most of the growth is expected to continue to come from the company's EFT Processing segment.