dLocal share price falls despite FY 22 growth
Uruguay-based payment processor dLocal posted its earnings this week, in which it reported FY 22 revenues had risen 72% to $418.9m. Adjusted EBITDA grew 54% to $153.1m, bringing the company's adjusted EBITDA margin to 37% – down from 41% in 2021.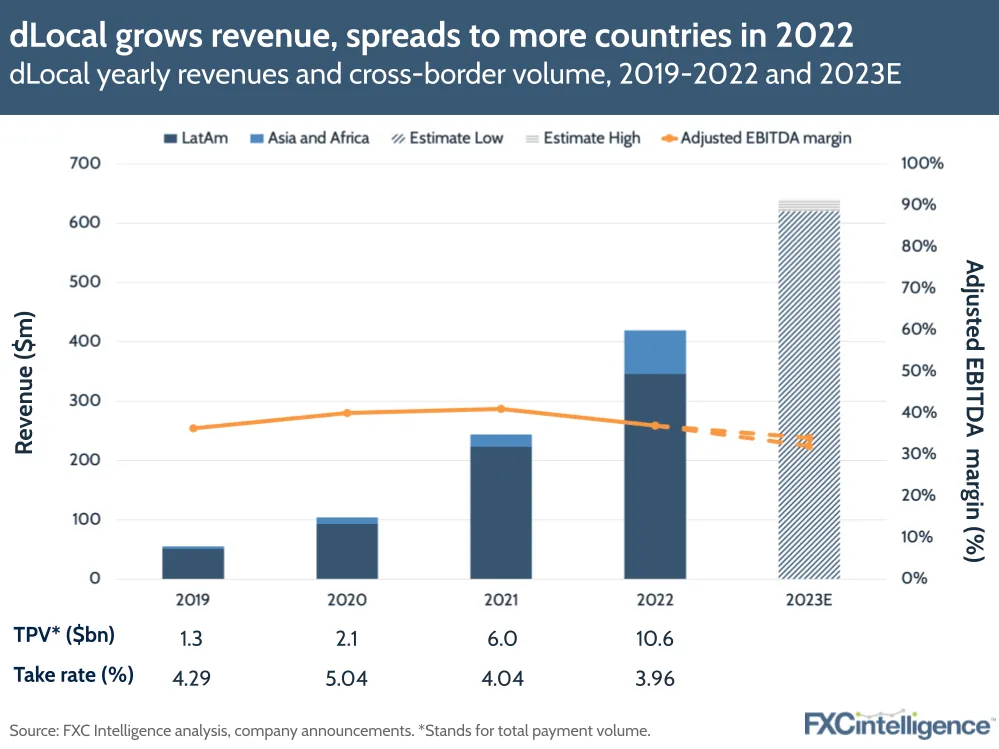 Despite revenues rising 55% in Q4, dLocal's share price fell by more than 20% the day after the company released its figures. This could be because the company missed analyst estimates for its profit margin, which was 16% in Q4 (down from 31% last year), as well as slower growth forecast for Q1 2023. One notable loss was a $5.6m deposit tied up with bankrupt crypto exchange FTX. The share price drop may also be because a report from short seller Muddy Waters – which criticised some of dLocal's accounting procedures – continues to weigh on the company. At the time of writing, dLocal's share price was hovering at around $12-13, still well below the low $20s it was at before the report.
Aside from challenges in Q4, growth was driven by total payment volumes rising 75% over the course of the year to $10.6bn, while take rate was just under 4%. dLocal explained that revenue had grown more slowly relative to TPV as a result of its business mix in 2022.
Expansion was a key strategy in 2022, with the company adding Côte d'Ivoire, Nicaragua, Rwanda, Saudi Arabia and Honduras over the course of the year. New markets helped drive revenues in Africa and Asia, which increased by 259% to $73.6m, and accounted for 18% of total revenue (compared to 8% last year). In the company's core LatAm region, revenues rose 54% to $345.4m, driven by rises across Brazil, Argentina, Mexico, Chile and others.
Cross-border volume accounted for a lower share of TPV this year (58%, compared to 65%) with the company saying that it was increasingly penetrating local-to-local merchant payments. It also saw 75% of its volumes from pay-ins (merchants receiving payments from customers), as opposed to pay-outs, whereby merchants disburse money to business partners or customers.
Looking to the next year, the company is looking to increase revenues to between $620m and $640m; bring adjusted EBITDA to $200m-220m; and gain more from its existing customers, keeping its net revenue retention rate between 140% and 150%. 2023 will be an important year for dLocal as the market is watching it closely.