dLocal continues to take market share
Unphased by market pressures, cross-border payment specialist dLocal had a strong opening quarter in Q1 22, marking a 117% increase in total revenues to $87.5m. The company's diversification strategy and high net revenue retention have given it a good foundation for growth in 2022.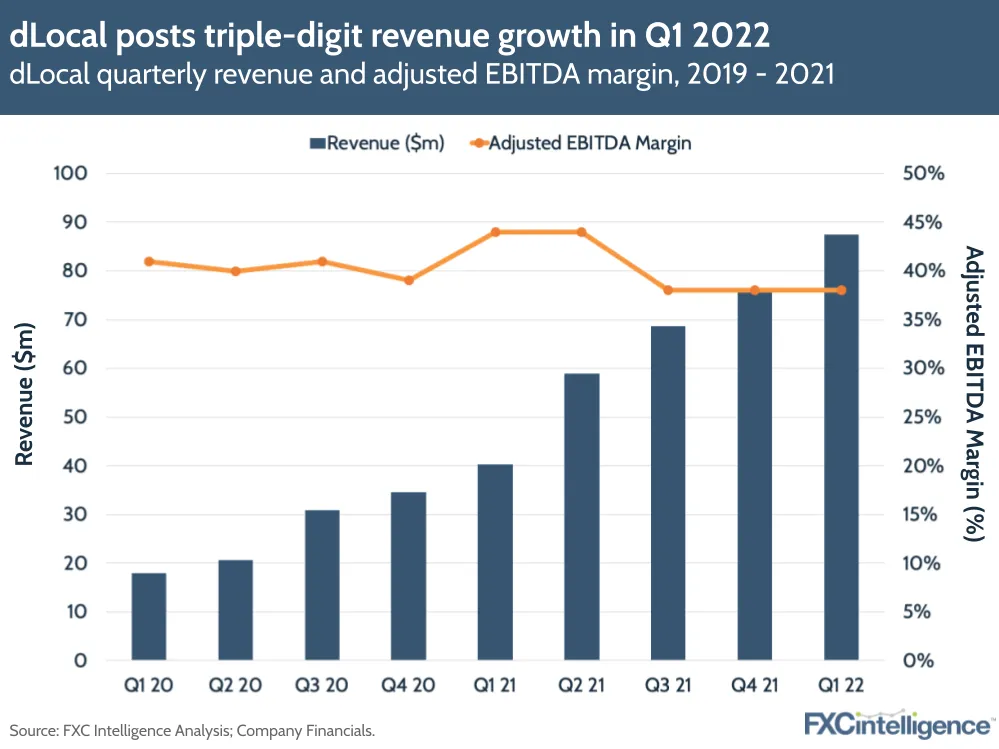 Key takeaways from dLocal's Q1 results:
Revenue and total payment volumes saw triple-digit growth, with the former growing 117% to $87.5m (from $40m in Q1 21) and the latter growing 127% to $2.1bn (compared to $926m in 2021).
Adjusted EBITDA margin remained in line with Q4 2021, but declined to 38% from 44% in Q1 21, whilegross profits grew 87% YoY.
Latin America continues to be the company's main growth region, more than doubling revenues from $36m to $78m over the yearly period. The company's efforts to secure new business in Asia and Africa also paid off, with these areas seeing a 127% YoY increase to $10m overall.
Revenue is being driven primarily by the rapid expansion of existing clients. The company saw net revenue retention of 190%, with existing merchant revenues growing from $33m in Q1 21 to $77m in Q1 22. New merchants (including 10 new 'significant' additions) provided an extra $11m in revenue for the year.
Diversifying merchants has boosted the company's resilience. dLocal executives said that it supports merchants from 10 different verticals, with no single vertical accounting for more than 20% TPV in Q1 2022.
dLocal also expanded its presence to Ivory Coast and Rwanda, bringing its total number of countries served to 37.
The company saw little to no impacts from the Russia/Ukraine conflict, due to the fact it has no exposure to the countries involved.