Digital money transfers drive growth for Ria, Xe in Euronet Q2 2023 results
Euronet has reported solid growth of 11% YoY in Q2 2023 to $939.1m, with operating income climbing 21% and adjusted EBITDA growing 13%. For the company's money transfers segment, which includes retail-led major Ria and online player Xe, growth was at 7% YoY to $394.8m, although this includes a significant US domestic decline that offsets growth in other areas.
However, the numbers missed industry estimates and the expectation of weak ATM performance in early Q3 helped prompt investor concern, with the company's share price down on the news.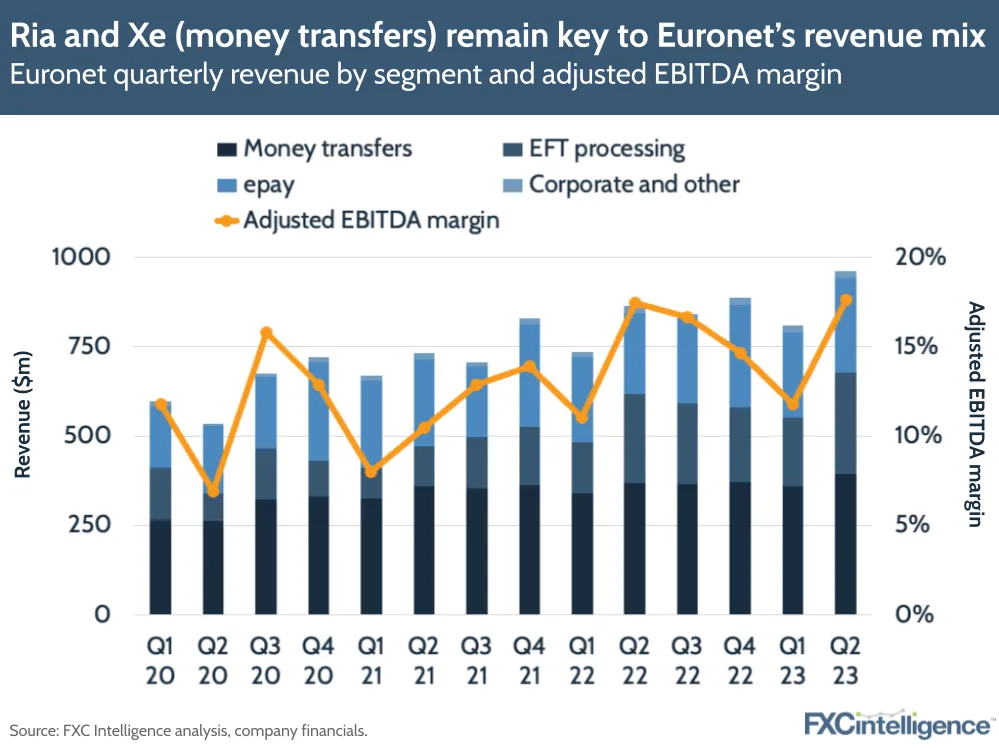 Ria, Xe produce record Q2 results for Euronet money transfer segment
While top-line growth for Euronet's money transfers division was relatively modest, this included a 17% decline in the company's US domestic business and masks strong performance in other areas that make this Ria and Xe's strongest Q2 results on record.
Money transfers reported a 16% YoY operating income increase to $47.2m, while adjusted EBITDA grew by 12% to $55.3m. This was driven by growth in both US-outbound and international-originated money transfers, which climbed 11% and 13% respectively.
Within international transfers, those from the Middle East and Asia saw a 12% increase, while those from Europe grew 11%.
While Ria was key to many of these regional increases, the company's Xe business was particularly strong, seeing a 30% growth in transactions in the quarter compared to Q2 2022.
Overall, transactions grew 10% YoY, while the total network locations increased 6%. However, the amounts sent did not see the same growth, and Xe in particular saw lower send amounts despite rising transaction numbers.
The money transfer segment is also up considerably on pre-pandemic numbers, with Q2 23 revenue up 42.6% on Q2 19 and adjusted EBITDA up 27.4%.
The company does expect Ria and Xe to continue to drive money transfer segment growth in H2 2023, with CEO Michael J Brown saying that Ria has "outperformed World Bank numbers three or four fold" for the past 15 years. He highlighted the company's position as one of the leading physical payout networks as key to its expected ongoing growth, as well as recent cost-cutting initiatives, which he said had provided "very nice expansion and margins".
Brown also gave an update on the company's pricing strategy, which continues to be above some of the smaller players but generally price aggressive, although he said that new markets with less competition provided opportunities for higher pricing and therefore increased revenue per user.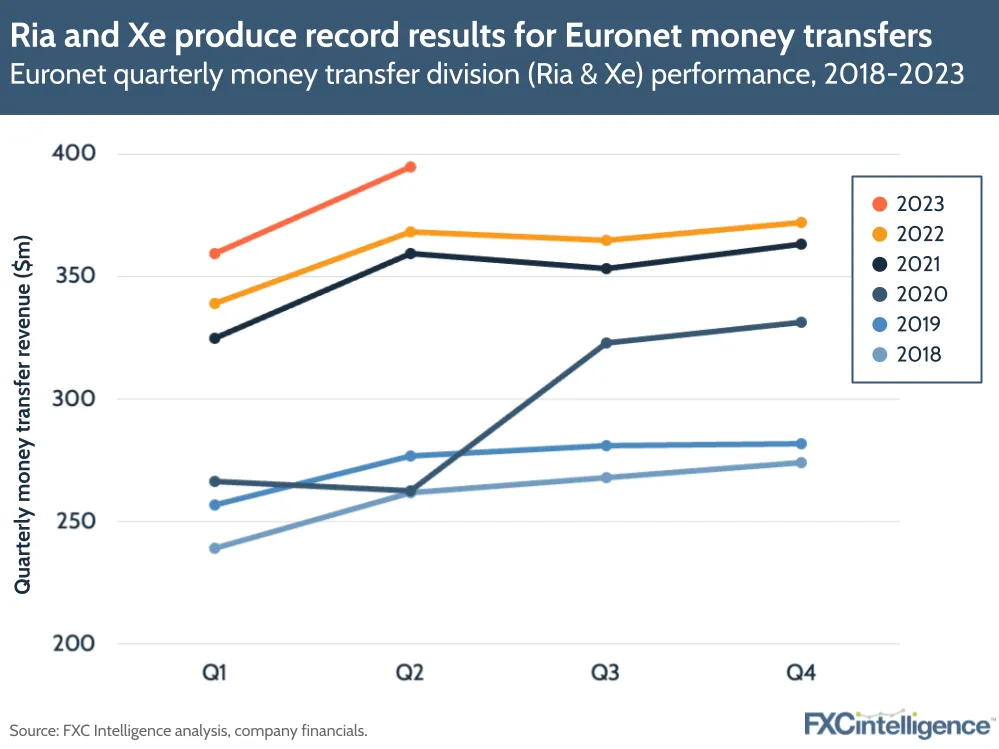 Digital money transfers become increasingly key for Ria, Xe
Digital has become an increasing priority for many money transfer players, and Brown also highlighted it as key to the company's money transfer strategy. He highlighted that 35% of all payouts are now into digital channels as increased digitisation of financial services globally are creating increased demand for digital payout among Ria customers.
The company also reported a 28% YoY increase in direct-to-consumer digital transactions, and digital is expected to become an increasingly important part of the money transfer segment's offering.
Here, Brown did highlight the company's strong payout capabilities, saying that Euronet's money transfer segment is number one in terms of digital payout capabilities globally.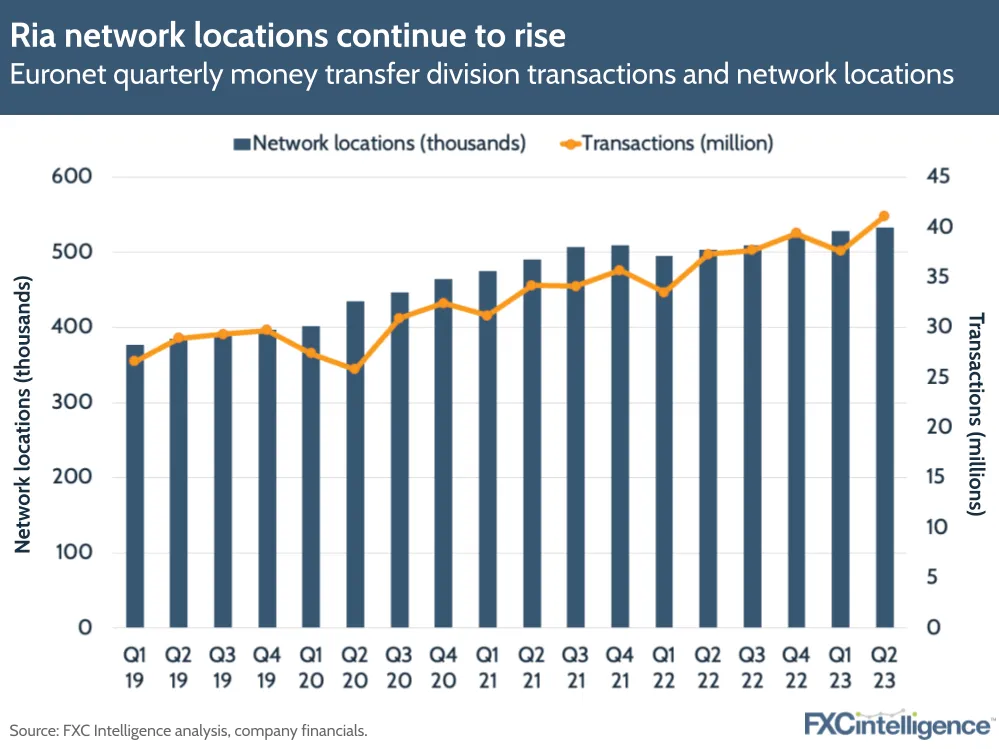 Dandelion, Ren grow customers
The company also provided updates on Euronet's platform-based payments products.
Ren, which provides issuing, acquiring and real-time payments solutions saw a number of key signings, including a QR payment deal with Philippines PoS terminal network Tangent Solutions and a self-service deal with Citizen's Bank of Guyana. It also expects to deliver multiple future deals to contribute around $149m revenue to Euronet over the next six years.
Meanwhile Dandelion, the white label money transfer platform using Ria and Xe's network, saw further expansion, with partners expanding to 14 further countries in the quarter. Dandelion also saw a 45% YoY increase in transactions from existing partners in Q2, and signed agreements with Brazilian superapp Inter & Co and European digital money transfer player Transfer Galaxy.
Euronet's ATM business faces challenges
Looking to the wider business, the company's ATM-focused EFT Processing segment – Euronet's second largest segment after money transfers – saw a solid quarter, with 13% YoY revenue growth and 21% adjusted operating income growth. However, this segment is highly seasonal, with much of its revenue coming from ATM withdrawals during holidays and other international travel, and the company has warned that it is seeing less people withdrawing money in June and July.
This drop in transactions, which is largely in Europe, appears to be related both to a general reduction in consumer spending during trips as a result of increased inflation and other rising costs, as well as recent extreme weather impacting travel behaviour in the continent.
How are Ria and Xe competing on pricing across different corridors?