Off the back of Santander's PagoFX announcement this week that it opened up its services to UK sole traders and N26 launching a new premium business account, we take a look at how the digital banks are building their business offering as they look to expand.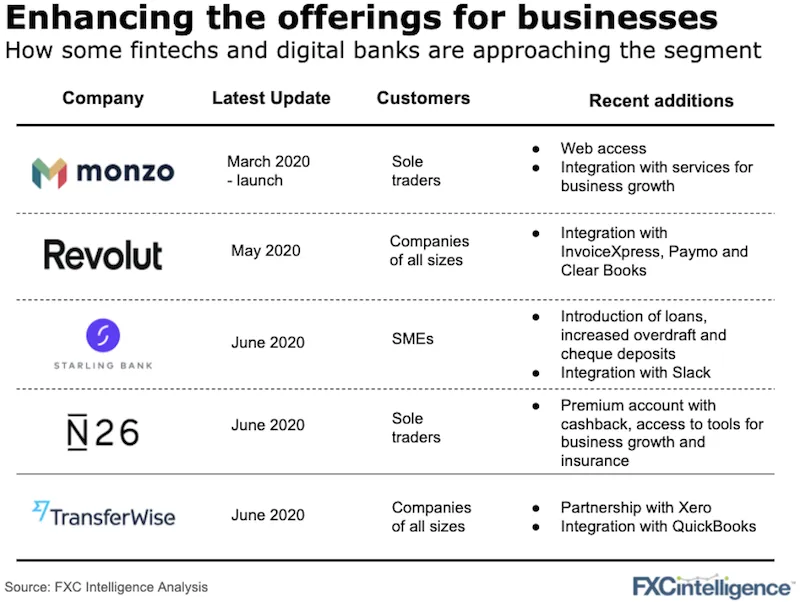 Cross-border payments are a commodity capability for digital banks in Europe and the UK, with players like Revolut and Starling providing their own direct service, and N26 and Monzo white-labeling TransferWise. This is not the case everywhere though. In the US, the biggest players such as Chime and Varo lag behind in their adoption of cross-border capabilities.
As businesses become more digitised, digital banks are integrating third-party services into their apps to create platforms that provide a solution for more and more business needs. Players like TransferMate, Veem and Bill.com who are focused on the SME payments segment, are already providing solutions that put together cross-border payments, data management and accounting tools.
With open banking expanding among digital banks in Europe, we will likely see ecosystems growing, with these players increasing their business offering through partnerships. In the US, however, we might not see the digital banks follow unless European players bring these capabilities along as they expand.
Still, is building a technological ecosystem enough to attract profitable customers? Probably not until you are able to offer services such as loans or working capital financing, which can be essential for smaller companies. Partnerships with incumbent banks might be the solution to this problem. Expect to see more in the coming months.