Crown Agents Bank sets sights on IPO
CAB Payments is the holding company that owns Crown Agents Bank, a specialist in emerging markets B2B cross-border payments and FX. CAB has announced that it is seeking a listing on the London Stock Exchange, and has put out updated numbers and details of its strategy ahead of a full IPO document.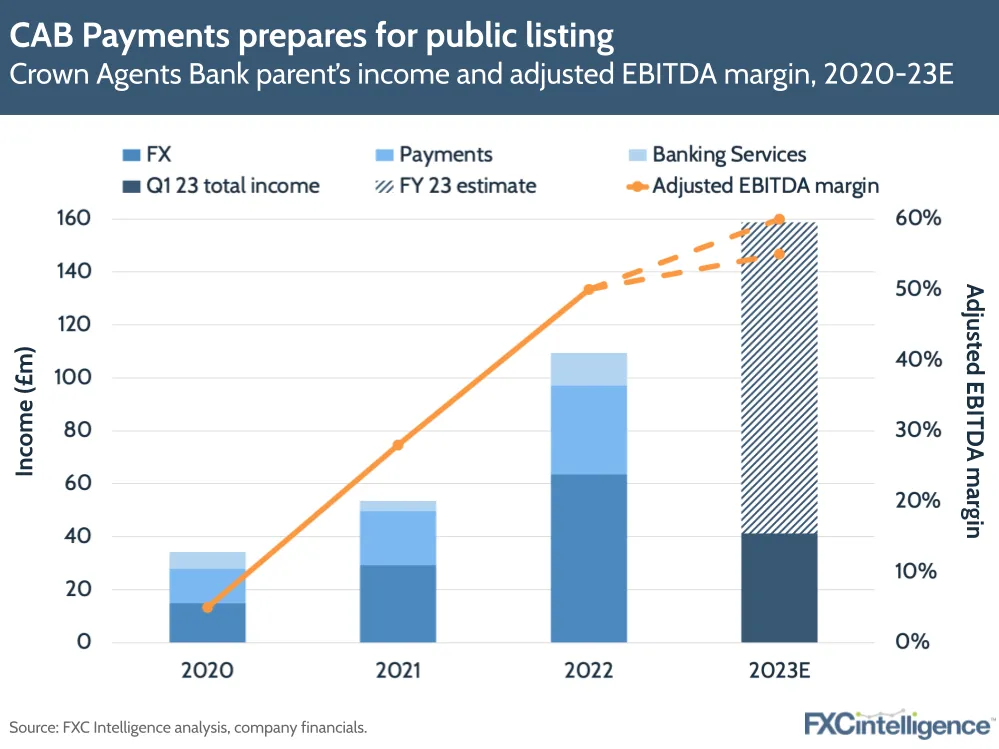 Catering primarily to blue-chip companies, CAB Payments specialises in emerging markets, although it also supports flows to and from 150+ countries. The company has seen its total income climb 105% between 2021 and 2022, and in 2023 projects this to increase by 45% to £159m, with a mid-term adjusted EBITDA margin of 55-60%. For Q1 23, it achieved a margin of 64%.
It has also seen strong customer retention, with 96% retention among its 100 largest clients, while its total customers have increased by 14% between FY 20 and FY 22. It also reports net revenue retention of over 150% for FY 18 to FY 22.
The company cites its network and infrastructure as key to its offering. This includes 135 local bank accounts that the company describes as "geographically diverse", as well as 218 trading and liquidity partners that the company sources FX from and commercial relationships with 25 central banks. It also pointed to its recent partnership with Santander's PagoNxt to deliver same-day payments to Asia and Africa.
It also highlighted its financial inclusion efforts, having delivered development aid flows totalling £3.4bn to-date, as well as remittance flows totalling £1.9bn and flows to lower and low-middle income countries topping £14.6bn.
Looking forward, the company plans to grow through expanded geographical presence, including in terms of sales, partnerships and 24-hour operational coverage. It also intends to explore other product areas, including the incorporation of CBDCs, further banking products and FX forwards.
A reported £1bn valuation would make it comparable to Wise in terms of valuation metrics, something we'll dig into more as further details emerge.