Corpay revenue jumps amid solid Q2 2023 Fleetcor results
Fleetcor has announced its Q2 2023 results, with solid gains above expectations, but it was in its Corporate Payments segment, which trades under the brand Corpay, that it saw particularly strong growth in the quarter.
While Fleetcor overall saw revenue growth of 10% YoY to $948m, Corpay's revenue increased 30% to $247m. This made the Corporate Payments segment the best performing of the company's categories, with Lodging and Brazil increasing by 17% and 13% respectively. Meanwhile, Fleetcor's largest segment, Fleet, only saw revenue growth of 1% to $383m, while the company's Other segment shrank by 15%.
Fleetcor did raise its FY 2023 expectations on the earnings slightly, with the low end increasing from $3.82bn to $3.836bn while the high remained at $3.86bn. However, this was not enough to appease investors, with the share price dropping on the earnings announcement.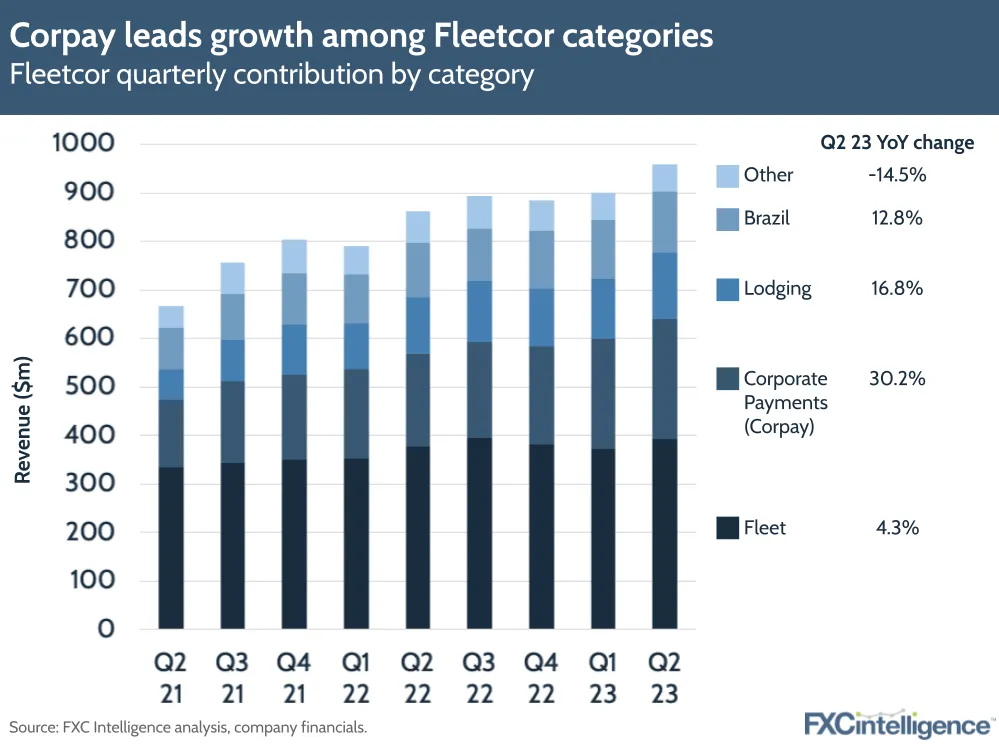 AP solutions help drive Corpay Q2 2023 revenue growth
Corpay's 30% revenue growth – 22% on an organic basis – was accompanied by a 33% YoY increase in EBITDA to $110m, compared to Fleetcor's 11% EBITDA growth. This gave the segment a 44.6% EBITDA margin – its best margin since Fleetcor began breaking out its numbers in Q2 2021.
The company has attributed this to strength in its direct business, in particular its accounts payable (AP) software solutions, which saw growth of over 50% in the quarter – up from 30% in Q1 2023. Here, the company is attracting customers who are "looking to transform their AP operations", according to Fleetcor CFO Tom Panther.
Meanwhile, cross-border revenue increased by almost 30%, compared to a YoY increase of 21% in Q1 2023, as a result of strong sales and client transaction activity. Cross-border new business, meanwhile, was up by around 80% YoY.
The company also confirmed that it had completed the migration of customers from Global Reach, which it announced it was acquiring in June 2022 and completed the acquisition of in January 2023. It is now selling its combined products and services across all markets, which Panther said had contributed to its strong Q2 performance.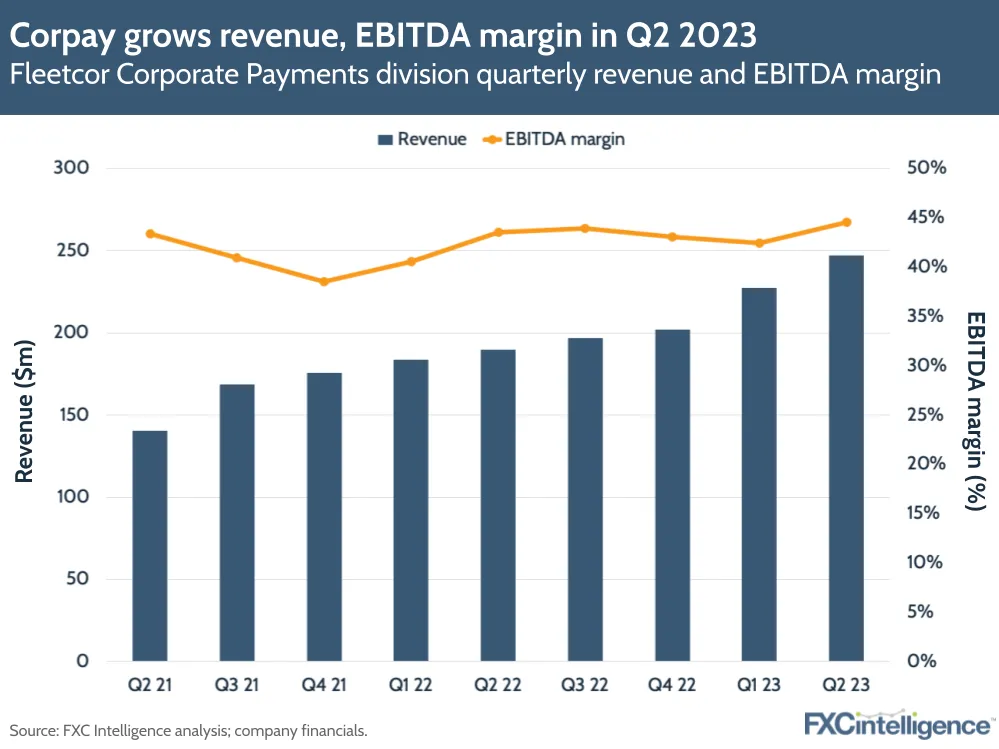 Cross-selling helps drive ongoing performance
Fleetcor is also increasingly looking to boost performance across its business through increased cross-selling between its business segments, with CEO Ron Clarke highlighting that 15-20% of clients have overlap between different areas of the business.
This represents a change of approach as the company has traditionally treated its business as defined silos, however Clarke said that the company has started communicating its full product range to its bigger Corpay customers, which it expects to translate into increased performance across the business in the future.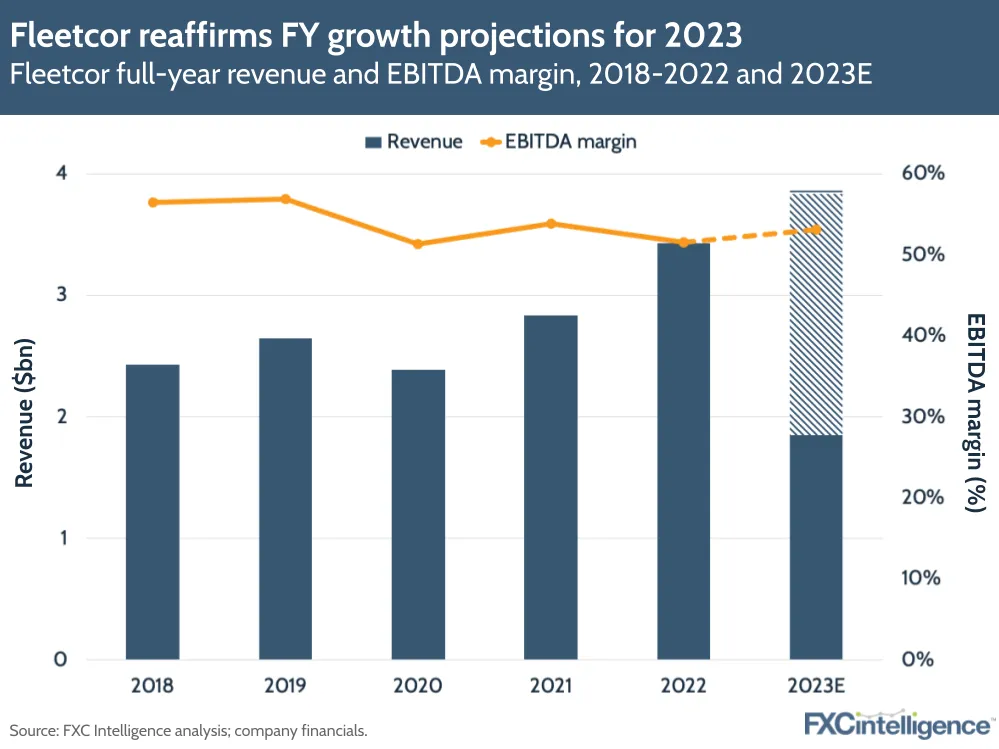 The company also anticipates future growth aided by recurring revenue, with Clarke pointing to Corporate Payments as already up $40m on revenue sequentially in Q2 2023 compared to Q1.
Looking to the rest of the year, while Fleetcor overall is expecting FY 2023 to produce revenue growth of around 11.9-12.6%, Corporate Payments is tracking at "20% plus".