Coinbase revenues decline amidst crypto downturn
Coinbase has had another difficult quarter, with the crypto downturn and macroeconomic conditions leading to a 53% YoY drop in revenues for Q3 2022 – down to $576m from last year's $1.2bn. The company's cost reduction strategy is helping the company retain its assets, but volatility in the markets could cause its profitability to sink further in Q4.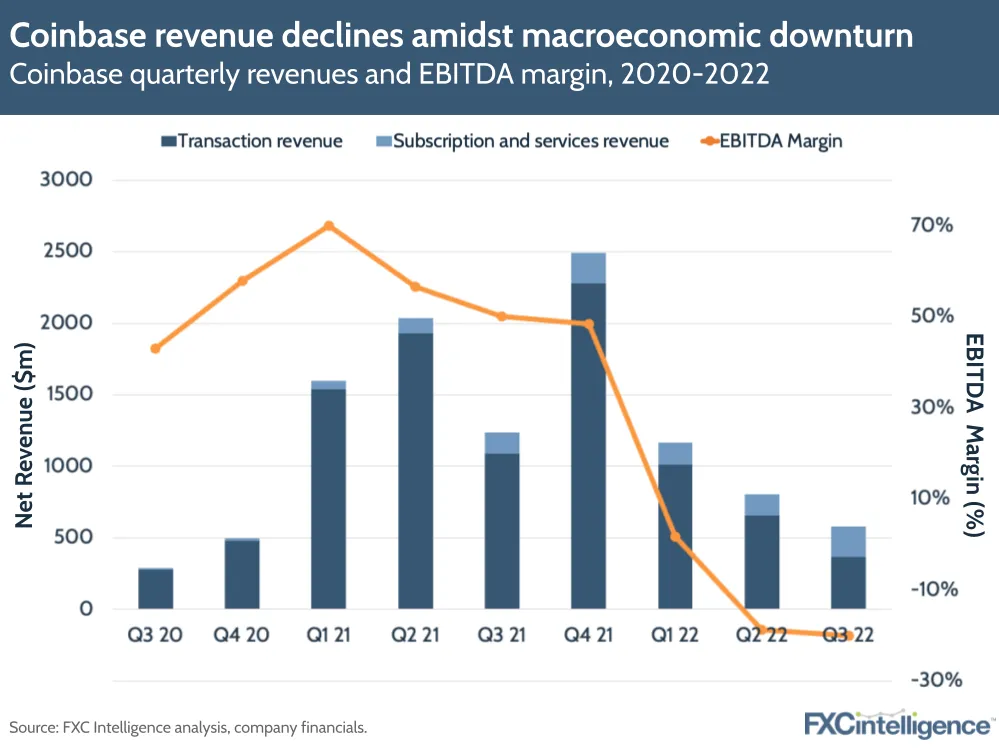 Coinbase's adjusted EBITDA fell to -$116m, compared to $618m in Q3 2021, while its EBITDA margin was down to -20%, compared to 50% last year. These declines mainly stemmed from overall transaction revenue declining 66% YoY to $366m.
The crypto decline is continuing to lead to lower trading volumes for cryptocurrencies (as the graph below shows). Bitcoin accounts for 39% of assets on the platform, down from 42% last year, while Ethereum accounts for 24%, up from 22%. Having said this, bitcoin still holds 31% of the transaction revenue mix (up from 21% in Q3 21), while Ethereum accounted for 24% (up from 22%) and other crypto assets accounted for 45% (down from 57%).
Coinbase also said that trading volume had been shifting away from the US – still its core market for trading volume – as a result of uncertainty regarding upcoming crypto regulations in the region.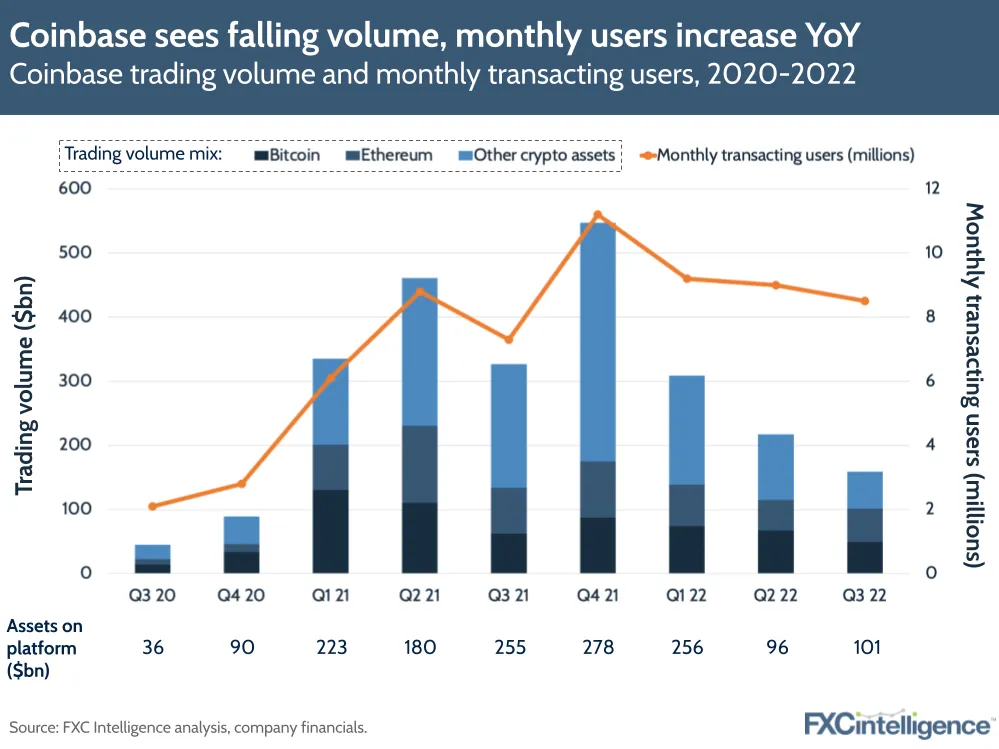 In better news, the company saw subscription and services revenue grow 45% YoY, with this segment benefitting from higher interest rates. It served 8.5 million monthly transacting users (MTUs) – a 6% decline compared to last quarter, but a 16% rise compared to last year.
Around 78% of MTUs (around 6.6 million) transacted with non-investing products, which the company had been trying to encourage to fend off the impact of crypto volatility. However, executives did say that staking monetises at a lower rate compared to trading.
Total operating expenses declined 38% QoQ, showing that the company's spend management measures (including reducing its headcount by 1,100 employees back in Q2) are having an impact. For its FY22 guidance, Coinbase still aims to limit adjusted EBITDA losses to no more than $500m, but this assumes no more changes in customer behaviour and crypto market cap and volatility not deteriorating meaningfully below October levels.
How does Coinbase's pricing strategy compare to other crypto players?