Coinbase bears brunt of crypto winter in Q2 2022
Coinbase continues to feel the impact of the crypto slump, with a 61% YoY revenue decline to $803m and an adjusted EBITDA margin of -19% in Q2 2022. Share prices dropped by over 6% in pre-market trading after results were published, demonstrating shaky confidence in the US-based crypto exchange as it tries to curb expenses.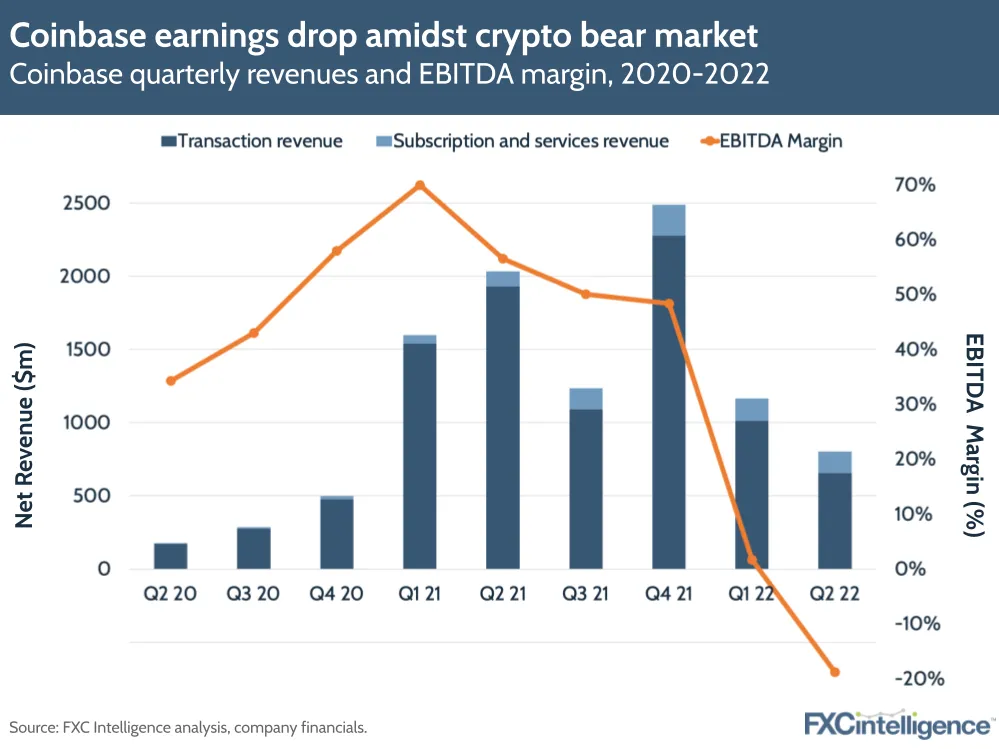 Trading volumes cause revenue drop in Coinbase's Q2 2022 results
Trading volumes declined 53% YoY to $217bn, causing transaction revenues to decrease by 66% YoY to $655m. Generally, revenue decline can be correlated with declining values across crypto assets this year. However, there was 44% YoY growth in subscription and services revenue to $147m, showing that this area is less exposed to current crypto volatility.
Total operating expenses were at $1.9bn, up 37% YoY, despite steps to cut costs. The company reduced its headcount in June by approximately 1,100 employees, as well as limited hiring and scaled back marketing expenses.
It is continuing this activity into the second half of the year, dropping its technology, development and general expenses range to $4-$4.25bn across FY22 (down from the prior planned range of $4.25-$5.25bn).
Coinbase sees volume fall more than MTUs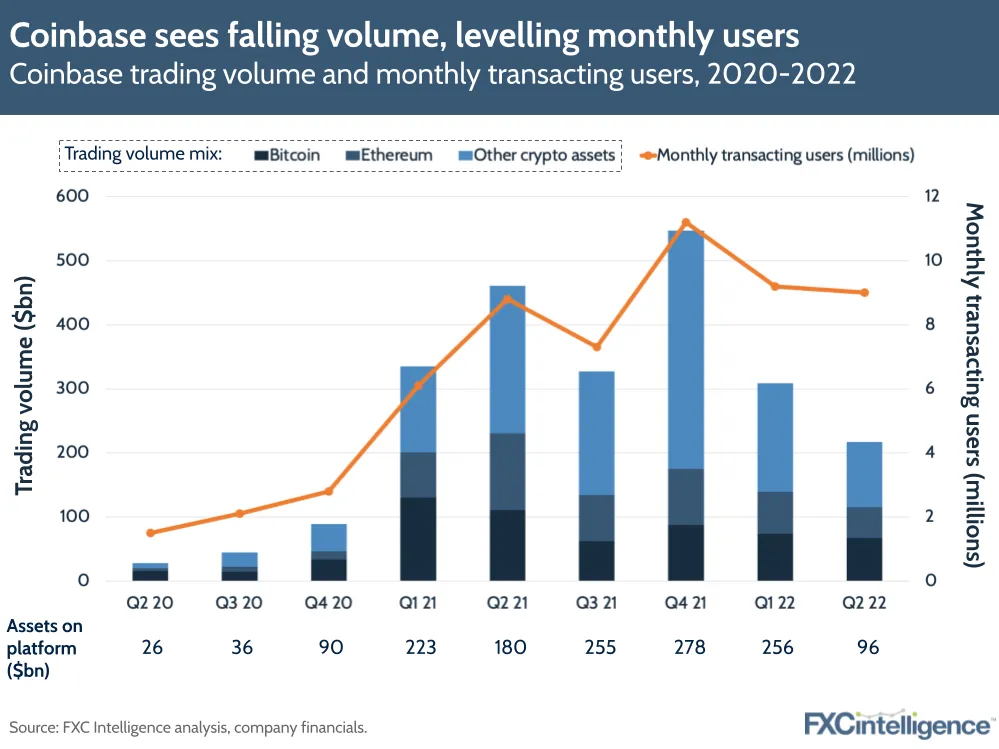 Monthly transaction users (MTUs) declined 2% since Q1, however both the number of trades being completed and assets on the platform has decreased far more significantly. Coinbase attributes this to 67% (6 million) of MTUs transacting with non-investing products in Q2, notably staking, which may be partly because it expanded its staking rewards offering to include Solana and Cardano this year.
Coinbase plans to invest more in its staking business as a means of diversifying away from trading revenues that are more exposed to crypto volatility. Other focuses include its retail app, its crypto investing platform Coinbase Prime and its Coinbase Cloud platform for Web3 app development. However, the company also plans to balance expense management with prudent investment in case of a multi-year crypto winter.
Coinbase expects "soft" crypto market conditions to continue, with MTUs and trading volume already showing a decline in July. It didn't give full adjusted revenue expectations for FY22, but does expect strong subscription and services revenue growth to more than $600m. It is also aiming to limit adjusted EBITDA losses to no more than $500m – but this does assume crypto market capitalisation doesn't continue to fall below July 2022 levels.
How does Coinbase's pricing strategy compare to other crypto players?