Cash App helps Block beat expectations in Q1 23
Block has published its Q1 2023 results, beating expectations with a 26% YoY increase in revenue to $5bn, while gross profit increased 32% to $1.7bn. This was driven by solid growth in both Square and Cash App's revenue, but Cash App led the way, climbing 33% YoY to $3.3bn, compared to Square's 15% rise to $1.7bn. The results, which contrast a recent critical short seller report, have prompted a share price rise.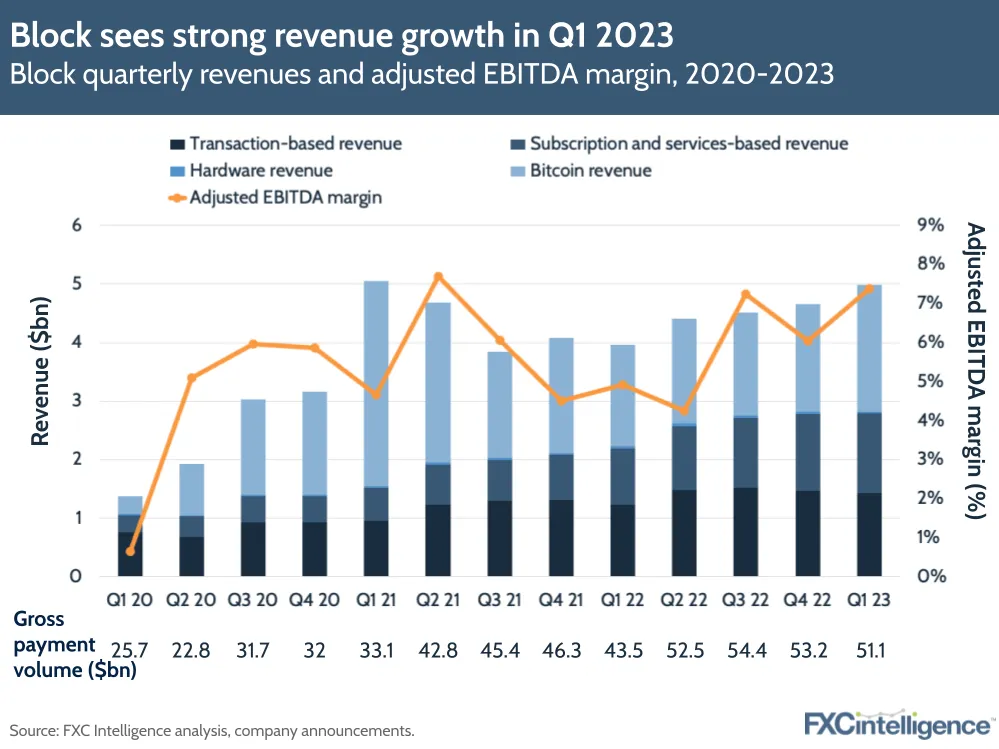 Block also saw its adjusted EBITDA increase 89% YoY to $368m, while the company had its best operating income results since Q2 21, at -$6m. Bitcoin also performed better than in the last few quarters, seeing a 25% YoY increase to $2.2bn – the first quarter with a YoY increase since Q4 21.
Block's success this quarter was partially attributed to the company's increased diversification of its monetisation streams, with Q1 23 seeing 14 different revenue streams that generated over $100m in annualised gross profit, compared to 11 in Q1 22.
Looking to Cash App, the segment saw a 49% increase in gross profit to $931m, with monthly transacting active users growing 17% YoY to reach 53 million in March. Key success stories included Cash App Card, which saw a 34% increase in active users to 20 million in March, as well as a rise in both average spend and active direct deposits. This includes paycheck deposits, which grew 69% YoY to reach $30bn on an annualised basis in March. The company also highlighted Cash App Savings, which launched in January and has so far been used by three million customers.
Meanwhile Square saw gross profit increase 16% YoY to $770m, with software and integrated payments seeing a 19% increase in gross profit. Global expansion has been a particular focus for Square this quarter, including with key product launches in Japan, and the company saw non-US market gross profit grow 43%, significantly outpacing the growth rate of its US business to account for 16% of Square gross profit.
Looking to FY 2023, Block has increased its expectations for the year, projecting adjusted EBITDA of $1.4bn and adjusted operating loss of $115m for FY 23.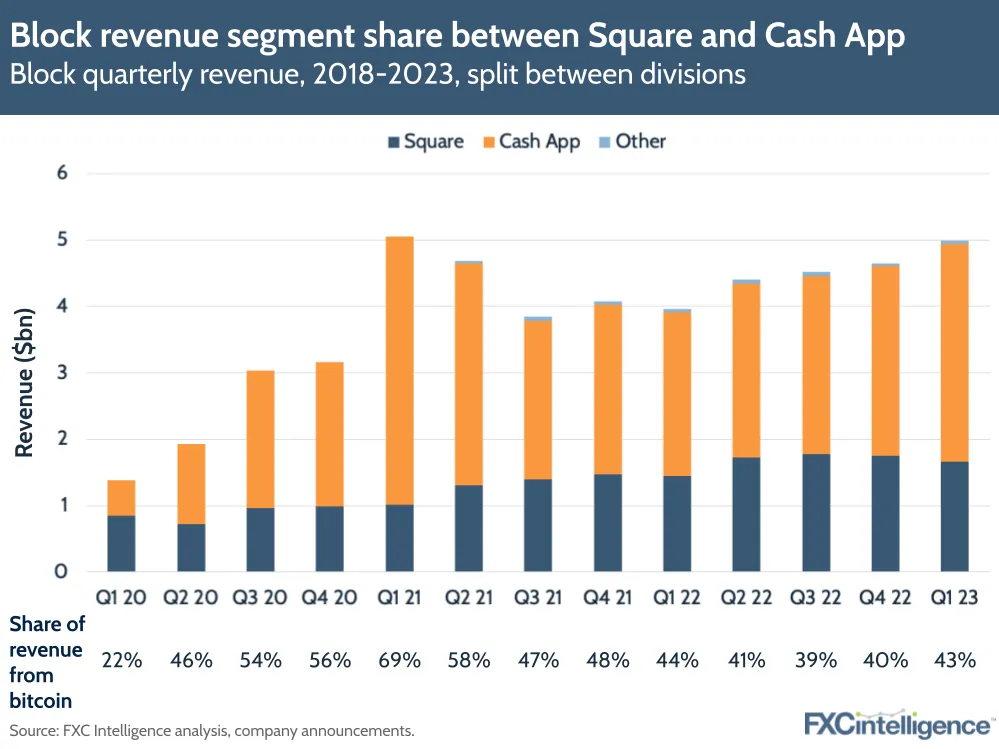 CEO Jack Dorsey also addressed the company's macro outlook, citing three long-term headwinds that he sees all businesses as facing: a constant state of global crisis, regulatory fragmentation and global financial system shifts.
He highlighted that constant crises were forcing companies to be particularly reactive, creating a challenging environment for strategic decision-making, while a lack of global standards were hampering development. He also said that the combination of CBDCs, new candidates for global currency reserve candidates and the centralisation of banks were creating combined challenges to the global financial system.
With this in mind, he highlighted the need for Block to be proactive to the changing landscape, and highlighted three trends that the company is focusing on in response to this: artificial intelligence, open protocols and the Global South. On AI, Block is already employing some technologies in its products, and is looking to add further capabilities in the future, seeing the technology as having the ability to combat inefficiencies.
Meanwhile, Dorsey sees open protocols such as bitcoin, nostril and Bluesky as having the potential to create new business opportunities by presenting "a customer base far larger than any one company can create alone", similar to the impact of the internet. Finally, he said that rapid development in the Global South was seeing this area adopting open protocols faster than in other regions, and that Block is focusing on these markets as the company believes that the long-term TAM will be larger than any of its current areas of operation.