Block share price rises after Bitcoin-driven growth in Q3 23
Block, the parent of payment services company Square and P2P-focused Cash App, has reported its earnings for Q3 23, with strong growth in revenues and profits driven by cost optimisation and rising Bitcoin prices.
Total net revenue was $5.6bn in the third quarter of 2023, up 24% year-over-year, and the company also posted another record EBITDA for Q3 at $477m, driven primarily by gross profit growth across Square and Cash App. Adjusted EBITDA margin increased to 8.5% – from 7.2% in Q3 22.
The company has raised its FY 2023 guidance and now expects an adjusted EBITDA ranging from $1.66bn to $1.68bn (up from $1.5bn), while adjusted operating income is now projected to be $205m to $225m (up from $25m). Block also gave guidelines for 2024, where it expects adjusted EBITDA to rise to $2.4bn and adjusted operating income to increase significantly at $875m.
Investors seemed to respond positively to the earnings call, with Block's share price rising by around 19% in the immediate wake of the announcement (note that it is still significantly down from where it was in 2021/2022).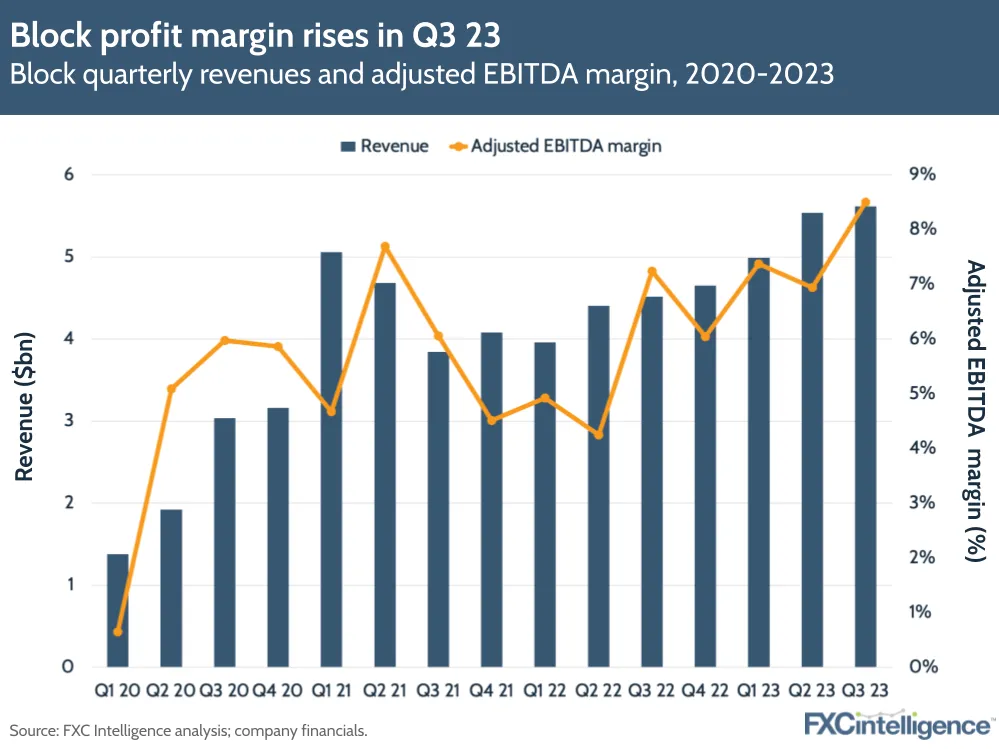 Block continues path to long-term profit goals
Block is still in pursuit of its 'Rule of 40' target, under which it aims to reach a revenue growth rate and profit margin exceeding 40% when they are added together by 2026. It expects to achieve this with a gross profit growth rate in at least the mid-teens and a mid-20% adjusted operating income margin.
To help reach its goal, Block aims to cap employee numbers to 12,000 by the end of 2024, and will hold this cap in place until 'the growth of the business has meaningfully outpaced the growth of the company'. This number, however, is below the number at the company by the end of Q3 (over 13,000), suggesting that layoffs could soon be coming.
The company's total gross profit grew by 21% to $1.9bn and it saw an operating loss of $10m, but this was down from $49m in Q3 22. Total gross payment volume also rose by 10%, to just over $60bn, and Block continues to see transactions driving growth with transaction-based revenue rising 9% to $1.7bn.
In the shareholder letter, Dorsey also mentioned resetting the relationship between Square and Cash App and restructuring Afterpay (the company's buy now, pay later (BNPL) arm) so that there is a more of a 'combined ecosystem' that will create new innovative experiences for customers.
Block also gave an update on a recent outage to services, which affected Square and Cash App, and said that this had impacted gross profit by less than 1% during the quarter. It also mentioned expanding offline capabilities across its products to mitigate similar cases in the future.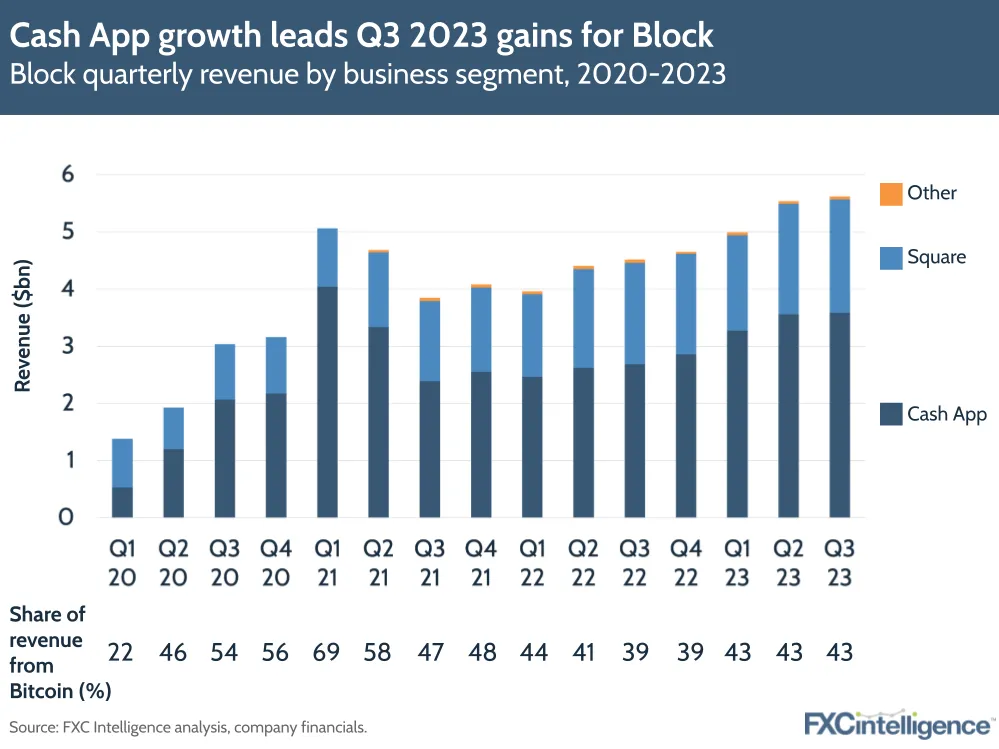 Square continues to see global growth
In Q3, Square generated just under $2bn of revenue and $899m of gross profit, up 12% and 15% respectively, and it is also seeing a strong contribution from BNPL, which accounted for $129m of revenue. GPV increased by 11% to $55.7bn.
Growth in international markets was still the main driver of overall volume growth at 28% (30% on a constant currency basis), compared to Square's home market, the US, where growth was at 9%. Card-present GPV was up 15%, while card-not-present GPV was up 4%.
Having said this, Dorsey did mention a renewed focus on 'local' verticals, particularly food and beverages, and the company also mentioned using experimental AI tools as a means to drive efficiencies for Square. This includes a number of new AI features, launched last month to help sellers automate and speed up operations.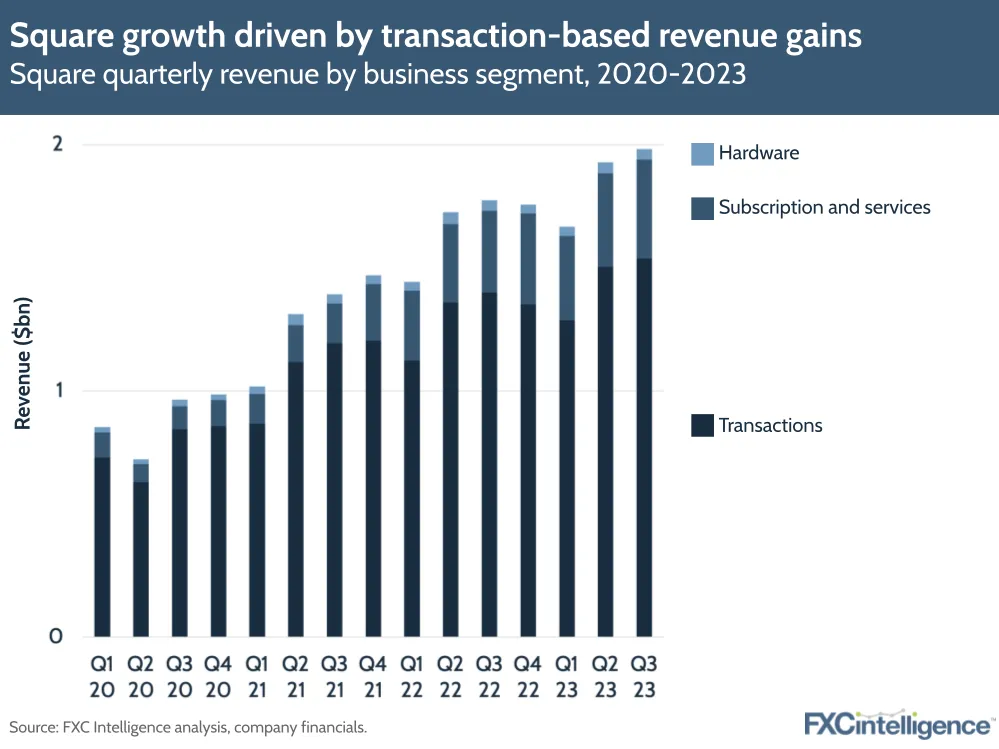 Cash App rides Bitcoin wave
Cash App generated gross profit of $984m, up 27% year-over-year, while overall revenues rose 34% to $3.6bn. A great deal of this was still down to Bitcoin revenues (which spans the total amount of Bitcoin sold to customers), which was up 37% YoY to $2.4bn as the market price of Bitcoin continued to rise this year.
Dorsey remarked in the call that there is a 'significant market' for Bitcoin in remittances, which he suggested could be a contender for a native currency on the internet for enabling micro-payments worldwide. He said that TBD, another of Block's crypto businesses, is helping build out functionality for Square and Cash App globally.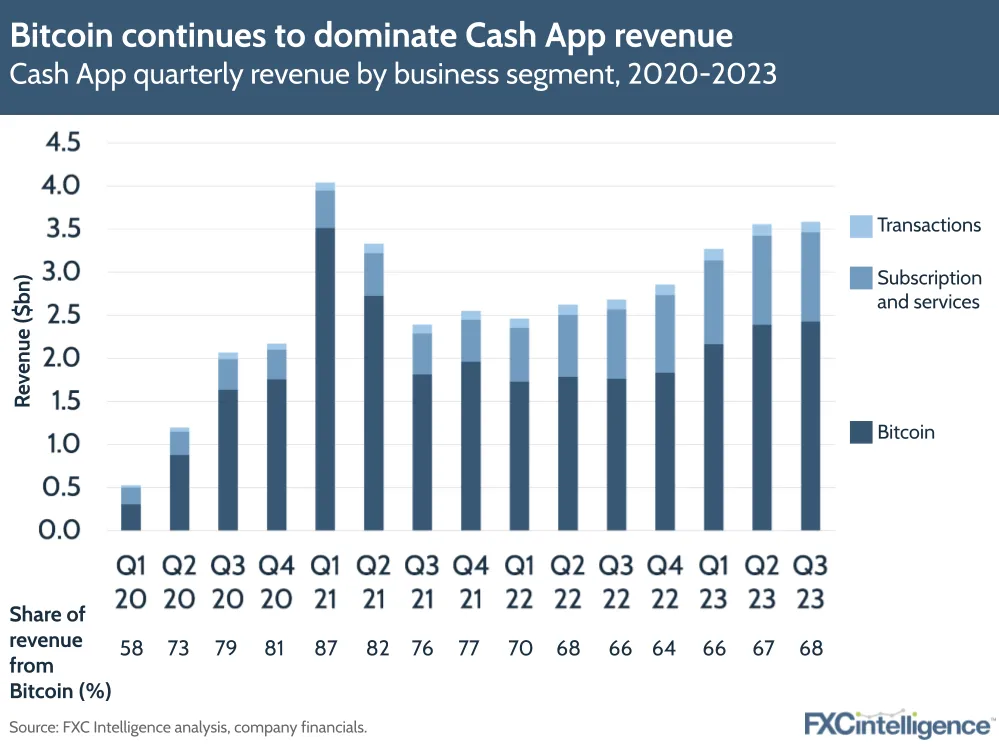 Cash App Card reached 22 million monthly actives as of September, with approximately 30% of those transacting on any given day, while users of Cash App Pay had doubled from June to September to more than two million, driven by partnerships with DoorDash, Adyen, Stripe and some other large Afterpay merchants.
Spanning all of its activities, Block said in the earnings call that it believes it is still less than 5% penetrated against its $200bn total addressable market, and it will continue to try and build this as it grows its products globally.
How does Block compete with other crypto players on global payments pricing?