Black Friday shoppers undeterred by strength of dollar
Black Friday and Cyber Monday have proved strong for ecommerce once more, despite high inflation. Adobe Analytics reported $9.1bn spent on Black Friday, with a further $11.3bn on Cyber Monday, both record-breaking amounts. And though the strength of the dollar led to some fears that cross-border purchases may decrease, Shopify has provided some insights that suggest demand has remained at least the same.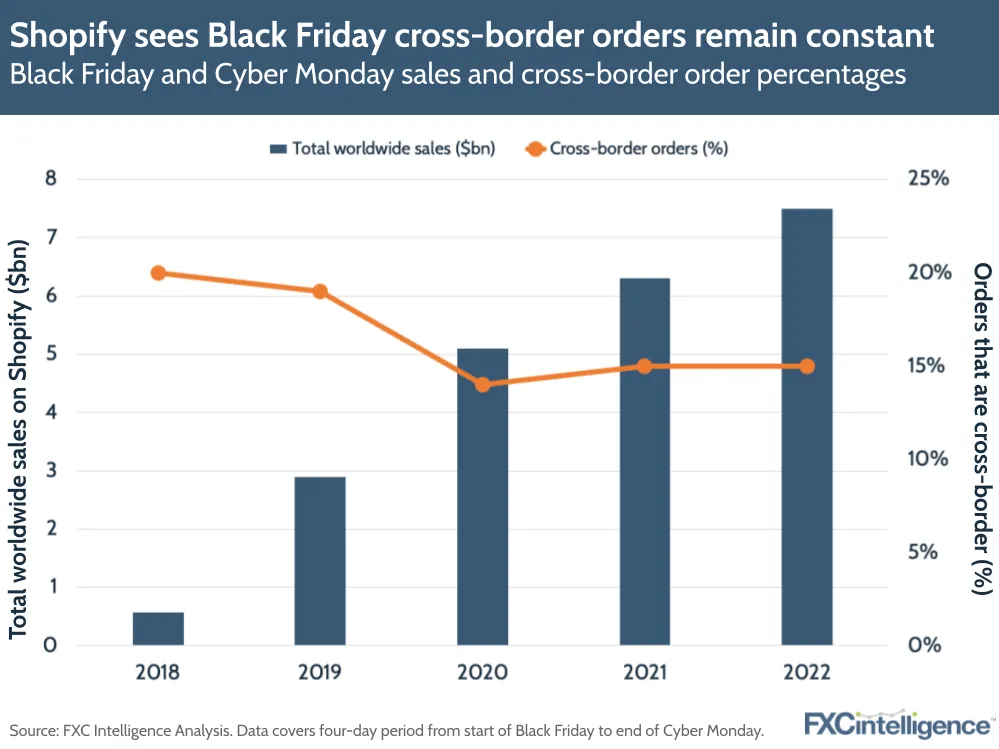 Shopify saw total global sales of $7.5bn over the four-day period, a 19% increase on 2021, with 52 million consumers worldwide using merchants powered by the company (an 18% increase from last year).
Notably, 15% of orders were cross-border in 2022, the same figure as in 2021. The share remains below its 20% peak in 2018, although this represented a significantly smaller number of checkouts. Shopify also shared its biggest cross-border corridors, with US to Canada, Canada to US and UK to US remaining the most popular.
Away from Shopify, Buy Now Pay Later (BNPL) offerings saw success that may reflect the tougher economic environment facing shoppers. CNBC reported that BNPL payments for the Black Friday period increased by 78% compared with the previous week and BNPL revenue was up 81% for the same period.