BFC sells UK business: Following the assets
Bahrain Financing Company (BFC), one of the leading money transfer and currency exchange companies in the Middle East, has exited the UK market.
Owned since August 2021 by Wizz Financial, which previously acquired the struggling payments company Finablr, BFC exited quietly at the start of the year through a sale, however parts of the UK business have already changed hands again.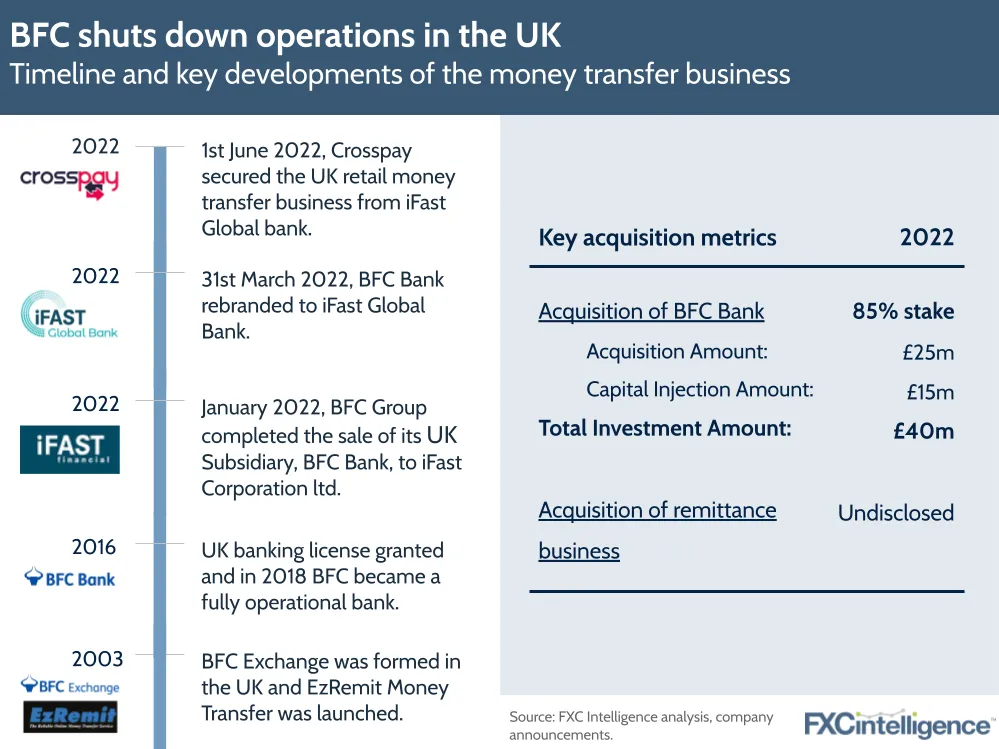 BFC's UK business: History and sale
BFC's UK remittance business launched in 2003 under the EzRemit brand, which later changed to BFC Exchange, then BFC Bank following the granting of a UK banking license in 2016. In January 2022, the bank was sold to Singapore's iFast Corporation and was later rebranded to iFast Global Bank.
With the January sale, iFast became the majority shareholder with a 85% stake in partnership with Eagles Peak Holding. Some key details of the acquisition:
iFast Corporation is a wealth management platform headquartered in Singapore, with a presence in Hong Kong, Malaysia, and India. The acquisition provides iFast Corp a way of entering the UK market for the first time with a full banking license.
iFast Corp's total investment amount was £40m, including the £25m acquisition amount for 85% stake and a £15m capital injection into the bank.
In a press release, the company stated that the future of wealth management is providing "seamless links to good digital banking services that allow consumers and investors to manage payment flows seamlessly across borders while getting attractive deposit rates in various currencies, will have strong advantages".
iFast plans to give its Asian clients access to services including online account opening, multi-currency deposits and banking-as-a-service.
iFast's five-year plan includes the goal to "pursue more financial licences in different jurisdictions and make strategic investments in adjacent fintech capabilities, while ensuring that wealth management will remain as its core service as a progressive fintech player."
iFast sells retail remittance business to Crosspay
However, in June 2022 it sold the retail remittance business to Crosspay Limited, a UK-based money transfer company with ties to BFC. Some key details on Crosspay:
The platform is headquartered in the UK and provides personal and business payments in over 50 currencies and countries.
Crosspay was founded by Rakesh Kurian, who was previously Managing Director at BFC Bank until 201. He launched the retail money transfer business EzRemit UK in 2005, which later became BFC Bank.
Following the acquisition, the same branches, staff and telephone numbers will be operational for money transfer clients.
The complex movements of the business are reflective of challenges still facing some parts of the industry. While many companies have recovered from the pandemic, we are still seeing its consequences reverberate through mergers, acquisitions and market consolidations.