B2B ecommerce startups in Africa: Digitising informal retail and opening new payment opportunities
Covid-19 has accelerated the digital transformation across the globe, disrupting the traditional trade and payment ecosystems by introducing new business models to retail and financial services. However, in emerging markets where the informal economy still thrives, modernising those sectors remains challenging.
In Africa in particular, where 90% of retail sales still happens via the informal sector, developing solutions to improve logistics infrastructure and supply chains, as well as secure payment transactions, is key. The informal sector is the part of the economy that is not regulated, protected or taxed by the state. It embraces all sectors, ranging from manufacturing, to retailing, to financial services.
The informal retail in Africa, however, is characterised by the strong presence of 'spaza shops', which are shops operating in a section of a residential home or on a stand. The business practices of spaza includes traditional retail but also basic financial services.
Such informal businesses are often left behind by digitisation, however growing numbers of B2B ecommerce startups are bridging the gap. Betting on the improved connectivity and the rise of mobile ownership to digitalise the informal sector, they are opening new retail and payment opportunities to businesses and consumers in Africa.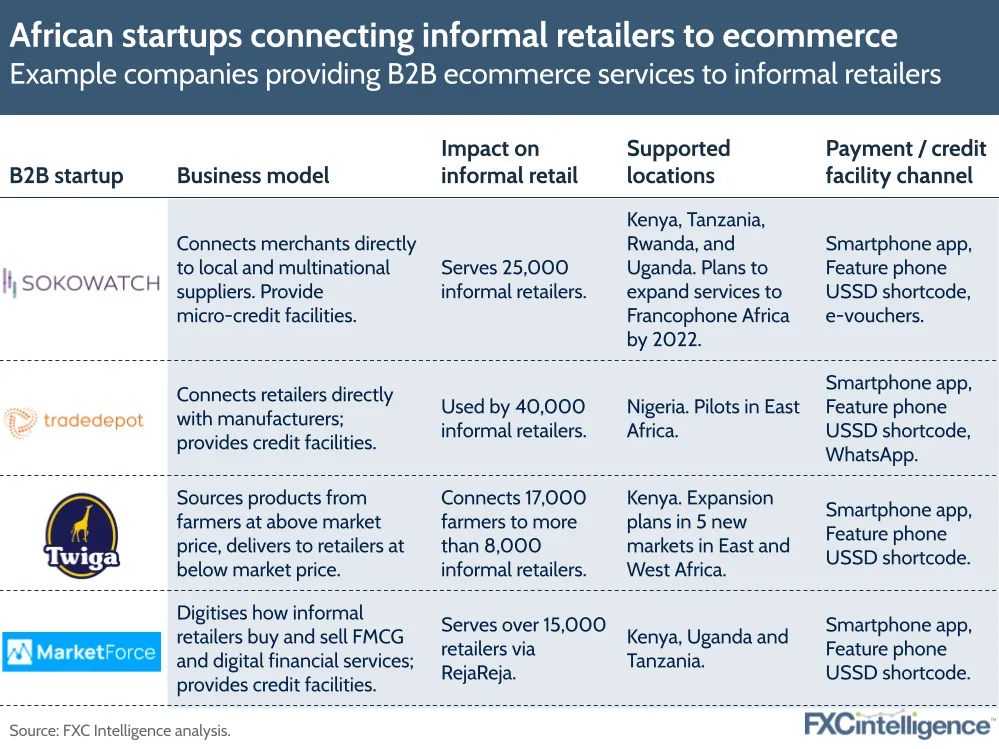 B2B ecommerce takes on Africa's informal sector
The B2B ecommerce marketplace is transforming communities across Africa, by accelerating access to essential services. By connecting small shops to the digital economy, startups aim to fix inefficient supply chains and provide services previously unavailable to informal businesses, while at the same time enabling consumers to pay seamlessly via mobile wallets and send or receive money securely.
One such player is Kenyan sales automation startup MarketForce, which last earlier this month announced that it had raised $2m to focus on its recently acquired B2B ecommerce marketplace RejaReja. The company leverages informal corner shops' distribution networks to deliver FMCGs and key digital financial services to small businesses and, eventually, to the local population, serving as an all-inclusive digital commerce platform for informal retailers in Africa.
Its onboarding of RejaReja was part of the acquisition of Kenyan startup Digiduka, which enables MarketForce to provide mobile wallets for 'dukas' – informal shops – to act as 'agents' for payments collection via mobile app, USSD shortcodes and WhatsApp bots. This B2B ecommerce business model benefits both the small businesses and the local population, by building ecommerce platforms integrating mobile money and remittance services.
Sokowatch: Supporting informal retailers through the pandemic
The recent activities in the African B2B ecommerce marketplace reflect the importance of informal retailers in the region, often serving as points of distribution for vital financial services to the population, such as payments and remittances.
Other B2B ecommerce startups in the region focusing on the informal sector include Sokowatch, who we spoke with to understand the extent of the opportunity. During the pandemic, Sokowatch allowed its mobile app users to send e-vouchers to families in Nairobi that could be redeemed at informal shops. Via a partnership with KCB bank, Sokowatch's tech-enabled payment system has allowed shopkeepers to instantly get credited for the goods issued, sustaining revenue during the crisis.
Sokowatch told us it has issued over $3.25m to informal retailers in East Africa, fuelling a surge in the average monthly sales per user in Kenya from $70.4 in Jan 2020 to $375.17 in May 2021. Sokowatch's average number of orders across East Africa has also more than doubled from Jan 2020 to May 2021.
The potential of the industry is still yet to be fully realised. An increasing number of B2B startups are utilising client data, for example, in order to offer lines of credit and other financial services, and as they reach scale, these services will begin to mature.
National policies and regulations fostering the development of ecommerce platforms will play a key role in preparing African markets to fully embrace payment and retail digitalisation.
Overcoming connectivity challenges and increasing interoperability among e-payment platforms both within countries and across borders will also be key to reducing issues and costs linked to ecommerce transactions, as well as increasing ease of use for the local community.
How are ecommerce companies pricing cross-border payments in Africa?