Adyen surges in FY 2021 on omnichannel success
Dutch payments processor Adyen has delighted investors by posting record earnings in its H2 2021 and FY 2021 results, driven both by growth in ecommerce and the post-pandemic push to connect online and offline retail.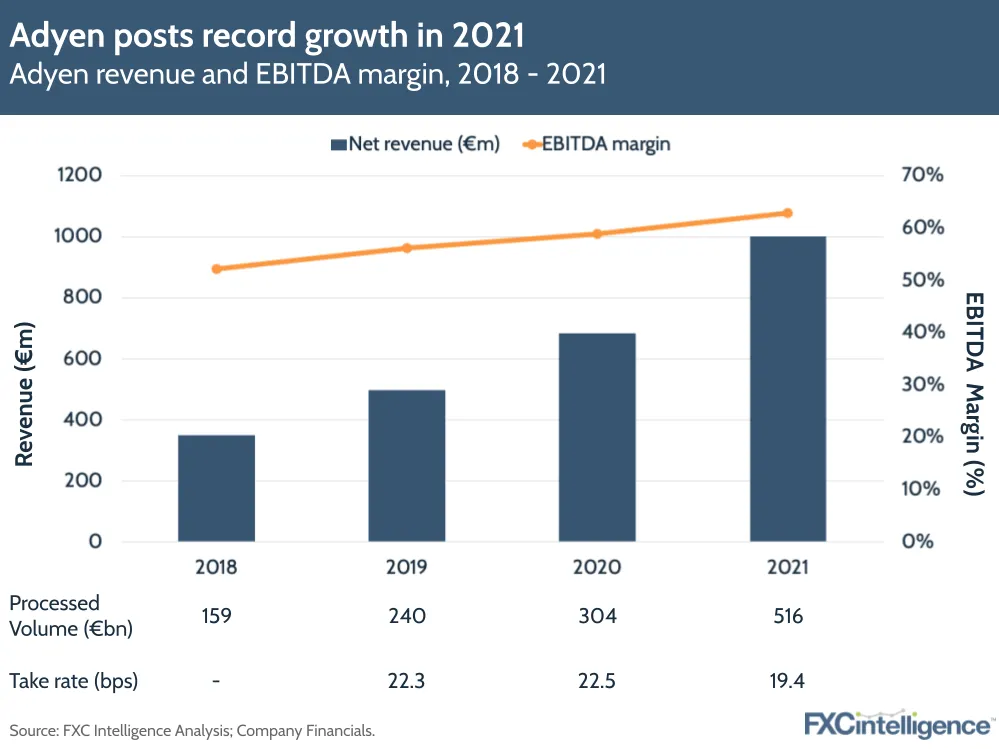 Key takeaways from Adyen's H2 and FY 2021 results
For H2, Adyen reported a 47% year-on-year climb in net revenues to $557m and a 72% increase in processed volume, with net revenues for the full year passing $1bn.
While the ongoing surge in ecommerce has played a role in the company's success, it has performed better than some other ecommerce rivals due to its increasing focus on what it calls unified commerce – commerce that brings together purchases in both the online and offline space. This has been a significant trend as companies negotiate the post-pandemic landscape, and is echoed by Adyen's 97% growth in point-of-sale volumes in H2 2021, which now account for 14% of processed volumes.
Looking regionally, while EMEA remains the largest part of Adyen's business, the company saw growth in all geographies. North America saw the most growth, at 70% year on year for H2, while Asia-Pacific grew 51% for the same region.

Take rates continue to decline slowly to 19.4bp for full year 2021. Adyen attributes this to continuing to onboard profitable volume at scale by working with enterprise clients. Comparing Adyen take rates to those of a dLocal for example (who are 20+ times higher) shows how different the businesses really are, even though they often tie together in public market comps. 88% of Adyen's revenue is North America or EMEA-based, and in the highly competitive North American market, it makes 8bp on processing transactions.
Adyen's long-term projections remain unchanged by the results, with the company targeting mid-twenties to low-thirties net revenue growth for the next few halves, while targeting improved EBITDA margins to ultimately reach 65%. Investors reacted positively to the results, with shares rising over 11% following the announcement.