Adyen FY 22 misses estimates amid hiring focus
The fintech segment of the payment processing market has been under pressure recently, with Stripe publicly reducing its internal valuation and cutting its workforce. In contrast, alongside its results Adyen said that it is hiring – something that the market did not like, wiping around 15% off its value.
In its H2 and FY 22 results, Adyen reported a 49% year-on-year increase in processed volume to €768bn (€422 for H2), while net revenue increased 33% YoY to €1.3bn (€722m for H2). However, a dip in EBITDA margin led to the company missing industry estimates, furthering the negative investor reaction.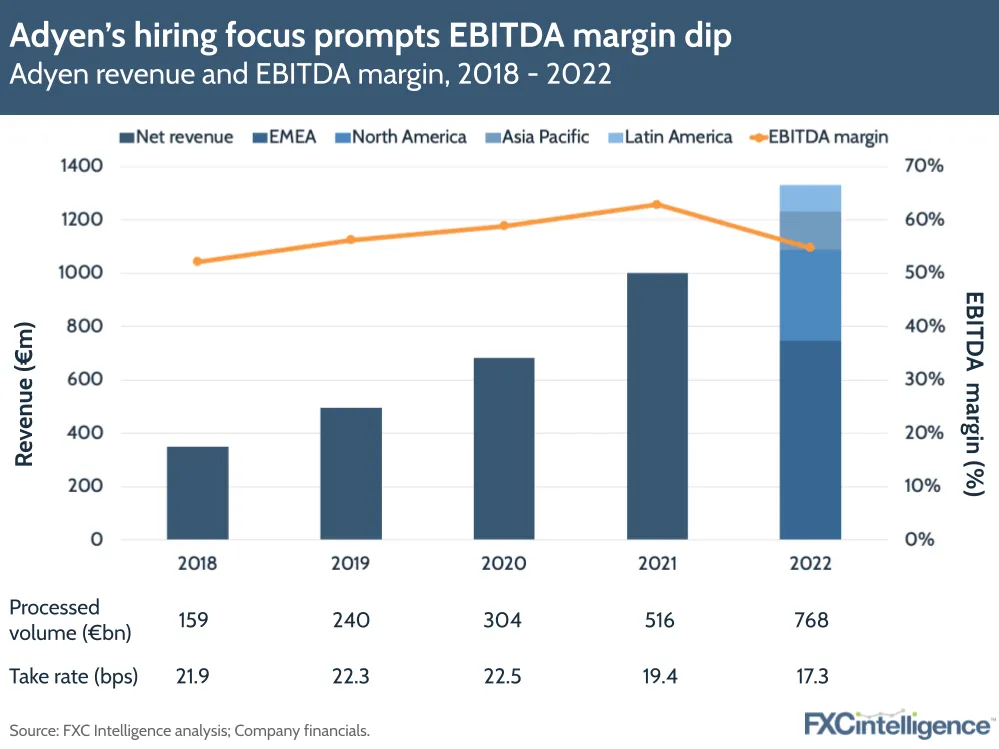 Adyen did announce relatively strong EBITDA for the year, which sits 16% above FY 2021 at €728m. However, most of this growth came from H1 – H2 saw EBITDA only grow 4% YoY. This was the result of hiring over 750 new staff, an approach intended to help Adyen build a foundation for the next stage of its growth, with the company describing itself as being in "investment mode".
In a bid to highlight the value of this, the company also shared how previous long-term investments are now paying off. This included its omnichannel Unified Commerce solution, which helped drive 62% YoY growth in point-of-sale volume in H2 22 to account for 16% of total processed volume (up from 13.5% in H2 19), as well as its 2007-launched North America business, which accounted for 27% of revenue in H2 22 (up from 15% in H2 19).
However, Adyen did also face macroeconomic headwinds in 2022, with the company pointing to rising inflation and the war in Ukraine hitting commerce. This was offset by a return to travel producing increased volumes, with Adyen reporting 80% of its growth in H2 came from existing customers. Meanwhile, non-platform ecommerce, which forms part of Adyen's Unified Commerce segment, grew 58% YoY in H2, or 64% for the year. However, growth in volume processed through the company's embedded finance-focused platform business slowed, increasing 16% YoY for H2 compared to the 186% rise between H2 20 and H2 21.
Looking to 2023, Adyen plans to continue its current hiring pace until early 2024. Despite this, the company has not changed its financial guidance, targeting medium-term net revenue growth of between mid-twenties and low thirties, as well as improving its EBITDA margin to above 65% in the long term – a goal it says it could "quickly reach" if it changed its focus to achieve this sooner.
How does Adyen compete with other payment processors worldwide?