FXC Intelligence's Daniel Webber spoke to Raj Agrawal, CFO of Western Union, about the company's FY 2020 earnings results, digital focus and future plans.
Please note each submission request for a copy of the report will be reviewed by FXC Intelligence.
You will be sent the report within 2 working days if your request is accepted; it will not automatically download.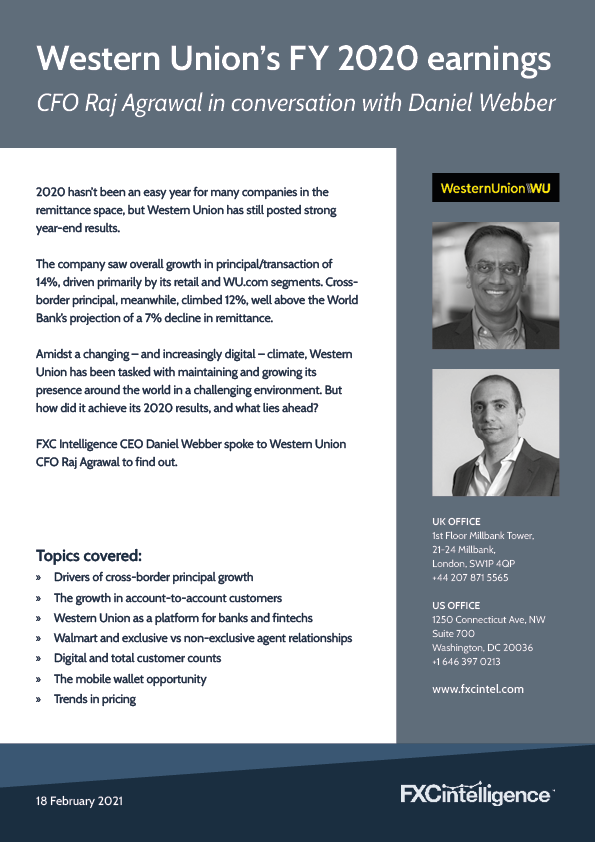 In Daniel Webber's conversation with Western Union CFO Raj Agrawal
2020 hasn't been an easy year for many companies in the remittance space, but Western Union has still posted strong year-end results.
The headline-catching number for Western Union in 2020 is the $10bn in cross-border principal it added through the year, driven by its digital business. This is against the context of a pandemic-shrunk market, down 7% according to the World Bank.
Amidst a changing – and increasingly digital – climate, Western Union has been tasked with maintaining and growing its presence around the world and becoming a platform. But how did it achieve its 2020 results, and what lies ahead?
FXC Intelligence CEO Daniel Webber had a detailed discussion with Western Union CFO Raj Agrawal to find out more.
Topics covered:
Drivers of cross-border principal growth
The growth in account-to-account customers
Western Union as a platform for banks and fintechs
Walmart and exclusive vs non-exclusive agent relationships
Digital and total customer counts
The mobile wallet opportunity
Trends in pricing