Q2 2021 provided Payoneer's first full earnings call since it began trading as a public company in June following its SPAC merger. This has given investors the deepest insight into the company yet, with particular focus placed on Payoneer's growth strategy, as well as its strong quarterly results. Download my conversation with Scott, which builds on the earnings call, below.
Please note each submission request for a copy of the report will be reviewed by FXC Intelligence. 
You will be sent the report within 2 working days if your request is accepted; it will not automatically download.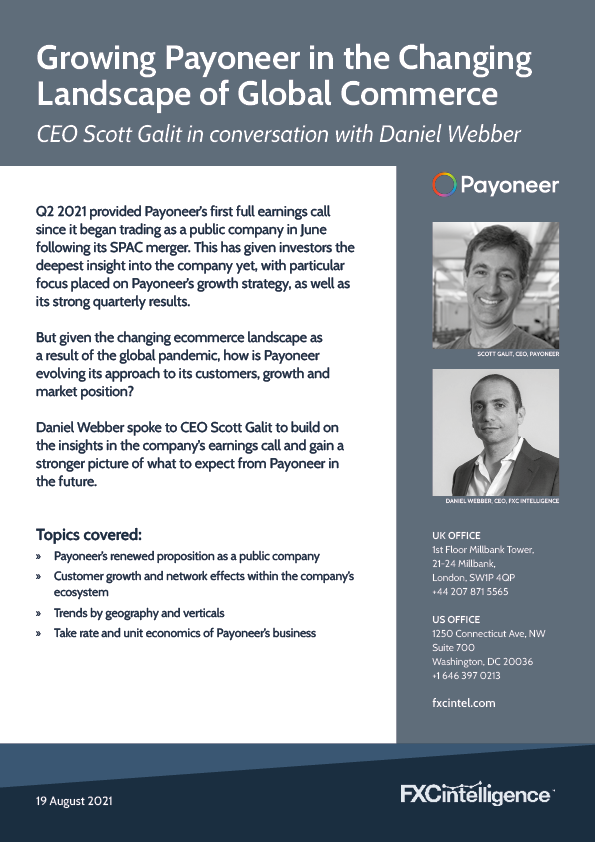 In 'Growing Payoneer in the Changing Landscape of Global Ecommerce'
Payoneer's first earnings call as a public company saw it start on strong footing, with record revenue for Q2 2021 of $111m, up 42% year-on-year. This puts the company ahead of internal targets, with processed volume also increasing by 29% to $13.6bn. Take rate also increased in Q2 2021, at 82 basis points, compared to 75 in Q2 2020. Meanwhile, transaction costs were at 26% of revenues, compared to 30% in Q2 2020. 
These successes combined to see Payoneer produce positive EBITDA in Q2 2021 despite increased investment spend – something that the company attributes to strong revenue growth and improved transaction costs. It also reported record new customer additions in Q2, although volume was lighter than expected.
For Payoneer, the challenges ahead include continued short-term impacts from Covid-19, with reopenings of several economies triggering a slowdown in ecommerce compared to the peak lockdown period in 2020. Travel, meanwhile, is unlikely to show significant recovery until 2022.
But given the changing ecommerce landscape as a result of the global pandemic, how is Payoneer evolving its approach to its customers, growth and market position?
Key topics in my conversation with Scott include:
Payoneer's renewed proposition as a public company
Customer growth and network effects within the company's ecosystem
Trends by geography and verticals
Take rate and unit economics of Payoneer's business