FXC Intelligence's Daniel Webber spoke to Payoneer CEO Scott Galit about the company's Q1 2021 earnings results and future plans.
Please note each submission request for a copy of the report will be reviewed by FXC Intelligence. 
You will be sent the report within 2 working days if your request is accepted; it will not automatically download.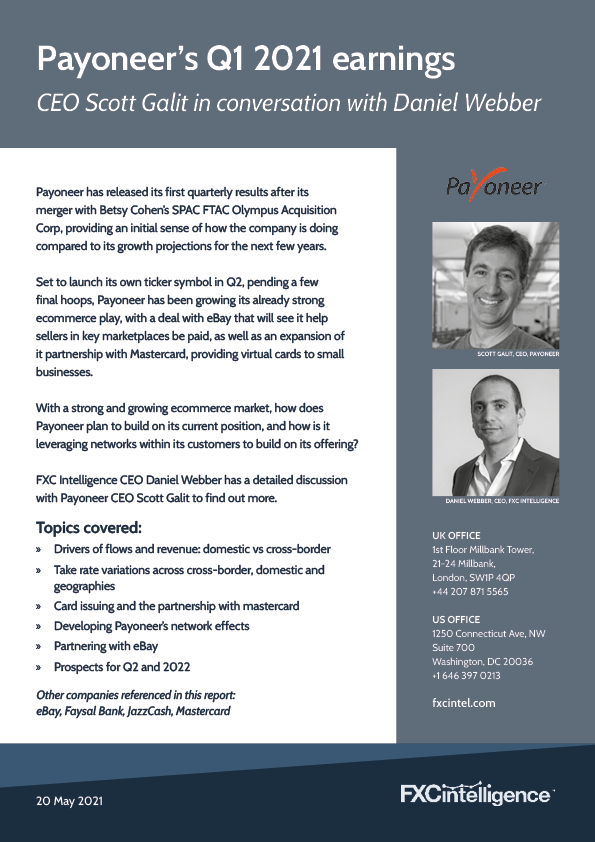 In Daniel Webber's conversation with Scott Galit on Payoneer's Q1 2021 results
Payoneer has released its first quarterly results after its merger with Betsy Cohen's SPAC FTAC Olympus Acquisition Corp, providing an initial sense of how the company is doing compared to its growth projections for the next few years.
Set to launch its own ticker symbol in Q2, pending a few final hoops, Payoneer has been growing its already strong ecommerce play, with a deal with eBay that will see it help sellers in key marketplaces be paid, as well as an expansion of it partnership with Mastercard, providing virtual cards to small businesses.
With a strong and growing ecommerce market, how does Payoneer plan to build on its current position, and how is it leveraging networks within its customers to build on its offering?
FXC Intelligence CEO Daniel Webber has a detailed discussion with Payoneer CEO Scott Galit to find out more.
Topics covered:
Drivers of flows and revenue: domestic vs cross-border
Take rate variations across cross-border, domestic and geographies
Card issuing and the partnership with mastercard
Developing Payoneer's network effects 
Partnering with eBay
Prospects for Q2 and 2022