Intermex CEO Robert Lisy discusses factors behind the company's Q3 2021 success and future plans as part of our Post-Earnings Call Series. Download it here.
Please note each submission request for a copy of the report will be reviewed by FXC Intelligence. 
You will be sent the report within 2 working days if your request is accepted; it will not automatically download.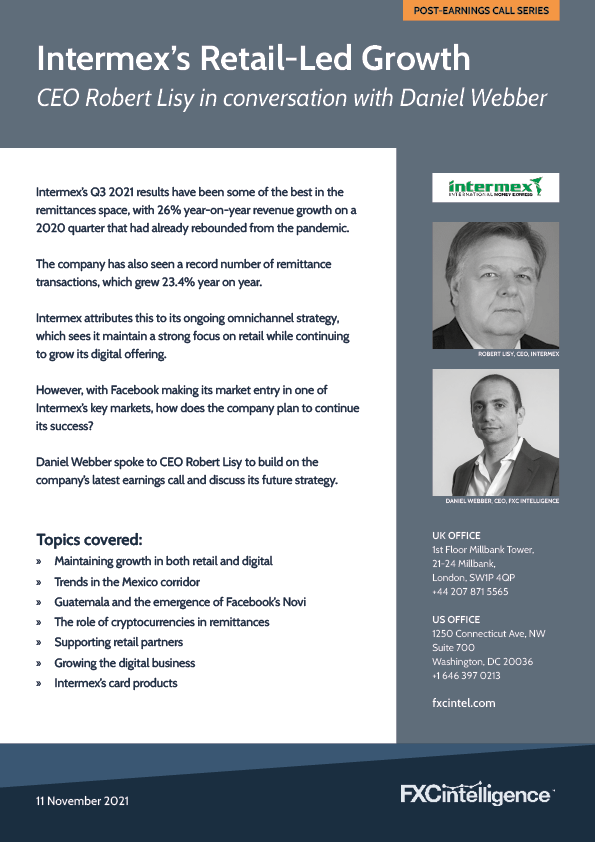 In 'Intermex's Retail-Led Growth'
Intermex's Q3 2021 results have been some of the best in the remittances space, with 26% year-on-year revenue growth on a 2020 quarter that had already rebounded from the pandemic.
The company has also seen a record number of remittance transactions, which grew 23.4% year on year.
Intermex attributes this to its ongoing omnichannel strategy, which sees it maintain a strong focus on retail while continuing to grow its digital offering.
However, with Facebook making its market entry in one of Intermex's key markets, how does the company plan to continue its success?
Daniel Webber spoke to CEO Robert Lisy to build on the company's latest earnings call and discuss its future strategy.
Topics covered:
Maintaining growth in both retail and digital
Trends in the Mexico corridor
Guatemala and the emergence of Facebook's Novi
The role of cryptocurrencies in remittances
Supporting retail partners
Growing the digital business
Intermex's card products