FXC Intelligence's Daniel Webber spoke to Intermex CEO Robert Lisy about the company's Q1 2021 earnings results and future plans.
Please note each submission request for a copy of the report will be reviewed by FXC Intelligence. 
You will be sent the report within 2 working days if your request is accepted; it will not automatically download.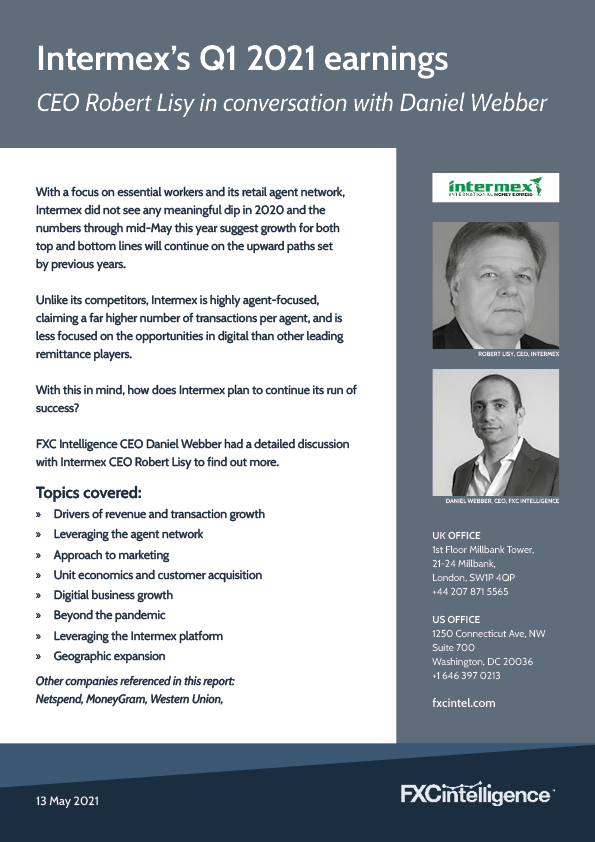 In Daniel Webber's conversation with Robert Lisy on Intermex's Q1 2021 results
With a focus on essential workers and its retail agent network, Intermex did not see any meaningful dip in 2020 and the numbers through mid-May this year suggest growth for both top and bottom lines will continue on the upward paths set by previous years.
Unlike its competitors, Intermex is highly agent-focused, claiming a far higher number of transactions per agent, and is less focused on the opportunities in digital than other leading remittance players.
With this in mind, how does Intermex plan to continue its run of success?
Topics covered:
Drivers of revenue and transaction growth
Leveraging the agent network
Approach to marketing
Unit economics and customer acquisition
Digital business growth
Beyond the pandemic
Leveraging the Intermex platform
Geographic expansion