Visa and Mastercard boost partnerships, cross-border volumes in Q3 23
Visa and Mastercard have both reported their latest earnings results – Q4 23 for Visa and Q3 23 for Mastercard, spanning the period from July-September 2023. Both companies are once again seeing solid cross-border growth on the back of resilient consumer spending, and have formed and expanded several notable partnerships during the quarter.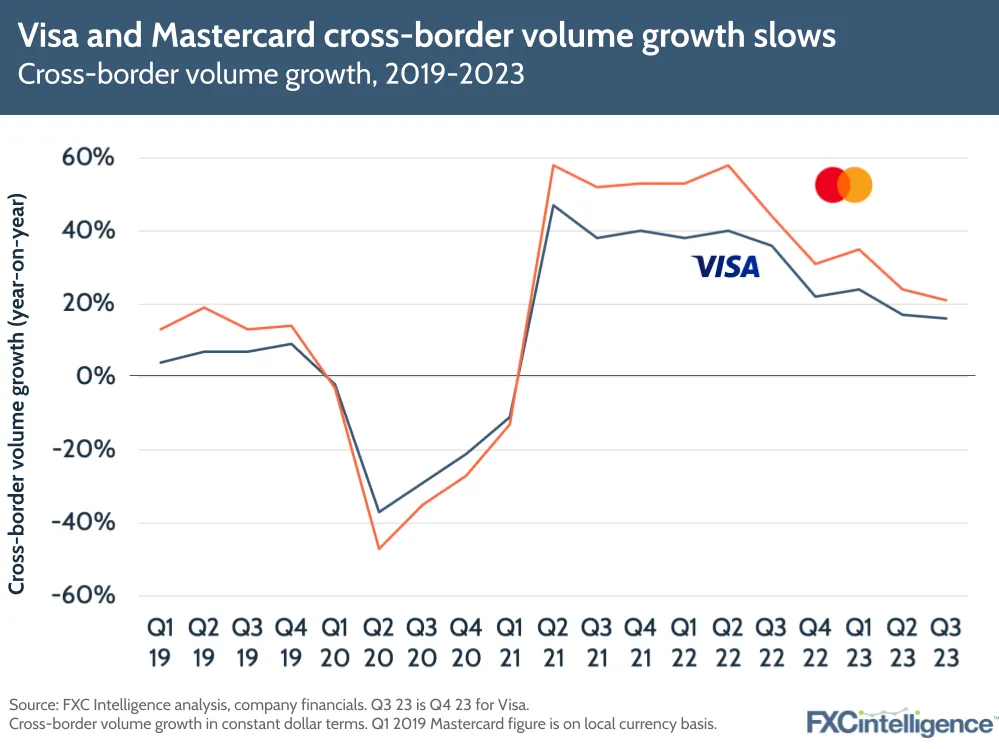 Here are the topline earnings results for both companies:
Visa Q4 23 earnings
Revenues increased 11% to $8.6bn, backed by strong cross-border volume growth – 18% excluding transactions within Europe, 16% in total – as well as overall payments volume growth of 9%.
Total processed transactions were up 10% to 56 billion, and international transaction revenues grew 10% over the prior year to $3.2bn.
For the full financial year, revenues grew by 11% to $32.7bn, backed by 25% cross-border volume growth excluding Europe (and 20% total growth), as well as 9% payments volume growth.
Visa's share price increased significantly on 25 October, the day after its figures, but quickly came back down again the day afterwards.
Mastercard Q3 23 earnings
Net revenues rose to $6.5bn, an increase of 14% or 11% on a currency-neutral basis. This was driven by net revenues for Mastercard's payment network increasing 12% (10% currency-neutral).
Cross-border volumes increased by 21%, which reflected ongoing strength in both travel and non-travel cross-border spending.
To date this year, Mastercard has seen revenues rise 13% on the back of a 26% rise in cross-border volumes.
Despite revenue rises, Mastercard's stock fell by over 20% in the wake of its results, which some analysts have linked to a slowdown in its switched volume growth.
Key revenue drivers for Visa and Mastercard
Both Mastercard and Visa pointed to cross-border volume growth as a key driver of revenues in their most recent quarter, but have also seen lower relative growth compared to last year's post-Covid travel boom.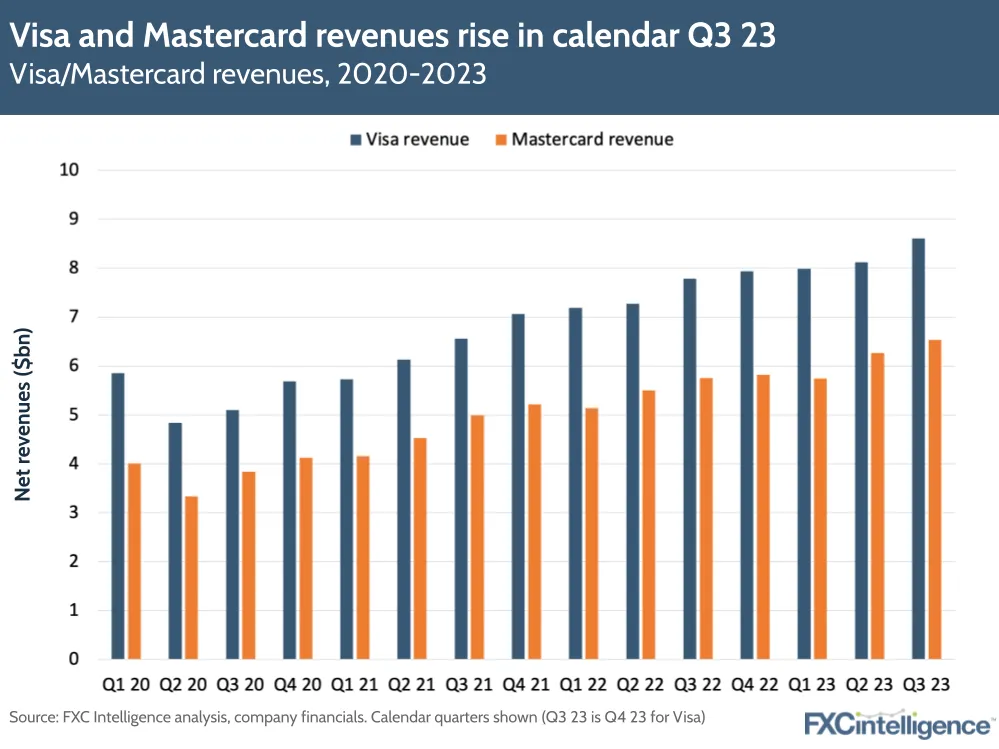 For Visa, cross-border volume growth in Q4, excluding Europe transactions, was 18% and for the full year was 25% – compare this to last year, when the company saw total cross-border volume growth of 49% in both Q4 and FY 2022. That said, cross-border P2P transactions grew 65% in Q4 and broke a new record for payments volume in the fourth quarter.
Impact of cross-border travel spending
Visa is seeing solid payment growth (20% or more) across most major regions, including Latin America, CEMEA and Europe (though notably this excluded the UK). Travel continues to build, with cross-border travel-related spend up 26% YoY and the company's travel volume index to 2019 totaling 141%, up five points from the last quarter.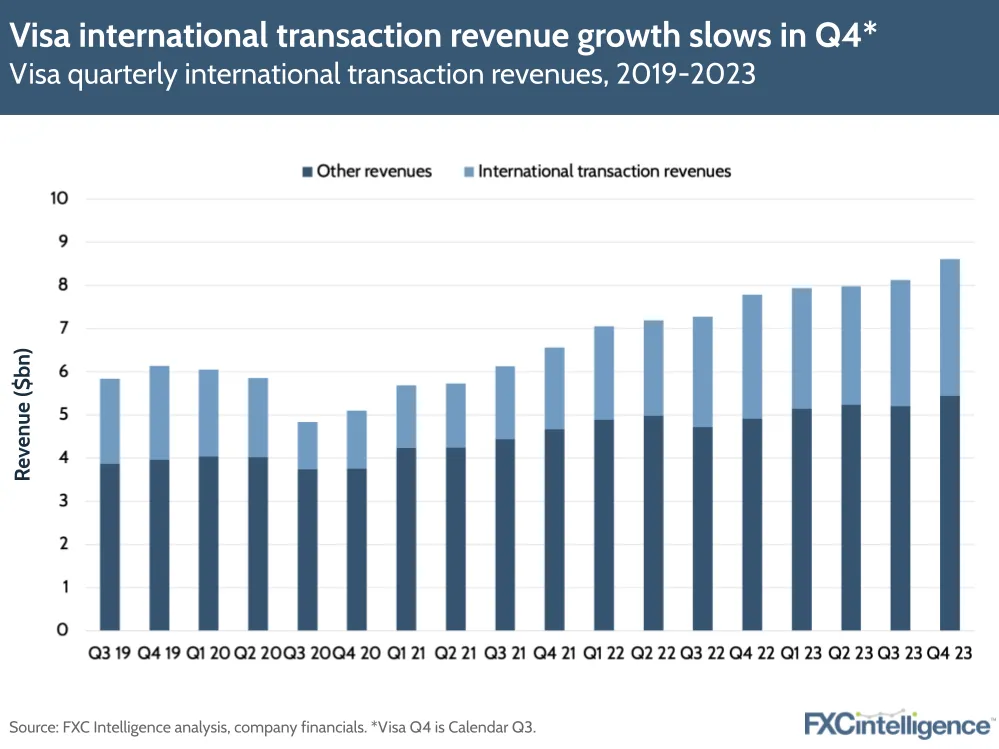 As a result, international transaction revenues for Visa were up 10%, though this was 18% in constant dollar terms due to currency volatility. Going forward, executives said they were looking to invest to back the continued strength in travel spending, and that international travel has normalised at higher growth rates than the company had seen before Covid, but was still yet to normalise in Asia.
Mastercard has seen a similar impact from a return to travel, with cross-border travel being at 155% of 2019 levels in Q3 23. This, along with non-travel related spending, helped drive the company's 21% increase in cross-border volume for the quarter, in turn pushing up revenues. The company also saw cross-border assessments – fees linked to cross-border transactions – increase by 28% to $2.3bn in Q3.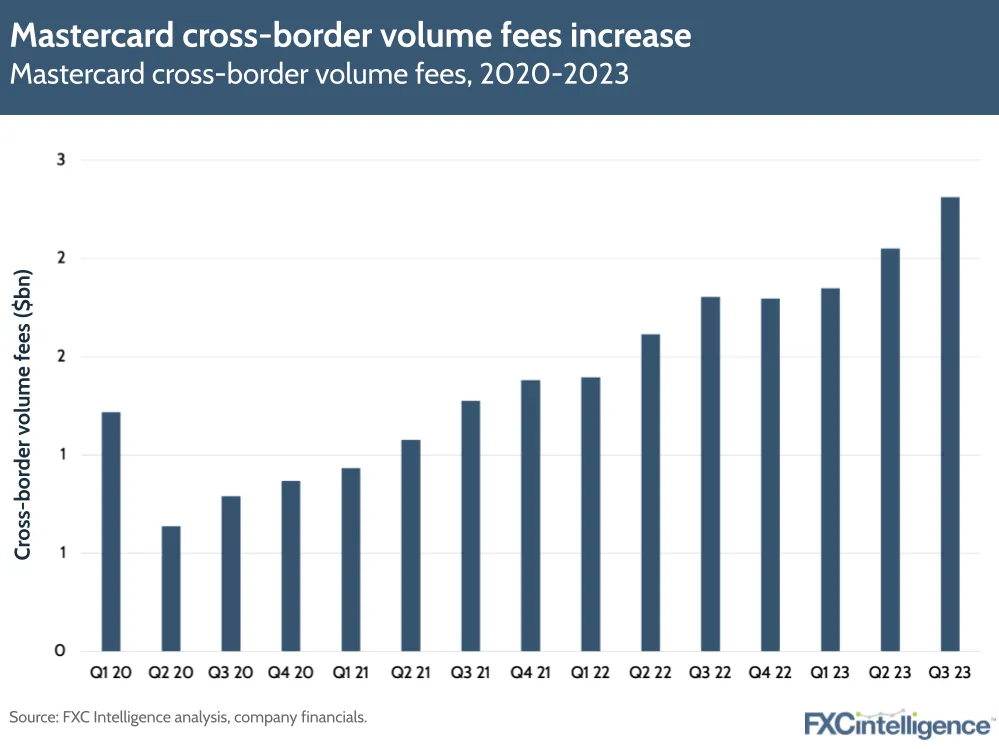 Growth in fintech partnerships
A common theme in both companies' earnings was partnering with banks and fintechs on new technologies. Visa claims to now have well over 100 fintech relationships, while during this quarter alone, Mastercard said it had signed agreements with companies spanning remittances, cybersecurity, mobile payments, B2B and open banking.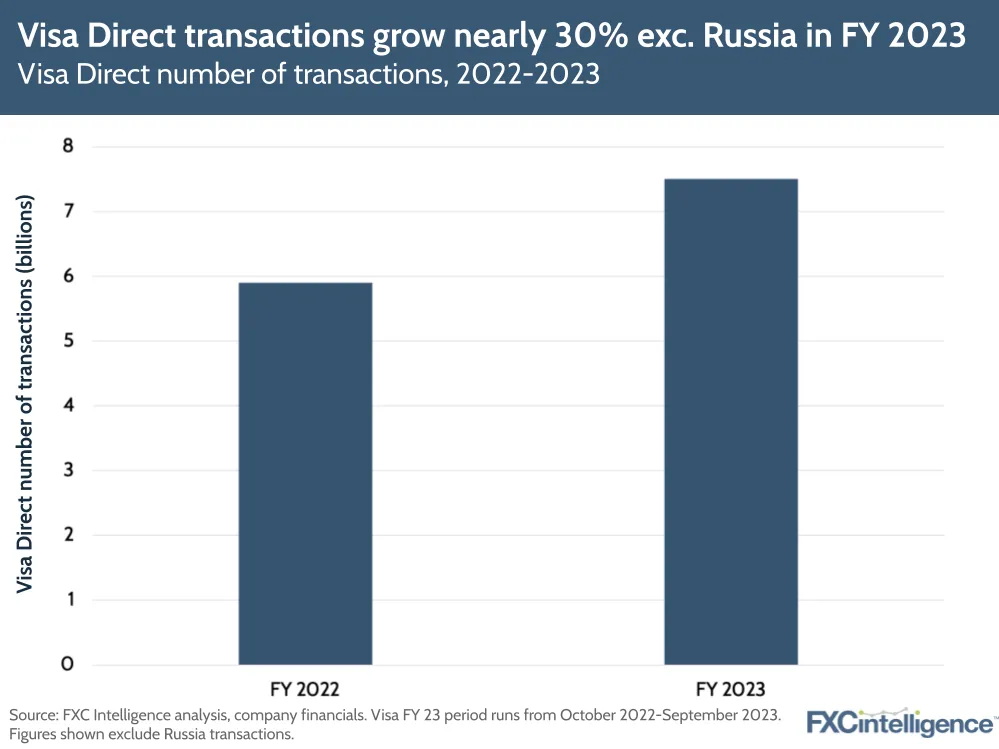 Visa has continued to expand Visa Direct, its cross-border payments infrastructure that enables money transfers directly to Visa cards worldwide, and which saw a 19% rise in transactions to 7.5 billion in FY23. Visa has continued to expand Visa Direct, which saw a 19% rise in transactions to 7.5 billion (nearly 30% excluding Russia) spanning over 65 use cases and over 2,800 programmes. The network now has 8.5 billion endpoints, and covers 3 billion cards and accounts.
The number of banks signed up to Visa B2B Connect (the company's B2B cross-border arm targeted at financial institutions) also increased by more than 70% over the course of the year, with the number of transacting banks more than doubling.
Visa also signed an agreement with Asian commerce giant Tencent, which has upgraded its total wallet reach for Visa Direct to 2.5 billion; expanded a partnership with Paysend; and connected with new clients including Brazil's Banco RB and payment platform Everyware. Visa also continues to expand capabilities through its Tink and Currencycloud acquisitions.
Mastercard executives said that there are substantial untapped flows across commercial payments and the disbursements and remittance space. It is therefore looking to capitalise on this by partnering with Paysend and Remitly. The latter is incorporating Mastercard Send and Cross Border Services into its existing 170-country strong framework to improve the number of options for payouts to recipients. 
Future outlook for Visa and Mastercard
Looking forward, Mastercard says that consumer spending remains resilient but it expects its Q4 revenues to grow at a low double digit rate, excluding acquisitions (which many believe may have prompted the rapid decline in share price).
Visa, meanwhile, said it expected its FY24 to be a 'tale of two halves', with adjusted net revenue growth being slower in the second half of next year, and the company's brand presence at the Olympics driving higher expenses in Q2 and Q3.
How much do payment processors charge for cross-border payments?