Visa and Mastercard Q1 2021 results show promise
We're now in the thick of earnings season and while next week we'll speak to Intermex, Western Union and MoneyGram, this week we start with Visa and MasterCard.
For both networks, the last quarter has seen improvements on the modest signs of recovery that we saw in Q4 2020. Cross-border spending is definitely returning, helped in part by strong cross-border ecommerce.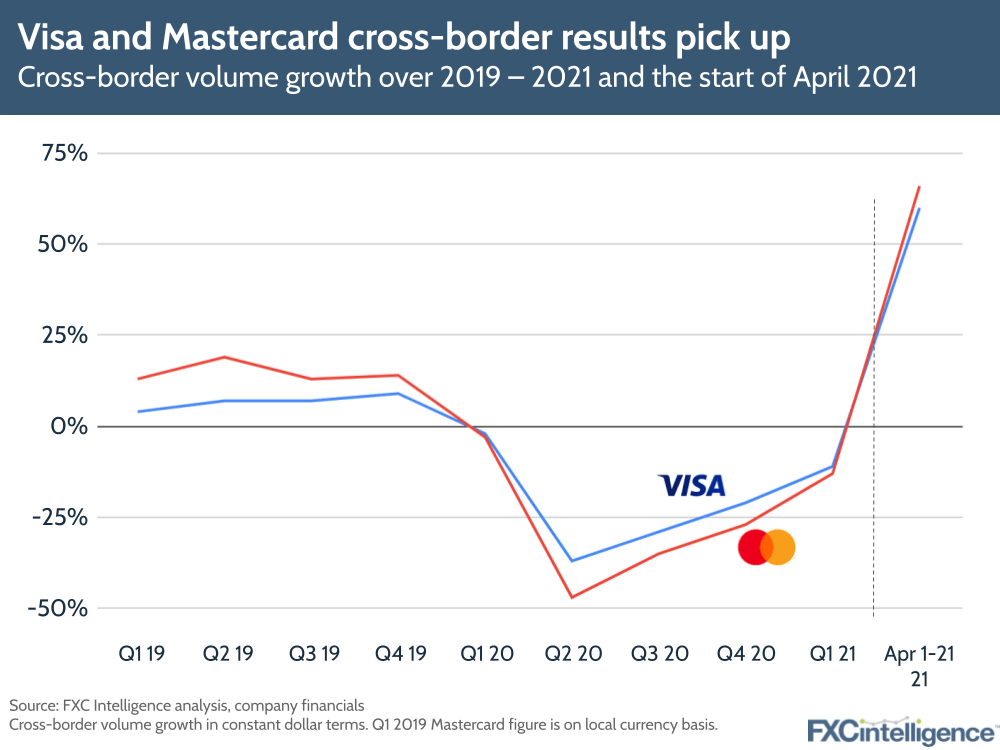 Notably, the dramatic surge in April is in part due to us reaching the point where the year-on-year numbers are comparing against previous low points in the pandemic. This shows that both companies are significantly up on the early days of lockdown, but we are still not back to pre-pandemic levels.
Our own pricing data, meanwhile, shows how both companies have been adjusting their FX pricing across different corridors as the pandemic progressed (a sample of the 20,000 corridors we track are shown below).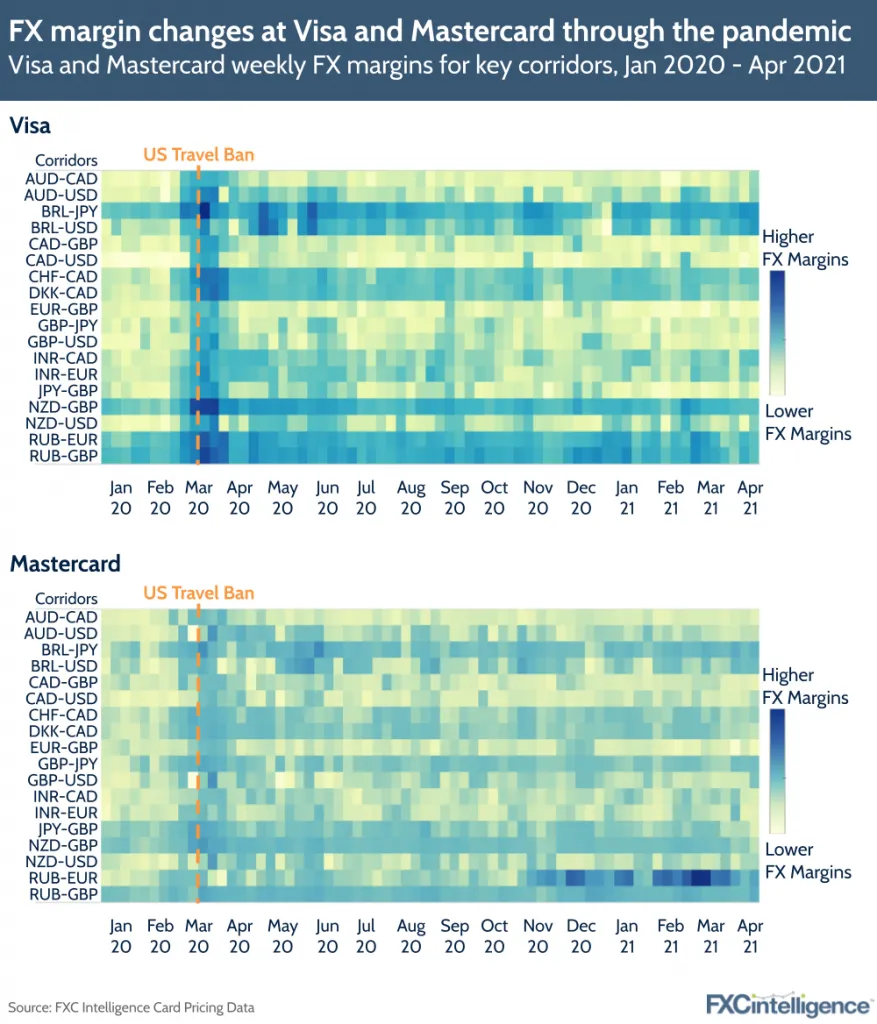 Highlights from the results:
Visa Q2 2021 results
The decline in cross-border volumes continue to impact net revenue, which saw a 2% decrease year-on-year, however they are improving. Cross-border volumes excluding transactions within Europe are now at 75% of 2018 levels – a three-point increase on the previous quarter.
The company is seeing early signs of recovery within travel, and those who are going abroad are spending more. In the best-performing corridor, between the US and Latam, travel neared 90% of 2019 levels in March.
Visa Direct (inc. Earthport) grew transactions 60% in the quarter and continues to be a core focus for growth. Visa also gets a double win here as it says cardholders who receive payment through Visa Direct then spend up to 50% more than those who do not.
Ecommerce, meanwhile, has seen growth at "very healthy levels", with cross-border ecommerce seeing a 30% year-on-year increase.
Visa also expanded its cryptocurrency efforts, which include enabling fintechs and financial institutions to support cryptocurrency for payments, and financial settlement in crypto, starting with the USDC stablecoin.
Mastercard Q1 2021 results
As with Visa, cross-border volume impacted net revenue, although the company did see a slight increase of 3.6% year-on-year. Cross-border volume is increasing, however; while it is down 17% compared to Q1 2020, it is now at around 80% of 2019 levels, with the first three weeks of April hitting 83% of 2019.
The company reports that domestic spending has now reached pre-pandemic levels, and ecommerce is "very strong".
Mastercard argues there is "significant pent-up demand for travel" that will translate into a cross-border upswing later in the year. While it warned that the pace of recovery would vary by country, the company expects more borders to open in H2 of 2021, with volume gains expected to accompany them.
Mastercard's cross-border B2B offering is also seeing strong reported traction, with its Transfast acquisition now fully integrated, both in account-to-account and to debit cards.
Several new cryptocurrency partnerships were also highlighted, including a crypto rewards credit card in partnership with Gemini and a Mastercard Crypto Card for Spanish customers in partnership with Crypton.