In recent years, Revolut has repositioned itself as a financial super app, offering a host of products and services for its users beyond its travel money starting point. It seems to be paying off, with the company seeing its valuation climb to $33bn, up from $5.5bn just a year ago. So how does it compare to some of its big competitors?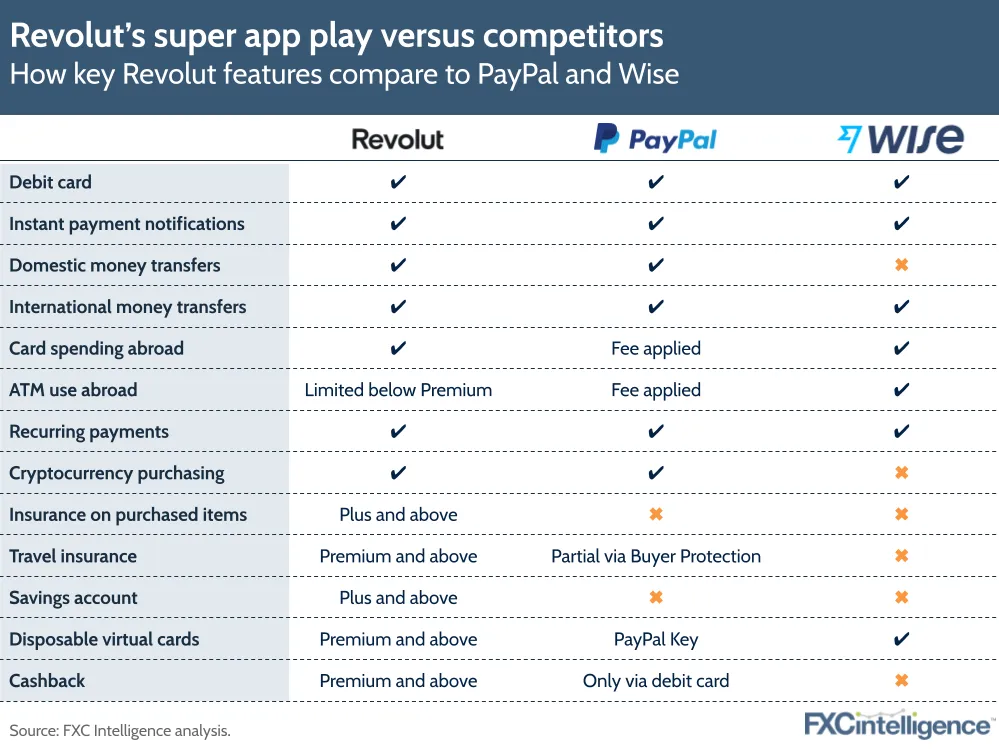 Revolut vs Wise and PayPal
Revolut's recent Series E funding round saw the company raise $800m from SoftBank Vision Fund and Tiger Global Management. For that, the companies are gaining a stake of a fintech that offers a one-stop financial shop for its users, covering day-to-day banking and cryptocurrency purchasing, as well as added benefits for paying users. This week it even added a travel booking product.
The company offers multiple tiers of subscription-based plans, versus typical per-transaction pricing. Notably, its account offerings lean towards two core user groups: frequent travellers (not many of them right now) and cryptocurrency traders.
The latter, however, has seen increasing focus, particularly during the pandemic where travel has all but stopped. While Revolut does not break down earnings from this segment in its financials, cryptocurrency was reported as accounting for 10-15% of the company's 2020 revenue.
This combined range of offerings differentiates it from arguably its closest super app competitors, PayPal and Wise. The latter naturally places far more focus on international money transfers, and although its multicurrency account provides many of the same travel benefits, it features none of the cryptocurrency-focused offerings.
PayPal, meanwhile, has made significant inroads into cryptocurrency but does not the range of travel-related products Revolut offers, although its own cards have sought to replicate similar core travel products. The ecommerce and business products and global reach, however, are unparalleled by Revolut. While Revolut's business offering, which includes a multi-currency account, has grown to 500,000 customers, its business segment is not yet big enough to earn a line item in the company's financials.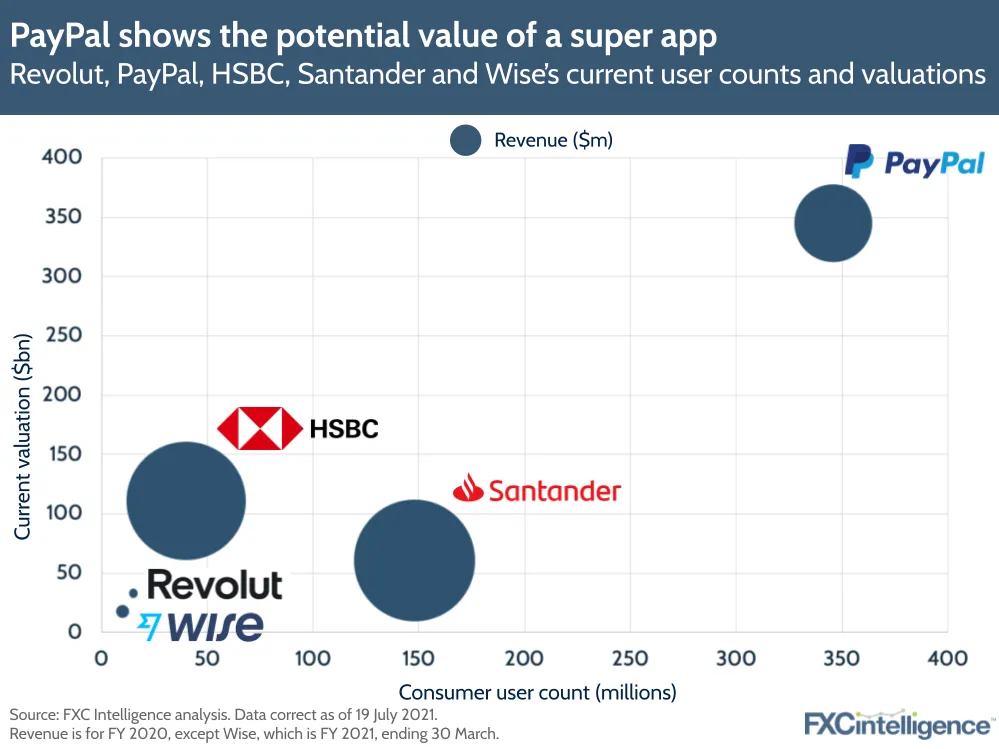 As to valuation, Revolut's $33bn is significantly above Wise's current $13bn market cap, although the company does have around 50% more users. It is also dwarfed by PayPal's $345bn current market cap and its 346 million-strong userbase.
Meanwhile, this puts Revolut in relatively close company with established banks, such as Santander with a $61bn valuation and HSBC at around $110bn.
Revolut's most recent results show a company with growing revenues but climbing losses, a heavy dependence on the UK, which accounted for 89% of its 2020 revenue and relatively low per user income compared to peers. These three items underpin the concerns of those questioning the valuation. However, investors are likely to be looking at the company's potential for growth, particularly in light of the reopening of travel that is set to happen over the next year.
How does Revolut compare on pricing and capabilities?