Revolut, the UK-based fintech, announced this week they have hit one million users. They offer free FX transfers for their users and compete with the likes of Transferwise and Western Union, travel money operators and traditional banks (despite not having a banking license yet).
What Revolut is missing right now is revenue. So for such a disruptive player taking market share, what's their real business model and what can we learn from it? Are they positioning themselves as a new kind of bank, or something else entirely?
Here's Revolut's product offering versus a traditional high-street bank: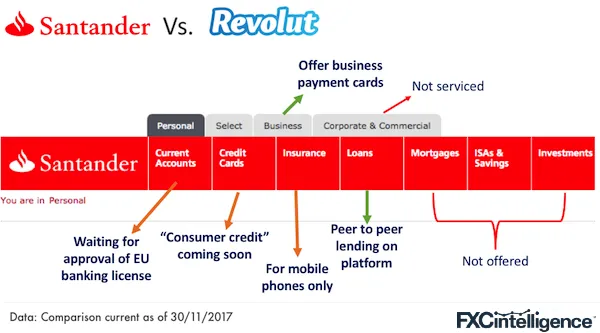 Revolut is in the process of acquiring an EU banking license, but doesn't have current plans to offer traditional products such as mortgages, savings or investment accounts.
According to their latest report, they have 600,000 monthly active users who move just under $600m in total per month. That means their average active user is moving less than $1,000 (£750) per month through their platform.
Offering a mostly free service to customers for their international transfers means Revolut's business model isn't making money from FX. What Revolut is doing is aggressively and effectively growing their customer base so they can cross-sell other financial products.
This would put them in line with companies many of you are familiar with, but that Revolut isn't often compared to – comparison sites such as Moneysupermarket (in the UK) or Bankrate.com (in the US) that sell broad financial product lines to their customers.
Should you be cross-selling your customers?
While a platform-based cross-selling model isn't as "disruptive" a business model, it has proven lucrative for others.
Moneysupermarket has a market cap of £1.7bn, and booked revenues of over £300m in 2016, off of 22m monthly active users. That equates to approximately £14 in revenue per user per year.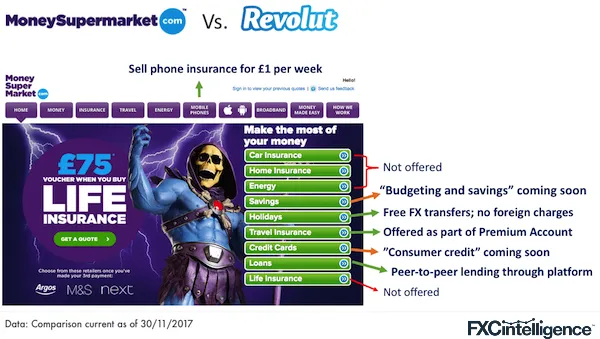 Bankrate.com has a market cap of $1.24bn (~£940m), and reported $434m (~£330m) in revenue last year, with an average of 14 million unique monthly viewers. This works out to $31 (~£23) per user, per year.
In order to compete with such companies, Revolut would have to significantly increase their user base.
But does this also mean the rest of the international payments market should be cross-selling products more aggressively. Is this a low-hanging fruit revenue stream from your existing customers or is it a distraction to your business model? At average annual values of £20 per customer, I'll leave you to decide.