Q2 2023's M&A highlights for cross-border payments
Rising interest rates and economic uncertainty prompted a slowdown in M&A activity during the first half of the year. However, Q2 2023 has still seen some significant acquisitions for the cross-border payment space, with key themes including instant payments and expansion.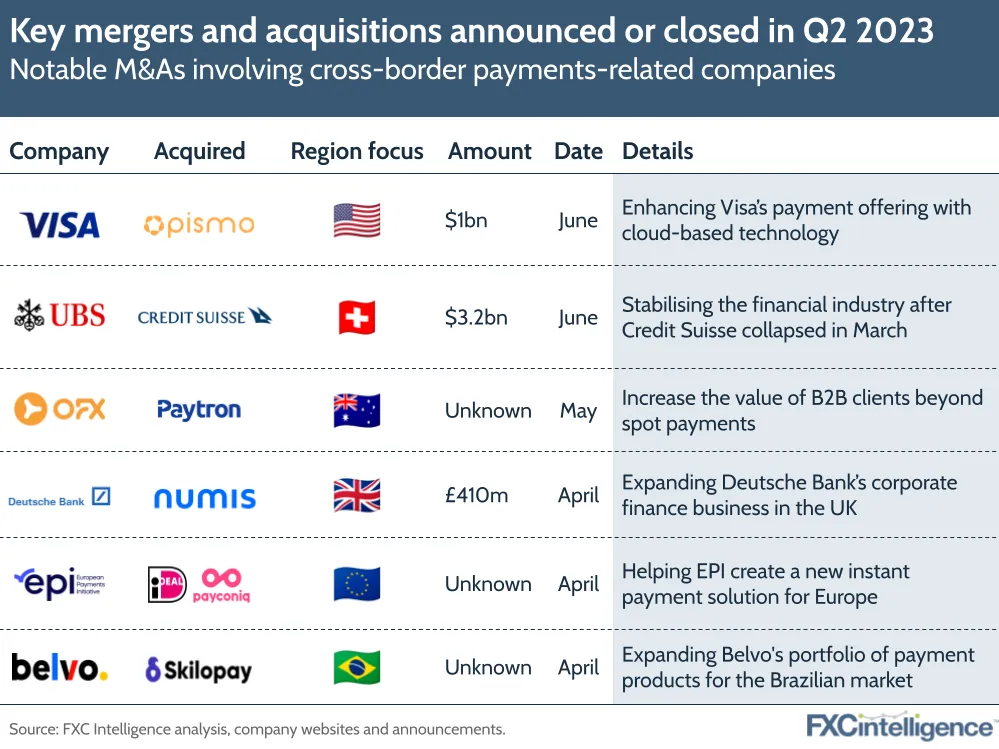 One of the biggest stories this quarter was UBS completing its acquisition of Credit Suisse. The government-brokered deal aimed to stave off instability that could result from the latter's collapse, and UBS is currently deciding how it will make cuts to loss-making parts of Credit Suisse's business. In other banking news, Deutsche Bank announced its takeover of London-based Numis, a surprise move to expand its corporate client pool in the UK.
The other big deal for the quarter was Visa's $1bn acquisition of cloud-based processing company Pismo. Aside from integrating new cloud technology, Visa will also be able to connect its clients to Brazil's Pix instant payment rail and boost its presence in Latin America, which has seen growing investment from payments players. Pix was also behind Mexican payments provider Belvo's announced acquisition of Skilopay, which specialises in payment services based on Pix.
In Europe, instant payments drove the European Payment Initiative's (EPI) acquisition of Netherlands-based iDeal and Luxembourg-based Payconiq. A consortium of banks and financial services companies, the EPI is trying to build a pan-European instant payment system. It's another example of financial institutions coming together to try and solve a problem that current payment infrastructures haven't yet been able to.
Finally, Australian money transfer company OFX is set to acquire spend management platform Paytron, bolstering its pivot towards B2B after solid results from its separate acquisition of Firma (more on this from CEO Skander Malcolm here).