PIX: Improving Brazil's payment system
On November 16th, the Central Bank of Brazil launched PIX, a payment system that allows payments initiated from a bank account or a digital wallet to be processed in less than 10 seconds. It can be used in P2P and B2B transactions in addition to C2B.
We talked to dLocal and PrimeiroPay, two payment processors facilitating payments for foreign merchants selling in Brazil, to understand more about PIX and its potential effects on cross-border payments.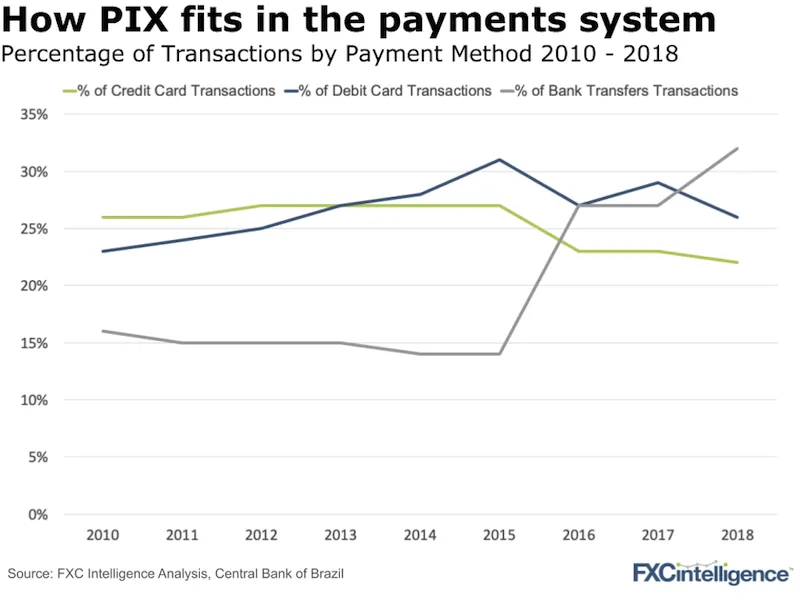 PIX will make transferring money much quicker than a traditional bank transfer or the most common payment method for digital transactions, the so-called Boleto, which might require up to 3 days for the payment to be processed.
World Bank data shows 30% of the adult Brazilian population was still unbanked in 2017. With 70 million accounts already created, PIX will provide people who don't have access to credit and debit cards, or that do not want to use payment cards online for security reasons, with a way to pay for their digital transactions. In addition to Ebanx, which recently partnered with Uber to offer such a service, other payment processors such as PrimeiroPay and dLocal are already offering their clients the possibility to integrate PIX at their checkouts.
Even cross-border merchants are able to offer PIX as a payment method. According to our card pricing data, a cross-border card transaction can have a very high cost for Brazilian consumers, considering that both a government tax and high fees are applied to transactions that are originated abroad. The fact that PIX is free for consumers and has very low costs for merchants, which will make cross-border ecommerce more appealing for both groups.
Brazil is strongly investing in developing financial inclusion and payments innovation. Expect to see more coming and players such as WhatsApp as well as other tech giants will find a way into the Brazil payments market.