dLocal becomes the first unicorn in Uruguay
dLocal, the emerging markets payment processor just announced it has raised $200m (led by private equity firm General Atlantic). The valuation of $1.2bn makes dLocal the first unicorn to come out of Uruguay.
We talked with Sebastian Kanovich, the CEO of dLocal about the future strategy.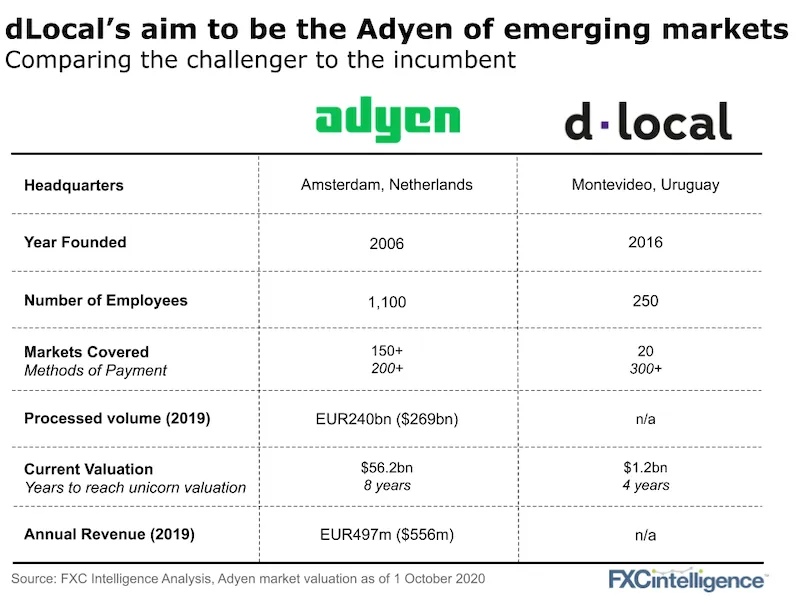 Sebastian says dLocal's goal is simple – to be "the Adyen of emerging markets".
Adyen claims to have been profitable since 2010, four years after it was founded. dLocal has been profitable from its inception. Why does a profitable company serving many leading tech companies including Microsoft, Amazon and Google need another $200m? dLocal wants to fast track expansion into 13 new markets.
Payment processing in emerging markets is very different to processing payments in developed markets. Increasing transaction acceptance rates is the core metric to measure success. And while the customer payments are typically processed locally, there is plenty of FX done on the back-end to remit funds back to the merchant's home market.
Payment processing is a competitive space. Big banks such as Bank of America and J.P. Morgan have sizeable operations as do the standalone publicly listed payment processors. dLocal has been successful in some of the hardest markets globally, so don't bet against them catching up to the incumbent competition, especially if triple digit growth continues.