Paysafe raises guidance as it continues growth streak in Q2 23
Paysafe has continued its growth streak in 2023, with revenues rising 6% to $402.3m in Q2 23 on the back of solid volume growth across its merchant solutions and digital wallets segments. Adjusted EBITDA rose 10% to $113m, driving an EBITDA margin of 28.1% (up 90 bps YoY).
On the back of its results, the company has upgraded its FY 2023 guidance and now expects revenues to rise 6.5-7.5% to a figure around $1.6bn, while adjusted EBITDA margin will rise by roughly 100 bps to around 28.5-29%. Investors responded well, with Paysafe's share price rising after its revenue growth beat analyst expectations – however, the company still has high levels of debt to contend with.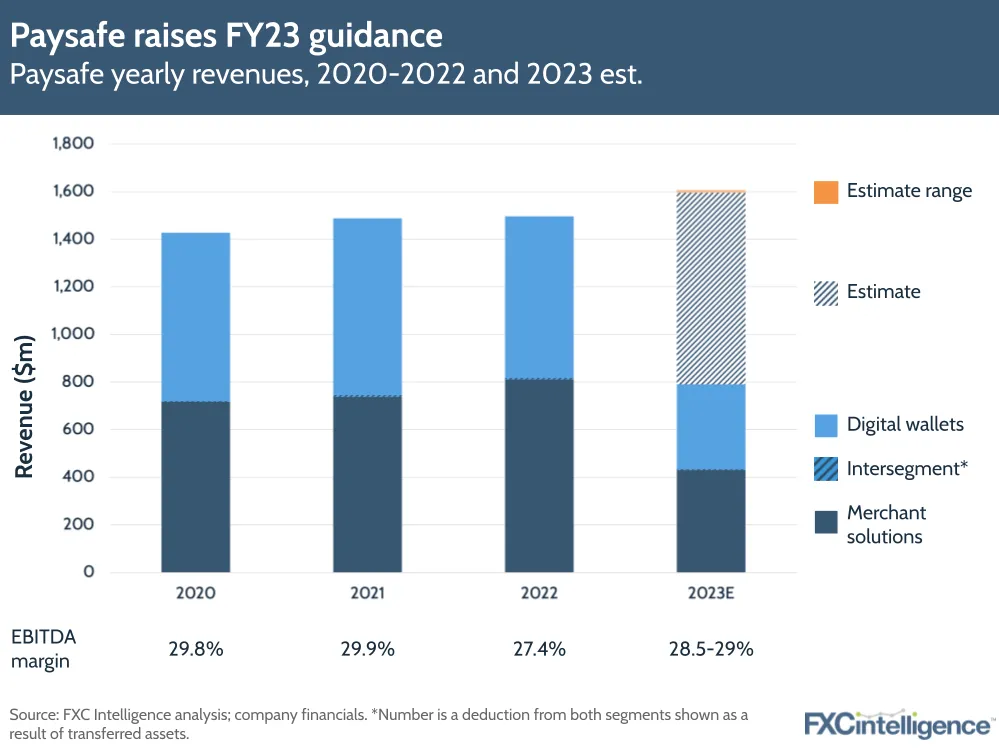 Paysafe Q2 23 key revenue drivers
Paysafe revenues were driven by strength across US-based SMBs, double-digit growth in ecommerce and the company's digital wallets segment, which also includes eCash solutions. Total payment volumes rose 6% to $35.5bn during the quarter, with the company seeing growth across all of its core regions in North America, Latin America and Europe.
Merchant solutions grew 6% to $225.7m, while digital wallets grew 6% to $179.1m. The company also notes a $3.2m favourable impact from FX changes, though FX fluctuations also had a negative impact on debt repayments.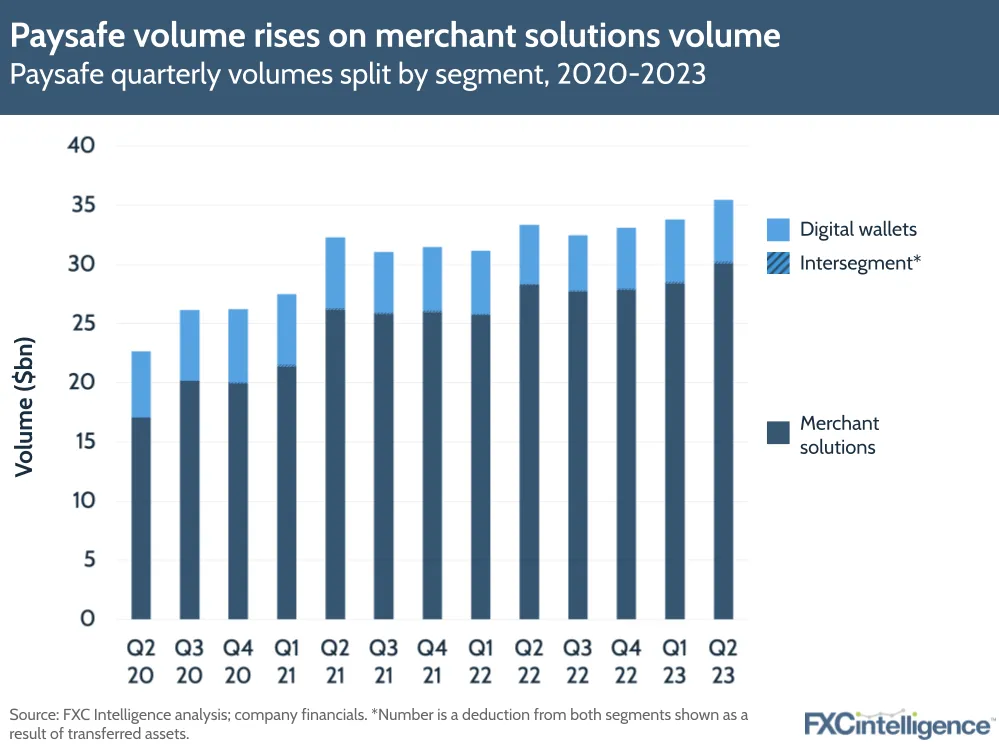 While US SMBs drove the merchant segment, Paysafe noted that iGaming in the US remained a compelling product for its ecommerce revenues. The company has spoken before about how new frameworks regulating this space in North America and LatAm are helping drive the expansion of operators into new markets, in turn benefitting Paysafe.
On digital wallets, the company noted that it saw growth thanks to 'classic digital wallets' (i.e. Skrill and Neteller excluding eCash), which was supported by its efforts to improve consumer engagement, as well as merchant checkout conversion rates. Having said this, interest expenses increased by $8.3m, which impacted adjusted net income for the quarter ($34.7m, down from $37.5m in Q2 2022).
Paysafe's active user numbers stay the same
Through improvements to its digital wallets products, Paysafe has seen around 10% growth in average revenue per user in Q2 (excluding interest revenue), although the number of active users has stayed the same since last year and is down compared to quarters in 2021.
When asked about the lack of active user growth during the call, CEO Bruce Lowthers said that this was due to the company's focusing on enhancing and "stabilising" its digital wallets platform, but the company will begin to work more towards expanding its user base in the future.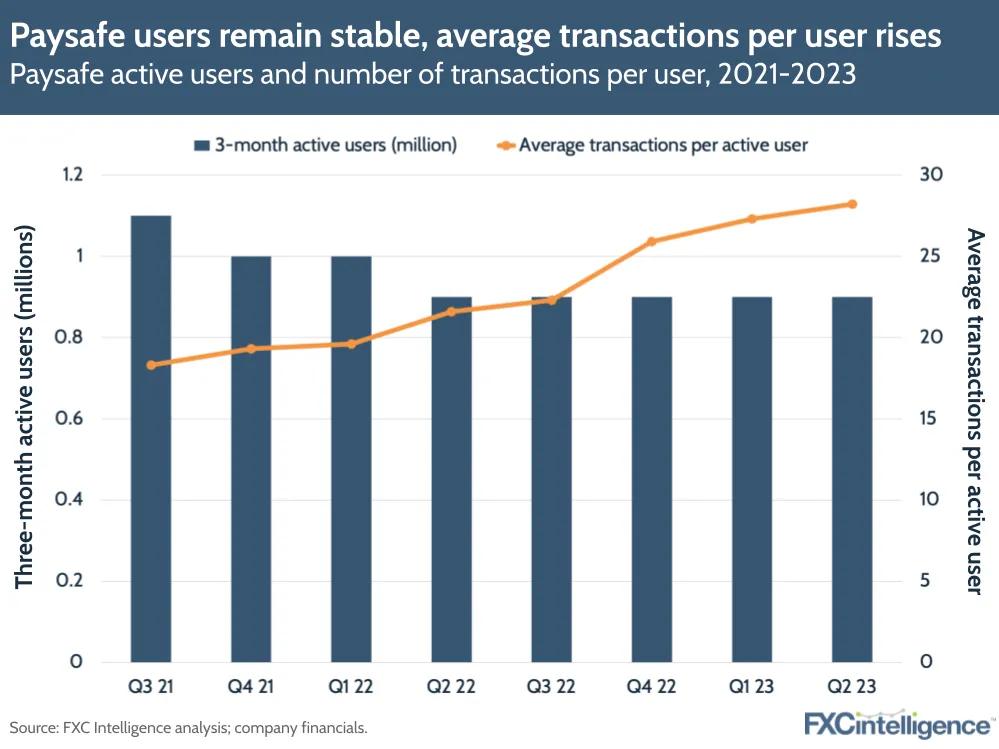 Reducing debt and Paysafe's 2023 strategy
Aside from revenue growth, debt remains a concern for Paysafe. The company still has total debts of $2.6bn – a sizeable number, though this had decreased slightly, by $36m, compared to last year. The company's debt has been linked by some analysts to Payshare's stock decline – over 90% since its SPAC merger in 2021 – so clearly reducing this will be a priority for the company moving forward.
Paysafe said that it aims to continue to cut its leverage ratio – its net debt divided by the sum of the last 12 months of adjusted EBITDA – as it makes debt repayments and improves its EBITDA margin.
According to Paysafe's CEO, much of Paysafe's focus has been coming back from the declines it was seeing this time last year – when the company felt the impact of the Russia-Ukraine war and changing gambling regulations in Europe. Though the company isn't seeing the same rapid growth as other payment providers in the industry, its guidance upgrade reflects Paysafe's confidence that simplifying its business and cross-selling its products across Europe and Latin America will yield positive returns in H2.