PayPal withholds FY 23 guidance amidst Q4 22 economic challenges
PayPal's revenues rose 7% to $7.4bn in Q4 2022 – the lowest quarterly growth the payments giant has seen for a fourth quarter in years. The quarter brought FY 22 revenues to $27.5bn, an 8% YoY rise (or 12% excluding eBay, which began paying sellers directly rather than through PayPal in 2021).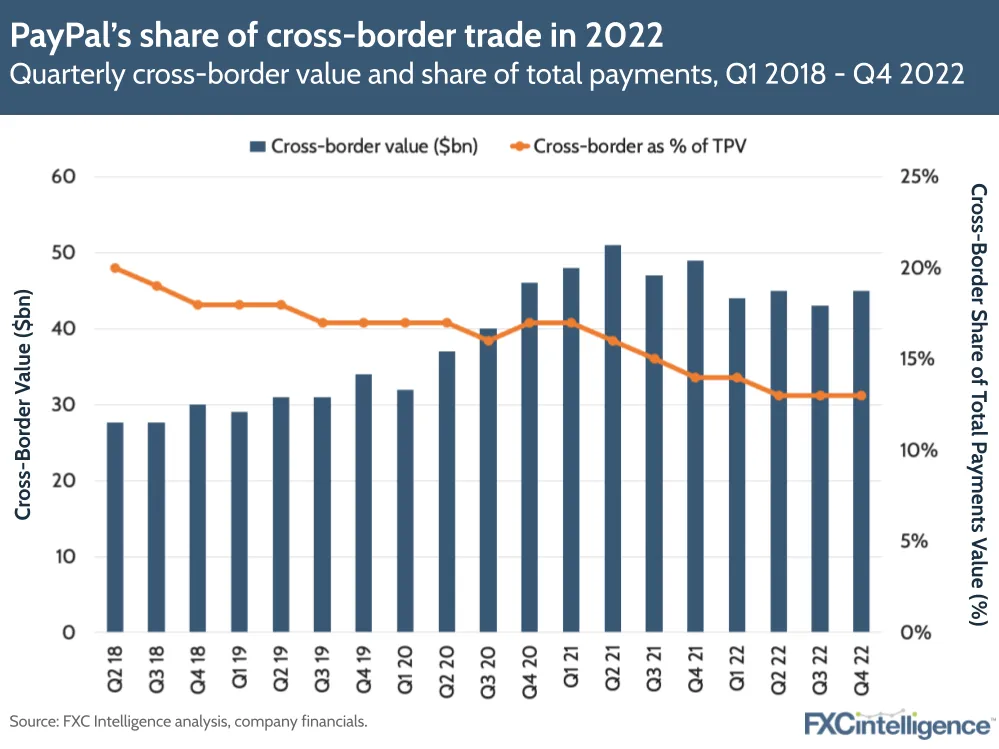 With cross-border trade declining and macroeconomic conditions continuing to have an impact, PayPal opted not to give guidance for FY 2023. However, the company has seen successes for its buy now, pay later (BNPL) offering, as well as transaction and payment volume growth (albeit at a much slower rate than last year).
Key takeaways from PayPal's Q4 2022 results
Total payment volume (TPV) increased 5% to $357.4bn. Transactions rose 13% to surpass six billion, while payment transactions per active account rose 13% to 51.4. Transaction take rate was 1.88%, the same as Q4 21.
FY 22 saw 22.3 billion payment transactions (up 16%), while TPV over the year increased 9% to $1.36tn.
Cross-border trade TPV declined by 7% to $45bn in Q4, while cross-border share of TPV declined by one percentage point YoY to 13%. Cross-border trade was driven by intra-European corridors, but this was offset by softness in EU-UK and US-China corridors.
The company's non-GAAP operating margin rose to 22.9%. This is the first time this margin has risen since Q1 21, and was driven by cost-cutting measures (more of which have since been announced this year).
Since launching its BNPL solution in 2020, PayPal has issued over 200 million loans to nearly 30 million customers. Interestingly, existing PayPal consumers that have adopted BNPL are spending around 30% more with the company.
There were 2.9 million net new active customers (NNAs) added in the quarter, with total active accounts rising 2% to 435 million in 2022. However, new customer acquisition fell significantly over 2022, with 8.6 million NNAs compared to 49 million in 2021. PayPal isn't expecting NNA growth in 2023, but does believe its monthly active user base (approximately 190 million) will be 'stable to growing' in 2023.
PayPal didn't give guidance for 2023. However, the company did predict a 7.5% YoY revenue increase in Q1 2023, including a 150-bps headwind from FX changes.
PayPal executives say that the company's future revenue growth is tied to discretionary ecommerce spending, and it is continuing to invest in its Branded Checkout and digital wallet solutions with this in mind. Finally, CEO Dan Schulman said he would be stepping down by the end of the year, so there could be some strategy changes ahead.
How can I track the cost of cross-border ecommerce transactions?